Notes
---
EM/NY's Artists -

Voices:
Eric Brenner – alto
Joe Chappel – bass
Michael Denos – tenor
Patrick Fennig – alto
Todd Frizzell – tenor
Jonathon Hampton – alto
Thomas McCargar – baritone
Riley Soter – tenor
Charles Weaver – bass baritone & lute

Instruments:
Dongmyung Ahn – vielle, violin
Wayne Hankin – flutes, reeds, bagpipes
Patricia Ann Neely – vielle, bass viol


---
NY Times Review -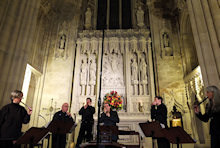 Performance Nov. 10th at the Cathedral St. of John the Divine.
"The versatility of the musicians was impressive... the greatest variety came from the array of textures the six players created with an arsenal of instruments."

Corinna da Fonseca-Wollheim
Nov. 11, 2012
read the NY Times review...
---
Become a Friend of Early Music -

Only with your extraordinary support, do we continue our mission - fostering historically informed performances (early music) in New York City - despite severe Federal, State and City cut backs. We are grateful for your tax deductible contribution that can be made by calling us directly at 212-749-6600 or on line via our Events & Tickets page at ...


---
This concert series is made possible in part with public funds from the...
New York City Department of Cultural Affairs,


the...
New York State Council on the Arts,

...and the generosity of
EMF's Friends of Early Music.
---
Your Comments -

Join our mailing list, request information, or send us a comment at ...


Early Music New York's
Renaissance Chamber Ensemble

English Carols, Motets &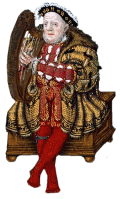 Seasonal Pastimes
Sunday, December 16 at 2 PM

Saturday, December 22 at 8 PM

Sunday, December 23 at 2 PM

Tuesday, December 25 at 2 PM *

Tuesday, December 25 at 8 PM

Cathedral of St John the Divine

Amsterdam Ave at 112th St
Holiday gifts from England's Renaissance courts & chapels (reigns of Henry VII, Henry VIII, and Elizabeth I) including 'medieval carowles,' 'masquing' tunes composed by King Henry VIII ("Green Groweth the Holly"), with Advent, Nativity & Epiphany motets by William Cornysh, Christopher Tye & William Byrd – gleefully performed by EM/NY's engaging men's voices with virtuoso instrumental trio.
---
Spring 2013 ~ Baroque & Classical Chamber Orchestra
Mediterranean Meditations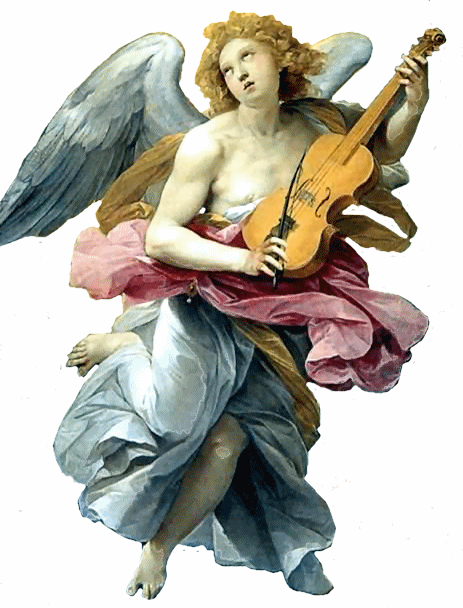 Madrigals & Monody of the Italian & Spanish Baroque
Saturday, March 16, 2013 at 8 PM

First Church of Christ, Scientist

Central Park West at 68th St
Introducing EM/NY's new, "best kept secret," Lincoln Square performance venue, Maestro Renz programs pivotal early baroque works by Claudio Monteverdi along with his Neapolitan & Spanish counterparts, Francesco Provenzale, Cristoforo Caresana and others – festive instrumental canzonas, expressive madrigals and dramatic monody, both mundane & moralistic – with EM/NY's choice ensemble of mixed voices, strings & winds.
London's Musical Bridge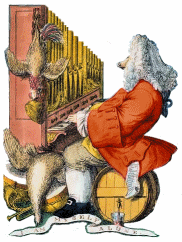 The Enlightened English

Saturday, May 4, 2013 at 8 PM

First Church of Christ, Scientist
Central Park West at 68th St

EARLY MUSIC NEW YORK's Chamber Orchestra performs repertoire of England's 18th-century greats side by side with imported German counterparts – suites of John Avison & George Frederick Handel; select overtures by William Boyce & John Christian Bach; sinfonias by Thomas Arne & noted astronomer / discoverer of the planet Uranus, Frederick William Herschel.
---
TICKETS:

Choose any number of tickets to THREE programs for

$35

per ticket (12% savings), and receive additional benefits.

• Best same-seats for all programs
• Ticket exchanges for other dates
Purchase single tickets at

$40

each.

*Dec. 25, 2PM matinee at

$50

each.

Student Rush $20 at the door with ID.

---
The Venue -

Cathedral of Saint John the Divine -
Amsterdam Avenue at 112th Street
(Fall 2012 Concerts)

Adjacent to the Columbia University campus, the Cathedral is easily reached by public transportation: Buses M4, M11, M104; Subway #1 to 110th Street & Broadway. Parking is available in nearby garages.

Call for information regarding disability access 212-280-0330.

---