Notes - April 21, 2015
ANNO XL

Highlighting 40 Years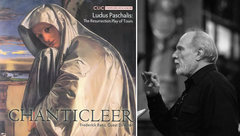 Frederick Renz directs
Chanticleer
in his music score and staged reconstruction of the medieval "Resurrection Play of Tours"
Listen on Youtube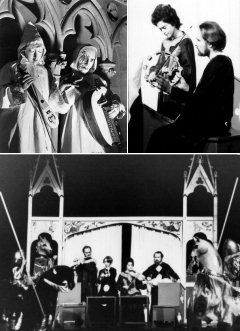 Staged medieval production of "Le Roman de Fauvel." Top right: cast member
Jeanne Lamon
(Artistic Director of Canada's noted baroque orchestra Tafelmusik), with Frederick Renz. Bottom: instrumentalists from left to right, David Hart, Wendy Gillespie, Jean Lamon, Frederick Renz. See FR's article «
Producing Le Roman de Fauvel
»,
Early Music, Oxford University Press
, 5:1, 1977, p. 24-26.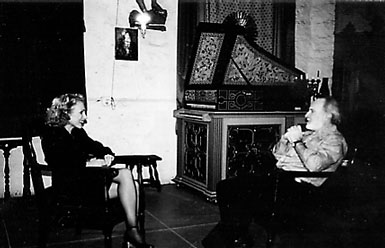 Eugenia Zuckerman interviewing Frederick Renz for CBS News Sunday Morning. Renz has been interviewed by the three major national broadcast news networks.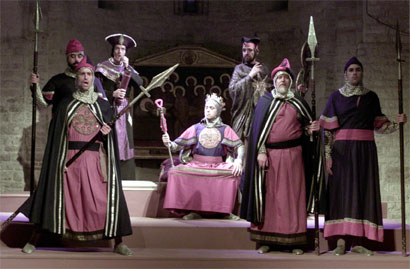 EM/NY's production of
Daniel and the Lions
(The Play of Daniel) touring worldwide with 250+ performances. In addition to 'Daniel,' Frederick Renz has produced the oeuvre of extant medieval dramas.
Listen on Youtube
EM/NY's Orchestra of Original Instruments performing Handel's Royal Fireworks at Wolftrap gala, accompanied by an historical fireworks display produced by the lineal descendant of the original, 18th-century pyrotechnics engineer, Gaetano Ruggeri.


Maestro Frederick Renz (2nd from R.) conducting Rameau's opera, Platée, staged at the Brooklyn Academy of Music with his EM/NY Orchestra of Original Instruments and Renée Fleming (2nd from L.) in the title role.
SPRING 2015 —

First Church of Christ, Scientist
Central Park West at 68th Street

¯¯¯¯¯¯¯¯¯¯¯¯¯¯¯¯¯¯¯¯¯¯¯¯¯¯¯¯¯¯¯¯¯¯¯¯¯¯
HARMONIE UNIVERSELLE

National Styles Unfurled

Saturday, May 2nd at 7:30 PM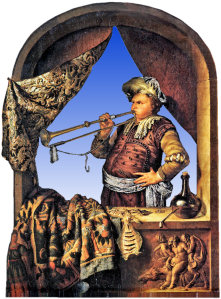 Welcoming spring,
EM/NY
first chair players perform favorite 17th-century chamber works by
Jean-Baptiste Lully
– FRANCE,
Gaspar Sanz
- SPAIN,
Henry Purcell
– ENGLAND,
Heinrich Biber
,
Johann Schmelzer
and
Johann Joseph Fux
– AUSTRIA,
Johann Rosenmueller
,
Johann Pachelbel
– GERMANY,
Arcangelo Corelli
,
Giuseppe Torelli
– ITALY, and
Jacob van Eyck
– HOLLAND, each to illustrate blossoming national styles and performed at the acoustically superb Beaux-Arts venue in Lincoln Square.
Performing Artists: Aaron Brown - violin, Rachel Evans - viola, Daniel Lee - violin, Daphna Mor - recorders (flauti dolci & flute de voix), Jason Priset - theorbo & baroque guitar, Frederick Renz - harpsichord & chamber organ, Ezra Seltzer - violoncello.
for more information visit
EarlyMusicNY.org
---
TICKETS ON SALE NOW:

Reserved seating

$40

each.

Students with ID $20 at the door.
Call the Box Office:
212-280-0330
Use Secure Website:
EarlyMusicNY.org
or Purchase Tickets at the Door Starting
½ Hour Prior to Show Time.
---
Venue -

First Church of Christ, Scientist
–
Central Park West at 68th Street


Near Lincoln Center, the First Church of Christ, Scientist faces Central Park at 68th St. and is reached via the M72, M10 and Columbus Ave. M7 & M11 bus lines; subways B & C to 72nd at Central Park West (70th St. exit) & #1 to 66th at Broadway. Parking garages are available along W. 68th and W. 66th Streets. Information regarding disability access - call 212-280-0330.
For a listing of restaurants in the area of 68th St., on the upper west side,
click here.
---
Early Music New York's subscription season is made possible in part with public funds from
New York City Department of Cultural Affairs,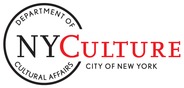 New York State Council on the Arts

with the support of
Governor Andrew Cuomo

and the
New York State Legislature,

and the generosity of

EMF's Friends of Early Music.
---
Become a Friend of Early Music -

Only with your extraordinary support, do we continue our mission - fostering historically informed performances of early music in New York City - despite severe Federal, State and City cut backs. We are grateful for your tax deductible contribution that can be made by calling us directly at 212-749-6600 or on line via our Events & Tickets page at

---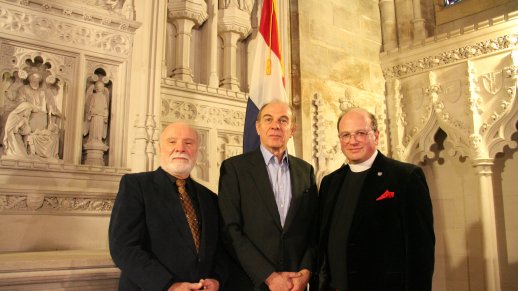 Left to Right: Maestro
Frederick Renz
, Founder/Director of Early Music New York; Ambassador
Robert de Vos
, Consul-General of the Kingdom of the Netherlands in NY and The Very Reverend Doctor
James Kowalski
, Dean of the Cathedral Church of St. John the Divine attending Dutch Christmas performance, December 21, 2014.
---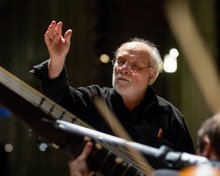 photo by Shelby Lewis
Giving thanks to our loyal audience for a SOLD-OUT EARLY MUSIC NEW YORK orchestra performance on November 22 (St. Cecilia's Day) celebrating the 40th anniversary season with Maestro Frederick Renz, Founding Director of the Early Music Foundation.

---
Your Comments -

---