---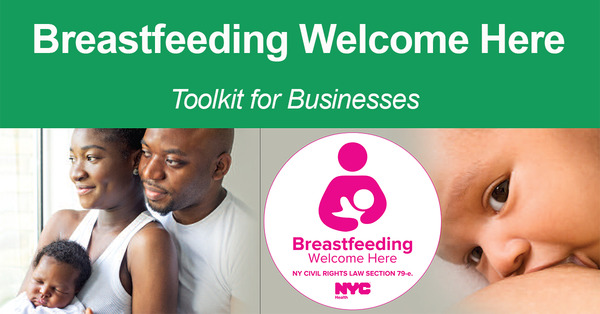 Anytime, Anywhere: Breastfeeding Toolkit for Business Owners
August celebrates National Breastfeeding Awareness Month (#NBM18) and Black Breastfeeding Week (#BBW18), affirming that women have the right to breastfeed anywhere and anytime.

In recognition of breastfeeding awareness the Center for Health Equity, in partnership with the NYC Commission on Human Rights and NYC Small Business Services, launched a new Breastfeeding Toolkit for Business Owners. We are excited to share this toolkit, complete with resources for business owners on how and why they should take the pledge to make their workplace breastfeeding-friendly. We encourage businesses to place a decal or post a sign in your space.

To receive a window decal to recognize your business as breastfeeding-friendly and hard copies of the toolkit, please call 311. Also please feel free to circulate the toolkit to your employers, partners, friends, and work teams.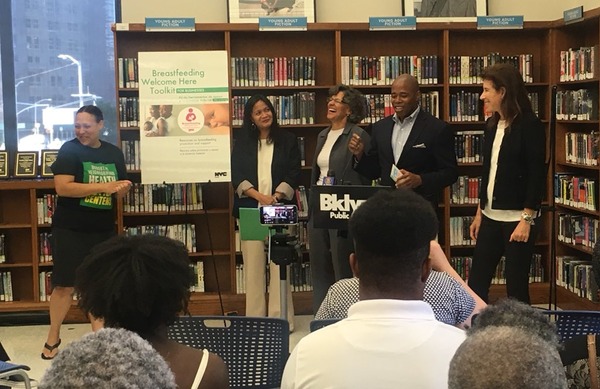 The Health Department debuts the Breastfeeding Toolkit for Business Owners at the Brooklyn Public Library. Left to right: (Brooklyn mother Evelyn Velasquez; Carmelyn P. Malalis, Commission on Human Rights Commissioner; Mary T. Bassett, Health Commissioner; Eric Adams, Brooklyn Borough President; Linda E. Johnson, Brooklyn Public Library President)

To help raise awareness, here are some sample posts for your social media platforms about the toolkit:
1. Text: Businesses in NYC can help to decrease the stigma of #BreastFeeding in public. Take @nychealthy's pledge to make your business a breastfeeding-friendly space for employees and customers. Call 311 for a hard copy. #BreastfeedingToolkit #NBM18
Link: nyc.gov/health/BreastfeedingBiz
Hashtags: #BreastfeedingToolkit #NBM18 #BreastFeeding

2. Text: New mothers should be able to breastfeed comfortably and safely in public settings. That's why @nycHealthy created this #BreastfeedingToolkit to help #Businesses become breastfeeding-friendly. Call 311 for a hard copy. #NBM18
Link: nyc.gov/health/BreastfeedingBiz
Hashtags: #BreastfeedingToolkit #NBM18 #Businesses

3. Text: Breastfeeding-friendly spaces are in all five boroughs and are important for the health of a lactating mother and her baby. Take @nychealthy's pledge and make your business breastfeeding-friendly. Call 311 for a hard copy. #BreastfeedingToolkit
Link: nyc.gov/health/BreastfeedingBiz
Hashtags: #BreastfeedingToolkit

4. Text: Do you own a small business in NYC? You can help new moms and their babies by taking @nychealthy's pledge to make your space breastfeeding-friendly. Call 311 for a hard copy. The details: nyc.gov/health/BreastfeedingBiz
Link: nyc.gov/health/BreastfeedingBiz

5. Text: All businesses should do their part to support lactating moms and their babies. Learn how you can take @nychealthy's pledge to make your business breastfeeding-friendly. Call 311 for a hard copy nyc.gov/health/BreastfeedingBiz
Link: nyc.gov/health/BreastfeedingBiz