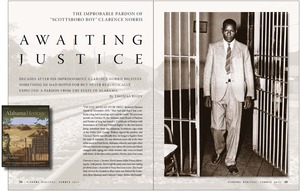 Could Pardon Await the 'Scottsboro Boys' at Long Last?

To all of our Alabama Heritage subscribers who enjoyed Tom Reidy's wonderful article, "Awaiting Justice: The Improbable Pardon of 'Scottsboro Boy' Clarence Norris," in the summer issue, we have an exciting update.

The article referred to a proposal "in the governor's office," which requested the pardon of the remaining Scottsboro Boys. We were notified this week that the proposal had actually been sent to the Alabama Board of Pardons and Paroles at that time. But as of today, August 16, 2012, the proposal IS in the governor's office. And now, we wait eagerly to see history made. Make sure your friends know this story and are ready to celebrate a bright ending to one of Alabama's most painful chapters. We have made the article available to all on our website at:

Please share this with everyone in your network today and ask them to do the same.

Forward this message to a friend
---
---
Alabama Heritage
Box 870342
Tuscaloosa, Alabama 35487-0342
US


Read the VerticalResponse marketing policy.