Download our report card from our web site and you'll see that our grade for 2017 is a D+, down from a C the year before. Why? As we started our data collection in the spring, the water was remarkably clear. But then in July, we had storms that dumped 8 – 10" of rain, two to three times the normal amount, and another 5 – 8" of rain in August, double the normal.

During this rainy period, the quality of the water was just as bad as you'd expect: murky, clouded with algae and low in oxygen; yet, when September came along with below normal rainfall, the rivers quickly cleared up, showing that our waterways are resilient. The rivers actually work pretty well when they're not overloaded with stormwater flooding them with sediment, nutrients and pollutants.

The lesson learned from this past year is that we need to work even harder to treat stormwater runoff before it pollutes the water. We need to double down on enforcing sediment controls on construction sites – an ever greater necessity with a building boom about to burst on the Mayo peninsula. We need to create more stormwater treatment projects like the one we're about to build in the waterfront park of the Holly Hill Harbor community in the upper reaches of Bear Neck Creek. And we need to encourage homeowners to adopt practices that treat stormwater on their own properties.

Storms are going to be coming more often and with greater intensity, so we need to work hard now to prepare.

You can help by making a secure donation on line.

We can't do all we do without you!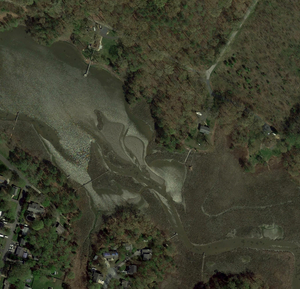 Anne Arundel County to purchase land saved from development by West & Rhode Riverkeeper, SACReD, CBF & Churchton Residents, all for passive recreational use

Anne Arundel County Executive Steve Schuh today announced that the County has agreed to purchase the 140 acre property in Churchton popularly known as Turtle Run at Deep Cove.

The property, which abuts Franklin Point State Park, has been the subject of litigation between the developer and the citizen group South Arundel Citizens for Responsible Development, or SACRED. After 10-plus years of attempts, the project had been granted conditional approval to locate 11 homes on a 40-acre parcel along Deep Cove Creek. That decision was appealed by local residents, SACRED, the West & Rhode Riverkeeper and the Chesapeake Bay Foundation, and is now before the Anne Arundel County Board of Appeals.
The County plans to create passive recreation areas, like hiking trails, and plant trees to preserve the site's environmentally sensitive features such as tidal and non-tidal wetlands that feed into Deep Cove Creek. The funds for purchase for the property, as well as any reforestation efforts, would come from "fee in lieu" money paid into an account when developers remove trees. The funds have sat dormant for years.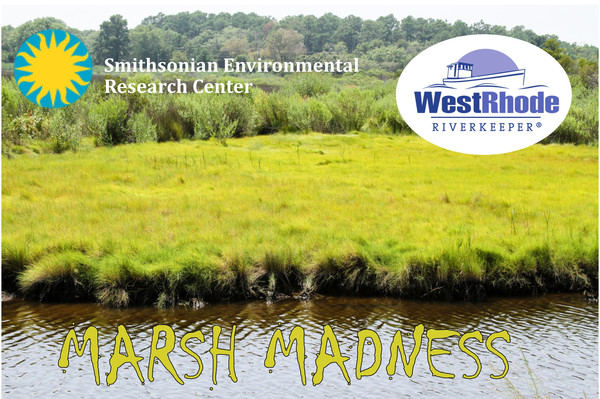 Join the Riverkeeper and Smithsonian Environmental Research Center scientists for the annual "Marsh Madness" salt marsh census

The Smithsonian Environmental Research Center (SERC) is looking for volunteer citizen scientists to help conduct their annual census of the Global Change Research Wetland (GCREW), a marsh that SERC scientists have been studying for over three decades. Volunteers are needed on weekdays through August 3 from 8 a.m. to 4 p.m. and especially July 30-August 3. Volunteers need to volunteer for a minimum of one full day, but volunteering for multiple days is better.

The work involves working in the tidal marsh (on boardwalks) at SERC to count and measure all of the plants in the experimental plots and working in the lab to sort samples and conduct analyses. Volunteers must be at least 16 years old to participate. This is a great opportunity for students who want to gain field work experience. This is a fun experience for anyone who wants to spend time outdoors and learn more about SERC or GCREW. If you are interested, please contact Alison Cawood at CawoodA@si.edu or 443-482-2271.

Read more.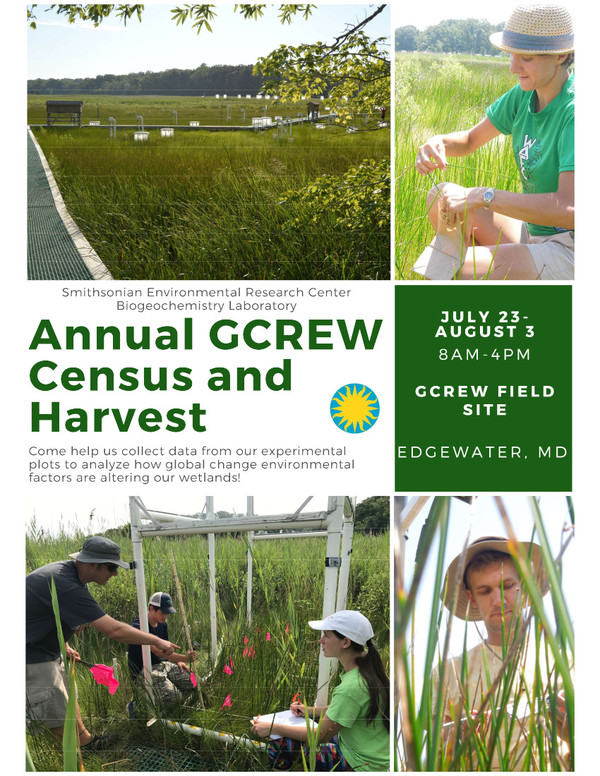 Pumpout Boat Service to run Friday - Monday, 9 a.m. - 5 p.m. Call or text 443-221-5104

The Riverkeeper's pumpout boat will be operating all this weekend.

Pumpouts are just $5 for the first 50 gallons. Riverkeeper supporters at the $50 level can get free pumpouts all season long. Supporters at the level of $100 and above can make reservations in advance for service during regular operating hours. Call or text 443-221-5104. You can make a secure online donation by clicking here.



Help us preserve and protect the West & Rhode Rivers and the Western Shore of the Chesapeake Bay from the mouth of the South River to Herring Bay.

We can't do all we do without you!



Please call or email me for more info.

Thanks as always your support!

Your Riverkeeper,