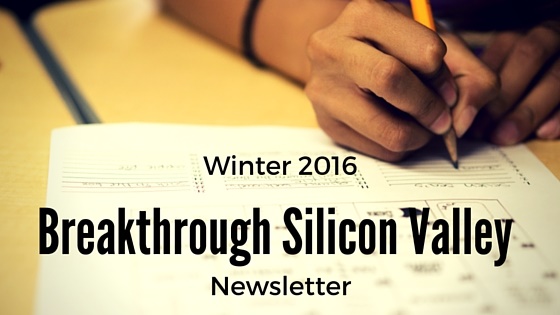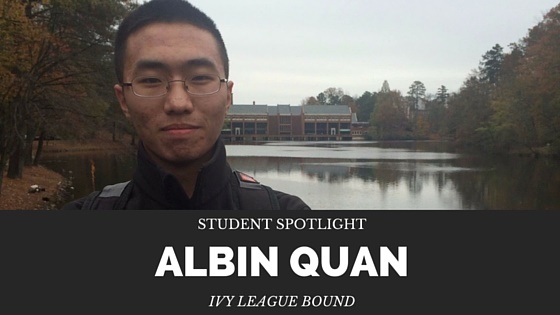 "Dreams, I believe, are a way of looking towards the future. They should be monumental, pushing me to step outside my comfort zone and break the boundaries of possibility…"
– Albin Quan, Breakthrough Silicon Valley Class of 2016, college application essay
Albin Quan is a young man with big dreams. As a senior at Summit Tahoma High School in San Jose, he is poised to make his mark in the world. Curious, creative and a self-described idealist, Albin started a science club at Summit to share his passion for scientific exploration. He hopes to continue touching the lives of others by pursuing dual interests in politics and medical research in college, and beyond.
Albin's thirst for learning has earned his academic success, yet below the surface simmers another story, one in which obstacles impact his daily life. As the son of immigrants and among the first generation in his family heading to college, Albin straddles a cultural divide between a traditional Vietnamese home life and the American reality in which his family toils each day. Like many high-achieving, first generation students, Albin juggles responsibilities and expectations: to be an outstanding student, a role model to younger siblings, and a dutiful son to parents navigating a foreign land. Economic hardship, language barriers, and a lack of resources could easily have sabotaged his plans. Yet with the support of Breakthrough, Albin found the strength to reach past the obstacles toward his dreams.
The hard work is paying off. With his first college acceptance – to Yale University – and more likely to arrive this spring, the next chapter of Albin's journey will soon begin. He looks ahead with confidence and optimism, "I know that the perspective I can bring…will enrich the discussions both inside and outside of the classroom…I want to become lifelong friends with people who share my passion for civic engagement and compassion for others."
We welcome you to join us in celebrating Albin and his Class of 2016 peers at our annual Senior Celebration. Details below.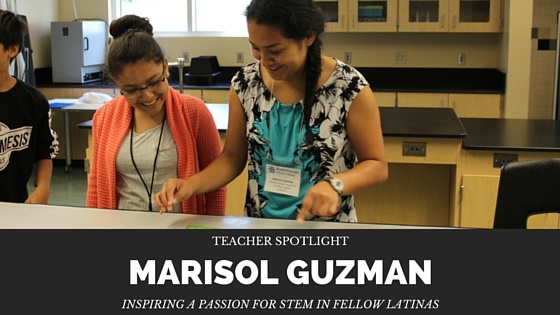 Marisol Guzman puts a face to STEM we don't often see: a first-generation young Latina woman from low-income circumstances, pursuing a passion for computer science and engineering at prestigious Harvey Mudd College. The first thing you notice about Marisol is her confidence. Here is someone who has come far and knows where she's going. Yet for one so young, there is also wisdom and humility in her words.
For as long as she can remember, Marisol has been interested in science. Her parents always told her she would go to college. They were determined to give her options they didn't have as immigrants from Mexico. A Sunnyvale native, Marisol attended Eastside College Prep in East Palo Alto, and it was an Eastside teacher who first told her about Breakthrough.
Asked about her summer teaching chemistry at Breakthrough, Marisol begins with a confession: it was hard. Not only were her students ready to dig deeply into the subject, they expected her to shine as she led the way. In the beginning, there were moments of self-doubt, but with the guidance of her Instructional Coach, an experienced educator, she began to find her stride. Marisol feels her Breakthrough experience has made her a better communicator, and she understands now that confidence grows with preparation and hard work.
As a college freshman, Marisol is thriving. She feels optimistic about the future for women and Latinos in STEM. She sees as many women as men in her classes, something lacking on other college campuses she visited. Older classmates at Harvey Mudd tell her that the Latino population there has grown steadily in just a few years.
After graduation, Marisol plans to pursue a career in engineering or computer science. And, inspired by her days at Breakthrough, she's committed to giving back to her community as a mentor to young Latino students interested in STEM.
Each summer we are fortunate to bring extraordinary young people like Marisol into our classrooms. A summer at Breakthrough is a time to grow – for students and teaching fellows alike. To see our students-teaching-students model in action, join us for a Visitor's Day. Dates, times, and locations are listed below.

From Breakthrough Silicon Valley student to teaching fellow to intern to full-time staff member, Stephanny Ledezma opens up about her eleven-year history with us.
How has Breakthrough supported your professional growth from your high school years into adulthood?
As a high school student, I had the opportunity to become a Breakthrough teaching fellow. The fellowship was my first real job. I never worked so many hours before! The work did not stop when I stepped out of the classroom. I found myself not only supporting students academically but emotionally as well. So much of my work was building confidence and developing the soft skills students need to be successful. Working with Breakthrough was so rewarding that I applied for the Breakthrough Leadership Program and interned with Breakthrough throughout my college career. It was exciting to collaborate with staff and lead projects with teaching fellows. Throughout that time, I learned to be a strong communicator, connector, and advocate for our students and families.
What inspired you to continue returning to Breakthrough as a volunteer and intern?
Breakthrough has always been a part of my life. At first, I started volunteering to simply give back to an organization that pushed me and encouraged me since I was 11 years old. Once I became involved, I wasn't able to step away. The students' ups and downs inspired me to continue.
How has Breakthrough prepared you for success in college and post-college?
The Breakthrough staff was always very encouraging while at the same time honest with me. They were very clear that being accepted to college and graduating college requires hard work.Breakthrough not only prepared me for college academically but also emotionally. Despite being of the first generation in my family to attend college, I felt emotionally prepared for that experience. As a Breakthrough intern, I developed the skills necessary to excel professionally, including public speaking, project management, and event planning. As I developed into a professional at Breakthrough, I learned important life lessons. For example, no matter how much planning is done you can't expect things to run 100% perfectly. At first, I hated and couldn't accept this idea. Then, I learned to appreciate the process. Now, whenever I come across a problem or challenge, I accept it as a learning opportunity. The ability to learn from mistakes and accept feedback are traits that I hope to pass on to my students.
What are you responsible for as Middle School Program Coordinator?
As Middle School Program Coordinator, I am responsible for ensuring that Breakthrough middle school students have the resources necessary to be successful in 6th-8th grade and prepared for the rigors of high school. I coordinate and oversee much of the after-school, weekend, and summer programming at our San Jose Unified School District site. In order to ensure 100% of our students remain on the "academic high road" as we say, I meet with students and families often to discuss everything from grades to goal-setting to cyber safety. It is rewarding to work with students and families in overcoming challenges that can easily change the course of their academic career. Growing up, many of my smart, capable peers fell off the college path because they did not receive the right guidance, information, or support. I refuse to see Breakthrough students fall off.
If there is one thing you would like supporters to know about Breakthrough, what would it be?
Breakthrough truly is a family. We function because we support one another. Everyone has an important role to play - student, parent, staff member, volunteer, community partner, and funder. As a full-time staff member, I now have the ability to provide the same resources and guidance that were generously given to me, to the next generation of students. Without a community of supporters, my colleagues and I would not have the ability to do that. Thank you for being a member of our family!

Career Exploration Day Field Trips
Career Exploration Day connects our students' dreams with a very real experience. By seeing what it looks like to work in Silicon Valley, they are taking the first step in creating a personal vision for their success. While their dreams may change, it is important that every student meets individuals who are successful in their chosen profession. Let us know if you or a colleague would like to host a small group of students for a morning at your place of work.
Tuesday, April 5

th

from 10:00am – 1:00pm (High School Group)

Wednesday, April 13

th

from 10:00am – 1:00pm (High School Group)

Tuesday, July 19

th

from 10:00am – 1:00pm (Middle School Group)
Senior Celebration
At this festive event, our seniors announce where they will attend college, the challenges they've overcome and their future aspirations. Join us in celebrating our Class of 2016!
Tuesday, June 7th from 6:00pm-9:00pm (Tentative Date) at TBD
Visitor's Days
This is an interactive, informational event where visitors get to tour classes, meet students and teachers, and leave inspired by the energy and enthusiasm of everyone involved with Breakthrough Silicon Valley. There are three dates you can choose from:
STEM Challenge and Chat
Via STEM based hands-on activities and round-table discussions, you will have the opportunity to share your passion and experience in STEM with middle school students. You can choose to join us for the morning or afternoon session:
Are You Smarter than a Breakthrough Student?
Each fall, we host an intensely fun competition of wits – an academic trivia contest – that raises money to support existing Breakthrough programs and fuel our expansion. Teams of competitors have included local business executives from Applied Materials, Cisco, eBay, and PwC. The winning team of adults then pits intellects against the highly talented Breakthrough students in the Championship Round. You are invited to come and compete against the best and brightest of Silicon Valley!
Contact Ana Cruz, Director of Development, at acruz@breakthroughsv.org or 408-287-6357 to participate!