May 2017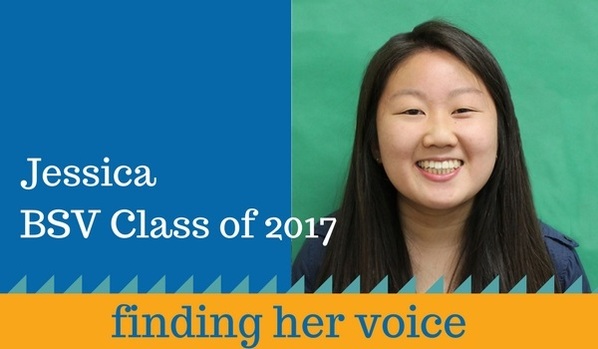 Jessica, Breakthrough Silicon Valley Class of 2017, is a standout. Equally at home crafting a short story or applying her love of math to everyday life, she says AP English is her favorite class because of its focus on "analysis and thinking." Jessica earns high marks as a senior at Leland High School in San Jose. Ask about her most significant accomplishment though, and she'll say simply, "finding my voice."
Jessica remembers being painfully shy in middle school. Her outlet for expression was the keyboard where she spent hours creating characters and plot twists, even publishing her writing online. When she joined Breakthrough Silicon Valley, she felt safe expressing her ideas aloud for the first time. "Teachers really cared about me, even if I was really shy. The summers made me feel like I was part of a community – a family." Her voice grew stronger as a volunteer in our after-school program. "Because of how much I cherished conversation with my energetic crew kids, I pushed myself to find the words to speak."
Neither of Jessica's parents had the opportunity to advance beyond high school in Vietnam. With one working the day shift, and another into the night, they look to Breakthrough to provide support that's beyond their means. Over the last six years, our staff members have helped Jessica tap into her full potential through academic advising, college counseling, leadership opportunities, and more. And now, this coming fall, not only is she on her way to college, she's heading to UC Berkeley with a scholarship from the Making Waves Foundation.
Jessica says, "[At Breakthrough], I found the spark I needed to propel myself forward in the real world." Armed with a strong, confident voice she looks forward to taking full advantage of each exciting opportunity that lies ahead.
Your support means students like Jessica receive the individualized support they need to discover their voices and reach confidently toward the bright futures they deserve. Thank you for your commitment to our mission.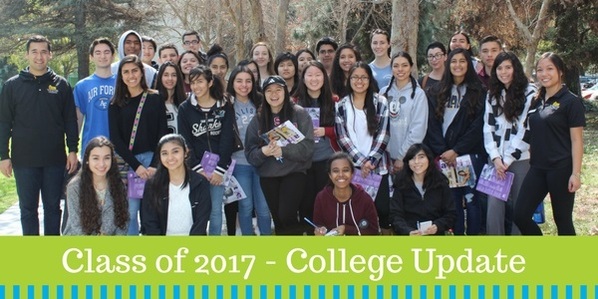 Spring is a favorite time at Breakthrough Silicon Valley. Beyond the sunny skies, our seniors have finalized their college decisions, the exciting culmination of years of hard work and focus! Most are among the first generation in their families to pursue college degrees, making this milestone particularly poignant.
Once again, 100% were accepted to college -- from UC Berkeley to the U.S. Air Force Academy in Colorado and Worcester Polytechnic Institute in Massachusetts -- an extraordinary accomplishment given just one in ten low-income students nationwide will graduate college by age 25. Collectively, this cohort of 41 was admitted to every UC campus, with three accepted to UC Berkeley, four accepted to UC Davis, and seven accepted to UC Irvine. They were admitted to a wide range of CSUs as well, including Cal Poly SLO, San Jose State, and Sonoma State. Private school acceptances included Wesleyan, Scripps, Willamette, Chapman, Mount Holyoke, and USC, among many others. From a financial aid perspective, University of Redlands and Santa Clara University stand out for offering generous aid packages to 11 students, making private school a possibility for a group that might not otherwise afford that option.
The ultimate impact of your generous investment in our program are the strong, capable young adults pictured above, ready to tackle the challenges as their next chapter begins. We'll keep you posted.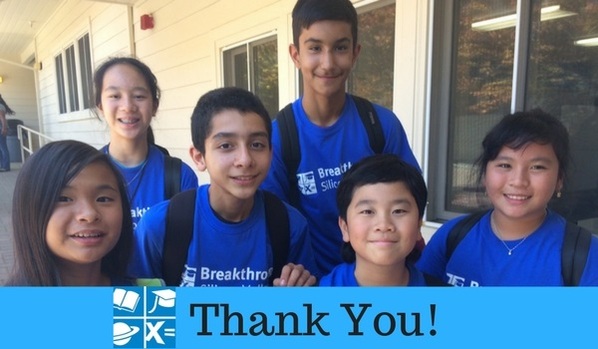 Breakthrough Silicon Valley has a lot to be thankful for this spring, starting with the BSV Class of 2023! With your support a new cohort of eager sixth graders has embarked on a life-changing journey to college. Stay tuned for news in the coming months.
We'd also like to recognize the generous support received from institutional so far this year: Adobe, Boston Private, The Campbell Foundation, Dell, House Family Foundation, LinkedIn, Sharks Foundation, Silicon Valley Community Foundation, and Sobrato Family Foundation.
Thanks to Super Duper Burger in Los Gatos for hosting a highly successful fundraiser in April, a chance to grab a burger with family and friends, all while supporting Breakthrough students and programs.
Finally, last month seven local companies hosted Career Exploration Day for our high school sophomores. This favorite field trip connects our students' dreams with real-world experiences. By seeing what it looks like to work in Silicon Valley, they take the first step in creating a personal vision for their success. Thank you to Bank of America, Deloitte, eBay, IBM, LinkedIn, Lockheed Martin, and Silicon Valley Bank for making the day a success.
Help Breakthrough Open the Door to Education
Your generous support invests in students who face tremendous obstacles on the path to college. Each dollar empowers future leaders and innovators who are setting a new standard in their communities. Thank you!