UPDATE FROM HAITI
April 2018
Here comes a new group of homeopaths! Twelve Haitian health care professionals (8 doctors, 3 nurses, 1 social worker) who successfully completed HWB's Fundamentals of Homeopathy 90-hour course were recognized in a special ceremony on March 28, 2018.

Dr. Jean-Hugues HENRYS, President of the Association Médicale Haïtienne and Membre du Cabinet, Ministère de la Santé Publique et de la Population, gave the keynote address.

HWB's Clinical Director, Lauren Fox, FNP-BC, CCH, presented Certificates to the new homeopaths.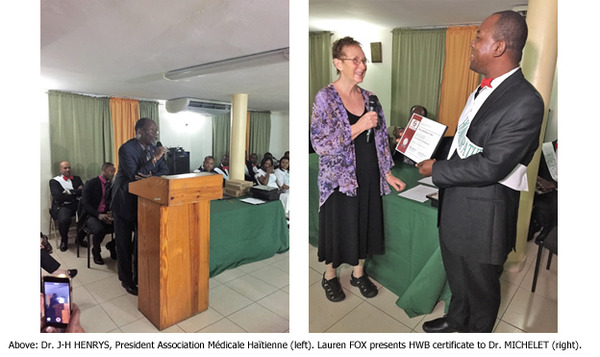 The four intensive sessions of classroom instruction and clinical practice were held over ten months in 2017 and 2018. Lauren Fox was the lead instructor, with teaching and translation assistance from Homéopathes Communautaires PG Legerme, HC, and James Alcy, RPh, HC (who also served as pharmacist for the clinics).

The students utilized their case-taking and prescribing skills during community clinics while HWB Volunteer Homeopaths, led by Lauren, mentored these student homeopaths.

Programme Essentiel d'Études Homéopathiques, the French version of the HWB Curriculum, was used in classes which were held in a meeting room provided by our partners at the Association Médicale Haïtienne.

We are grateful for the excellent mentoring assistance provided by HWB Volunteer Homeopaths for this course:
May 2017: Thera Ip, HOM; Vanessa Fontanilla, RN, ND
​November 2017: Isabel Frankel, CCH; Tanya Kell, CCH, RSHom(NA); Michael Cahn
January 2018: Wendy Pollock, DC, CCH; Marina Braun, CCH; Devra Krassner, ND
March 2018: Tanya Kell, CCH, RSHom(NA); Jeri Russell, RSHom(NA); Suzanne Smith, CCH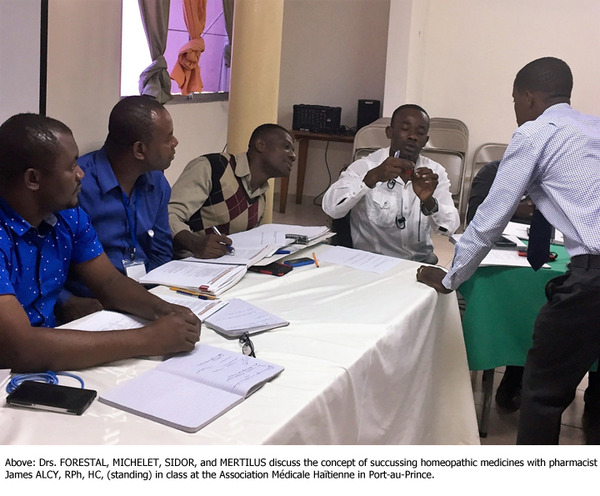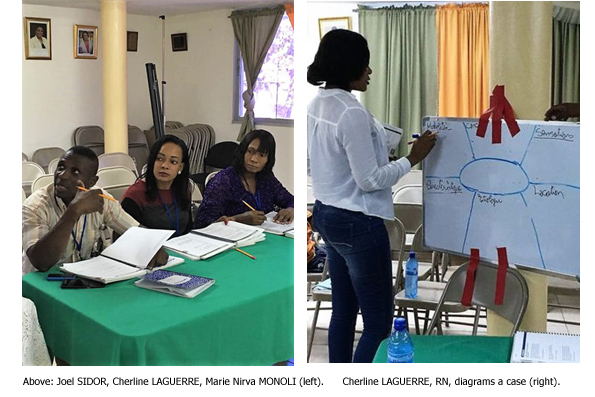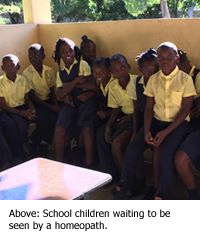 An important component of HWB's Fundamentals of Homeopathy program is to bring homeopathic treatment to underserved communities around the Port-au-Prince area; during the clinical training period, hundreds of patients were treated, including children at a local school.

The new homeopaths received homeopathic medicine kits, graciously donated by Hahnemann Labs, Optique donated by Boiron Labs, and Bioplasma donated by Hylands and TxOptions.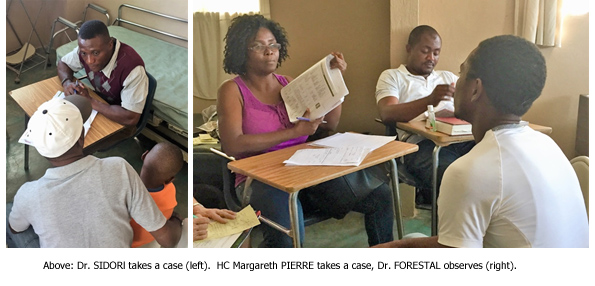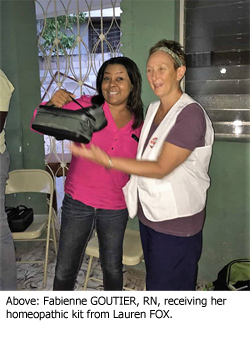 …AND THE BEAT GOES ON…

HWB is working to develop a centrally-located library of homeopathic resource materials, and a stocking pharmacy for graduates of the course and the Homéopathes Communautaires.

Thanks to your support, homeopathy continues to increase its potency in Haiti. To read more success stories about this project, please see updates on www.hwbna.org, Facebook, Twitter and LinkedIn. To volunteer for future trips, visit hwbna.org/volunteer.html.
Your generosity directly supports homeopathic care to many in need and strengthens the voice of homeopathy throughout North America.
Need to make a purchase on Amazon? Use this special link. A portion of your sales will go directly to HWB.
HWB Board of Directors
Liz Breadon, Christine Fiordalis, Isabel Frankel, Kristy Lampe, Ian Luepker, Suzanne Smith, Laurie Stemm, and Jean Hoagland (Board Member Emerita)
HWB Educators and Staff
Holly Manoogian, Lauren Fox

Haiti Support Staff

Joseph Prosper, MD; PG Legerme, HC; James Alcy, RPh, HC