The first HWB volunteer team to reach Haiti after Hurricane Matthew hit the ground running. We met up with our Haitian partners and Homéopathes Communautaires, and traveled together to the south.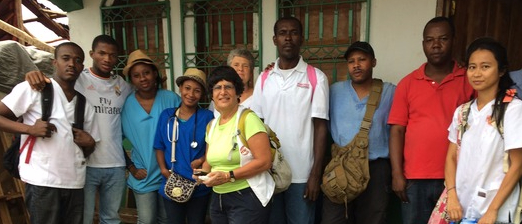 Image above: HWB team: Homéopathe Communautaire James Alcy, Translator Luckey Pierre, Nurse Catherine Pongnon, RN, Nurse Flore Marie Glemaud, RN, Executive Director and Homeopath Holly Manoogian, CCH, Dr. Wendy Pollock, DC, CCH, Homéopathe Communautaire Wilby Vernet, Dr. Joseph Prosper, MD, Unidentified man, and Homeopath Thera Ip, HOM.
Media photos and videos had not prepared us for the stark reality. We saw mile after mile of total devastation. It was overwhelming.




Image above: Homes flattened from Hurricane Matthew in Duchity, Haiti, October 2016.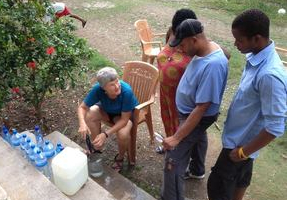 The pictures don't show "No electricity for at least another month", "Roads so bad it takes half a day to travel 16 miles" and "No clean water" - and since cholera is a water-borne disease, clean water is a most urgent need for everyone.

Image right: We used our water filtering equipment to provide gallons of clean water to residents in Petit Goave, Haiti, and to make up liquid medicines, with Dr. Wendy Pollock, DC, CCH, and Dr. Joseph Prosper, MD.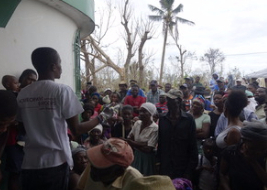 During our first week, we visited six communities. Even without publicity, crowds arrived before we could set up our makeshift clinics. Homeopaths listen to stories to know the patients… and there were hundreds of stories.

Image left: Haitian Homéopathe Communautaire, James Alcy, speaks with patients outside a busy clinic in Duchity, Haiti, October 2016.


We were struck by the attitude of so many. We might ask, "How are you?" and they would reply, "Très bien!" - "You're very well?" "Yes, I am very well. I am still alive." Big smiles, shy smiles, little grins: "Thank you for coming to help us." WOW!

Volunteer Team 2 has started its work, and Team 3 is in the wings for next week. If you would like to volunteer for future teams, email info@hwbna.org or visit www.hwbna.org/volunteer.html.

HWB would like to thank you for your financial and enthusiastic support. We are here thanks to you. Please visit www.hwbna.org/donate-now.html and continue to support our work in Haiti.
Mesi anpil, or many thanks,



Follow us on Facebook, Twitter and www.hwbna.org for updates.