At the end of HWB's 4-week relief effort after Hurricane Matthew, volunteers from the USA and Canada, Homéopathes Communautaires (HCs), and local medical clinical teams agree, "Supporting homeopathy in Haiti will strengthen the health of Haitians for generations to come."

Serving remote areas hit hard by Hurricane Matthew meant traveling for hours (130 miles took 5 hours). We bounced around in the back of a tap-tap on dirt roads with huge rocks and divots large enough to swallow a cow, or roads washed away with barely enough room for one vehicle to pass along the side of a mountain.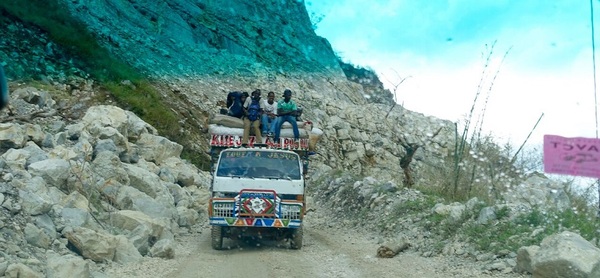 Image above: Bus on a washed out road wide enough for one vehicle to pass, Haiti. October 2016.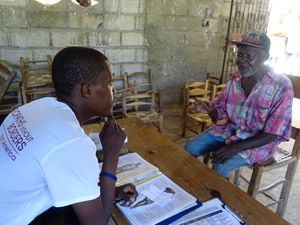 Every morning, the HCs found hundreds of patients waiting to be treated, and they worked tirelessly to provide care for each person. Readily expanding their knowledge of how to recognize and treat infectious diseases such as malaria, cholera, typhoid, fevers, and parasites. The HCs became very confident in their prescriptions; they also learned how to recognize and understand the effect that grief can have on the body.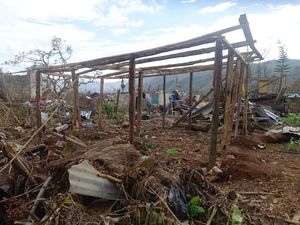 ​Image above: James Alcy, Pharmacist and HC working with a patient during clinic, November 2016, Haiti.

As we organize the next teams to travel to Haiti, HWB-trained Homéopathes Communautaires (HCs) continue post-Matthew recovery efforts with tele-medicine support from HWB Clinical Director Lauren Fox, FNP-BC, CCH.

Image right: Remains of a home in Duchity, Haiti. November 2016.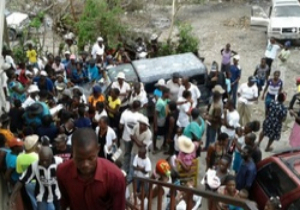 "You are going to places in my counry where the government is not going. You are still here for us." - James Alcy, Pharmacist and HC.
"You have big place in my heart. Thank you to all your people who have helped make this possible." - Alex Menesly, Social Worker and Translator.

Image left: Patients waiting to be treated outside a busy clinic in Dubreil, Haiti. October 2016.
We need volunteers for 2017! If you would like to volunteer, email info@hwbna.org or visit www.hwbna.org/volunteer.html.

HWB would like to thank you for your financial and enthusiastic support. We are here thanks to you. Please visit www.hwbna.org/donate-now.html and continue to support our work in Haiti.
Mesi anpil, or many thanks,





Follow us on Facebook, Twitter and www.hwbna.org for updates.