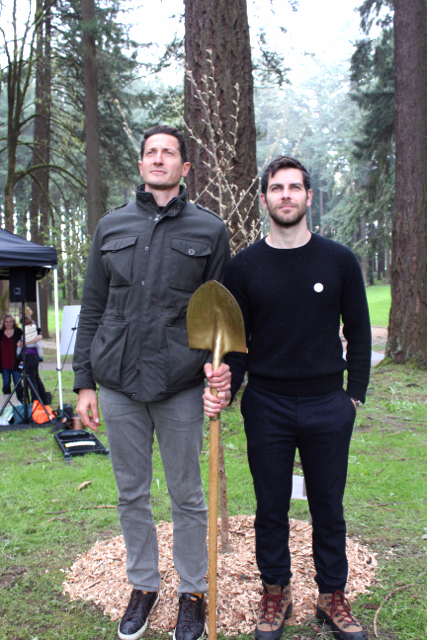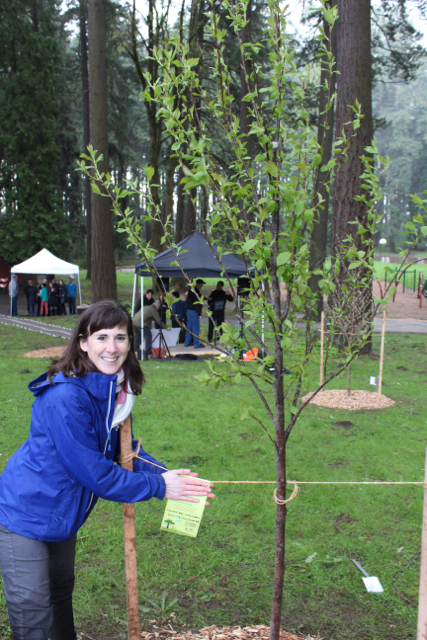 A Grove for Grimm
Friends of Trees participates in tree-planting ceremony honoring the Wesen-filled, filmed-in-Portland TV series
For six seasons the television show Grimm entertained audiences with images of weird and often scary creatures roaming the neighborhoods, parks and forests of Portland—Wesen among us!

To honor the cast and crew and all they gave to Portland, the Governor's Office of Film & Television decided to plant a grove of trees in Pier Park (a location often featured in the show) with a special plaque, permanently commemorating this special "Grimm" community while greening Portland at the same time. With help from Friends of Trees Deputy Director Whitney Dorer, the team chose some appropriate trees to plant: Witch-hazel, Black Hawthorn and Chokecherry.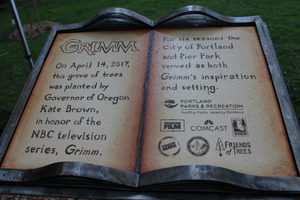 Oregon Film's Jane Ridley explains why she included Friends of Trees in this special occasion,

"I chose to work with Friends of Trees because your organization perfectly epitomizes fostering a community through coming together to plant trees, in all kinds of neighborhoods, across the metro area. It was a perfect match of missions!"

In addition to remarks from Oregon Governor Kate Brown and Portland City Commissioner Nick Fish, two of the stars of Grimm, David Giuntoli (golden shovel photo, right; Grimm's Nick Burkhardt) and Sasha Roiz (Grimm's Captain Sean Renard) were on hand for the event. Mr. Giuntoli spoke, recalling working in the park amid "a lot of mud" and "a lot of rain." Sounds like he'd do just fine at a Friends of Trees event!
---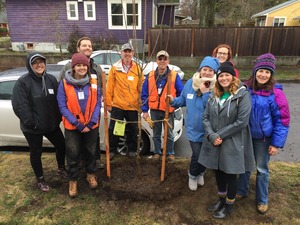 Get to know our partners:
Whole Foods Markets
"Our team members are so proud to support an organization that is so deeply tied to their values. Friends of Trees provides a space for community to come together, and there's something really special about digging in the dirt with your neighbors." — Megan O'Connor, Associate Marketing Coordinator
Whole Foods Market, Pacific Northwest Whether it's sponsoring neighborhood plantings or providing breakfast for tree-planting volunteers, Whole Foods Market is dedicated to supporting the efforts of their local communities. For more than ten years Whole Foods Market has been a strong Friends of Trees supporter in a variety of ways.

Friends of Trees has been a multi-year recipient of Whole Foods Market's 5% days, where 5% of a days' sales are donated to a local nonprofit. On April 5, they were able to raise over $22,000 for FOT from their eight Portland metro stores!

Over the years, more than 100 team members have come out to plant trees with their neighbors, friends and customers in neighborhoods where their stores are located. Whole Foods Market team members are part of the local community and are passionate about supporting the local causes that are important to our shoppers and neighbors. We're thrilled to be on that list!