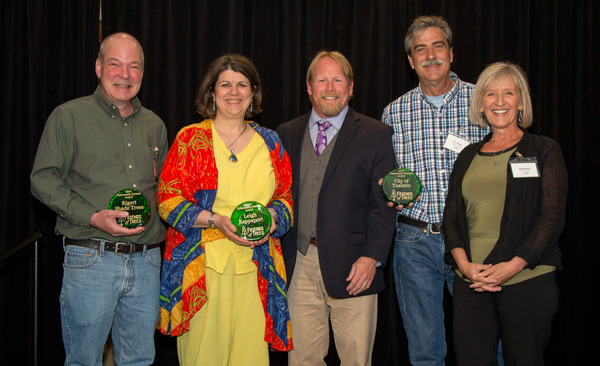 Community Partners Honored
Every year Friends of Trees honors a business, a municipality and an individual, recognizing partners who have gone above and beyond in planting trees and growing community. Meet our 2017 Community Partner awardees:
Rigert Shade Trees. Rigert Shade Trees, a Friends of Trees partner for more than a decade, is a family owned and operated nursery in Aloha, OR. The Rigert Team contributes to Friends of Trees in many ways: through directly supporting our tree planting efforts by helping to procure hard-to-find trees at no extra cost; by storing and delivering trees from other nurseries at an incredible discount; bringing their team out to volunteer at plantings; and financially sponsoring multiple events a year. Rigert's support makes planting thousands of trees in the Portland metro area possible.
City of Tualatin. The City of Tualatin has been an incredible Friends of Trees partner for 10+ years. The City has hosted 39 volunteer planting events where 30,000+ trees and native shrubs have been planted by more than 3,500 volunteers. The City has taken an additional step to add pollinator friendly wildflowers to many of our plantings. These native wildflowers will not only help increase nectar and pollen resources for numerous bees, butterflies and hummingbirds, they will also help beautify the parks and natural areas for the parks' human visitors.
Leigh Rappaport, POIC, Rosemary Anderson High School. Since 2007, Leigh has connected more than 100 youth with Friends of Trees by coordinating paid internships for students at Rosemary Anderson High School. Each year, eight to ten youth work through the Portland Opportunities Industrialization center to become FOT Crew Leaders, through which they help guide volunteers in properly planting trees at both natural areas and in neighborhoods. Leigh works to create memorable experiences that will guide youth to considering careers in the environmental field, and she works alongside Friends of Trees staff to develop projects that can be owned by the youth within this program.
photo, from left: Mike McKee, Rigert Shade Trees; Leigh Rappaport, POIC; Scott Fogarty, Friends of Trees; Tom Steiger, City of Tualatin; Jackie Konen, City of Tualatin
---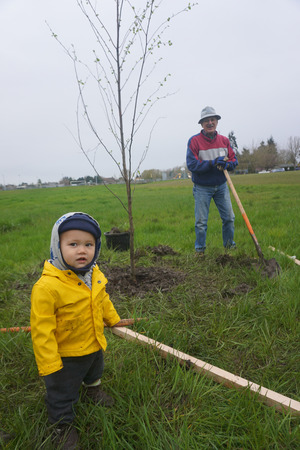 Get to know our partners: City of Salem
April 1st at McKay School Park marked the fifth anniversary of Friends of Trees planting in the

City of Salem

. Since 2013, 8,700 trees and native shrubs have been planted by 1,600 volunteers at 22 community tree-planting events — !

Our 2017-18 planting season promises to be our biggest in Salem yet. A highlight will be the first three of six planting events at

Minto-Brown Island Park

, which recently celebrated the opening of a new foot and bicycle bridge, greatly increasing access to recreational opportunities from downtown. Another partnership highlight is our growing work with Chemawa Indian High School; Chemawa students have volunteered at

every

Friends of Trees Salem planting event for the past two years.

A recent Salem planting event included what we believe to be the youngest and oldest Friends of Trees volunteers captured in one photo EVER. Friends of Trees welcomes volunteers of all ages, from 1 to 82—and beyond!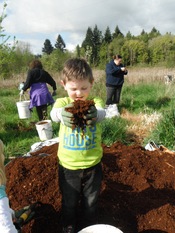 Summer is for tree care
Don't you love your new tree? You want your new tree to not just live, but to thrive, right? YOU play a large role in this!

Trees need to be watered regularly during the first three summers after planting. Newly planted trees need 10-15 gallons of water once a week throughout the summer and during other dry spells. New trees would love some mulch, too! (as a matter of fact, all your trees would likely love some mulch). Learn more about tree care here. Happy watering!





Get Involved
We're recruiting Summer Tree Team Ambassadors!
Every summer Friends of Trees has info tables at street fairs, concerts, farmers markets, and other events throughout our region. We spread the good word about trees and about our program. This is a great way for us to recruit volunteers and to let folks know how they can get a tree from Friends of Trees planted at their home.

You can be a part of this! We're searching for Summer Tree Team Ambassadors to help us at these events.

Join us Wednesday evening, June 14, and we'll train you in everything you need to know so you can represent Friends of Trees—you'll even get your own "Tree Team" t-shirt!

Interested? More information and training registration is here.
Friends of Trees empowers people to improve the natural world around them through a simple solution: Planting Trees. Together.