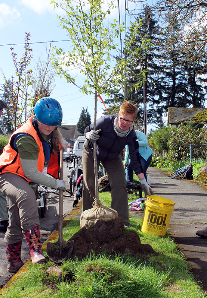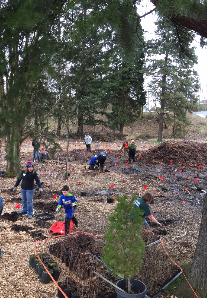 Another Epic Planting Season
6,000+ volunteers plant 54,000 trees & native shrubs
Do these impressive stats feel familiar? Despite a snowy winter and 13 weather-caused event cancellations, we enjoyed the support of just as many volunteers to plant the same number of trees as in prior seasons! Here's the breakdown, which includes our entire service area of Clackamas, Lane, Marion, Multnomah and Washington counties in Oregon and Clark County, Washington:
Green Space Program
49,179 native trees and shrubs planted. 69 events at 51 different sites.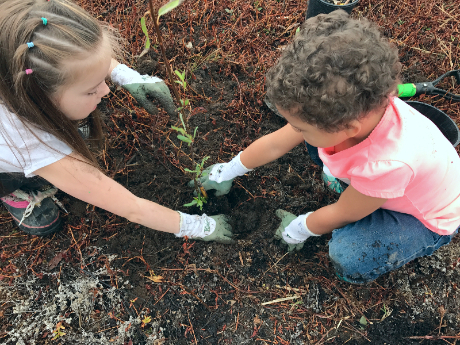 Working with youth has been such a highlight for the Green Space Program this season. We saw babies strapped onto their mother's back as the whole family dug into the earth together. We got to witness high schoolers feel empowered to mentor 5th graders in proper planting technique. From preschoolers watering their trees from their own water bottles to 7th grade students naming the shrubs they just planted, it was inspiring to see children of all ages take ownership and nurture what they had planted.
Neighborhood Trees Program
4,473 trees planted. 1,648 trees pruned. 56 different events in 122 neighborhoods.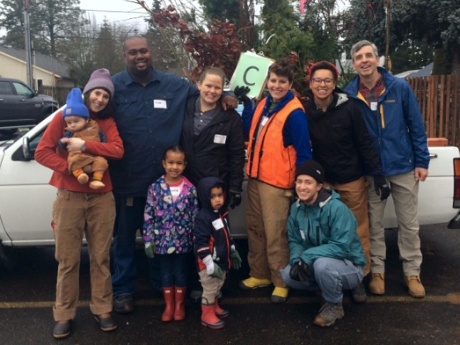 The Neighborhood Trees Program is not just out there planting trees, we're also proactively visiting homes. We prioritize under-canopied, lower-income neighborhoods, and we go door-to-door, talking with homeowners about the benefits of trees and how easy it is to get a tree through Friends of Trees. Street trees are just $35, which includes a tree about 5'-7' tall, a pre-dug hole, help planting the tree, and tree-care follow-up. This past season we assessed 110,000 properties for street tree potential, and we made more than 2,600 follow-up calls—we really want you to get a tree!
Volunteer & Outreach Program
6,000+ volunteers. 125 events in 6 counties across 2 states.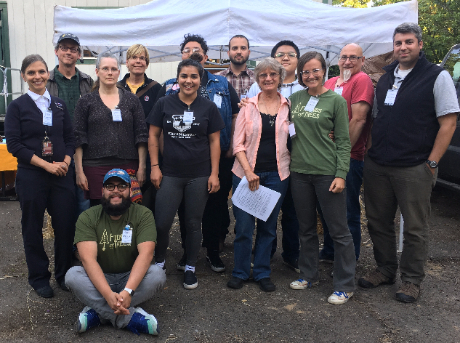 Volunteers are the lifeblood at Friends of Trees. And behind the scenes our Volunteer & Outreach staff are the maître d's, serving up the perfect role for, and communicating with, more than 6,000 volunteers! How do we do this? We spread the word—we REALLY spread the word, through attending street fairs, school functions, employee events, farmers markets ... We communicate through email, postcards, social media. And we shower our volunteers with praise and appreciation every chance we get.
You can be a part of this—join us!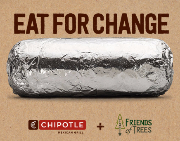 Get your burrito on!
Wednesday, June 28
Chipotle fundraiser for Friends of Trees
Chipotle will donate 50% of ALL SALES from Portland Metro stores when you mention Friends of Trees or show this email when you order.

Be sure to say "Friends of Trees Fundraiser" or show this BEFORE you pay for your order!

Click here for the list of participating Chipotles —spread the word! Your lunch/dinner/snack plants trees + grows community. Now that's delicious AND meaningful.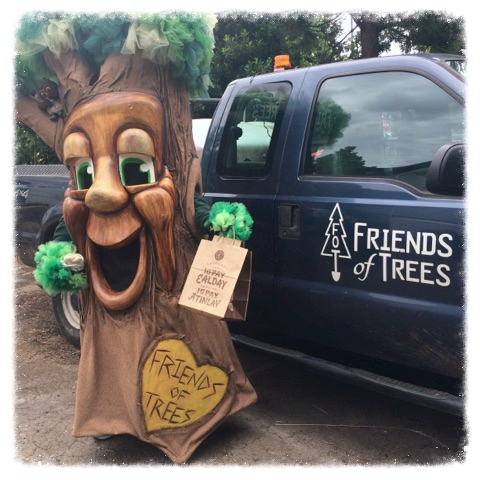 Summer is for Outreach!
All summer long you'll find the friendly folks from Friends of Trees at fairs, festivals, parks and farmers markets. We're spreading the good word about trees, recruiting volunteers and, in some neighborhoods, talking with homeowners about getting a Friends of Trees tree (or two ...) of their very own. Come say hello!

Here's just a sampling of where we'll be; our full events calendar is here.

Sat., July 1: Portland Craft Beer Festival. We're actually pouring beer here, 12-3:30. FOT gets a percentage of festival proceeds—beers for the trees!

Sat., July 22: Portland Slavic Festival. Family-friendly event in Ventura Park with music, food and dancing!

Sat., Aug 12: Nadaka Community Festival. Gresham's Nadaka Nature Park hosts this event with free hot dogs, live music, dance performances, and fun activities for families. Aztec Dancers!
Friends of Trees empowers people to improve the natural world around them through a simple solution: Planting Trees. Together.