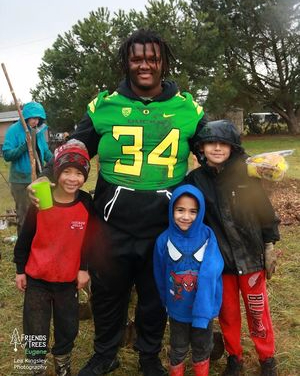 Industry, nonprofit, education & government come together to plant trees
The Living Highways program came back last month! On January 21 Friends of Trees-Eugene hosted Daimler Trucks North America, University of Oregon Ducks, the Oregon Department of Transportation and dozens of community volunteers to plant 183 trees and native shrubs along the Bob Straub Memorial Highway in Springfield.

Trees planted along highways improve air and water quality, reduce noise and beautify heavily used transportation corridors. Studies have demonstrated that trees can accomplish these goals at far less cost than many other capital improvement projects.

"We're creating safer, cleaner highways."
Friends of Trees Executive Director Scott Fogarty

Living Highways began in 2008 on the I-205 freeway, where Friends of Trees, in partnership with ODOT and Metro, planted thousands of trees to reduce temperatures and improve conditions along one of Oregon's worst heat islands. Our newest Living Highways partner explains their involvement,
"Daimler Trucks North America has been an Oregon resident for over 70 years, and we are committed to our communities and our environment," says David Giroux, Director of Corporate Communications and Corporate Marketing for Daimler Trucks North America. "That's why in addition to producing the most fuel efficient commercial vehicles on the road, we also donate one tree for every point the Ducks score during their football season. DTNA has planted 943 trees through the Touchdowns for Trees partnership, which began with the 2015 season."
Friends of Trees looks forward to working with ODOT and other partners to continue making our highways greener & healthier. We're grateful to all involved for recognizing the value in community tree planting and improving the environmental quality of our roadways.

---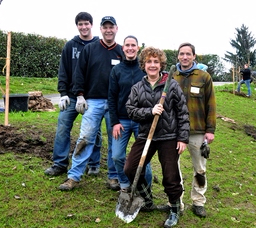 Get to know our partners:
Port of Portland


"

We are proud to partner with Friends of Trees and their extraordinary volunteer network to enhance the urban tree canopy of the Portland-Vancouver metropolitan area. At the Port of Portland, we are committed to reducing our environmental impacts and enhancing the communities we serve.

"

Curtis Robinhold, Deputy Executive Director, Port of Portland
In the past 10 years the
Port of Portland
has planted more than 6,000 trees and native shrubs. From Portland street trees to natural area restoration in Washington County, the Port has partnered with Friends of Trees to plant in or near areas where the Port operates. Greening our region is part of the Port's mission.
In fact,
the Port publishes annual environmental objectives and targets
regarding air quality, energy management, natural resources and waste minimization. They set goals, track progress, and measure success.
Friends of Trees is honored to play such a key role in helping the Port of Portland meet its goals around increasing the urban tree canopy and restoring natural areas. The Port's support of our program is crucial to our ability to grow our efforts to green our region and build community. Why not join them at a planting?
Remaining 2016-17 tree planting events sponsored by the Port of Portland:
Feb. 25: Argay, Parkrose Heights, Russell, Wilkes neighborhoods (NE Portland)
March 11: Concordia, Vernon neighborhoods (NE Portland)
March 25: Jackson Bottom Wetlands (Hillsboro)