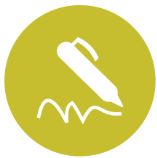 Curious what Illinois colleges are doing to improve the college-readiness of their students? Wondering who to talk to? Together, let's find out. Take this 6-question survey to share your developmental education triumphs.

Based on the recommendations in the Illinois Community College Board (ICCB) Workforce Education Strategic Plan, the Northern Illinois University Center for P-20 Engagement and Women Employed, in conjunction with ICCB, have developed this survey to create a directory of research-based instructional models in developmental education, like co-requisite remediation and transitional math pathways. With a directory of this kind, institutions can share promising practices in peer institutions, identify the correct person to contact for more information, and expand the innovative practices to their institutions. We will also highlight some of the excellent work happening in Illinois with policymakers and others.

If you have questions or comments, please contact Sarah Labadie at slabadie@womenemployed.org or (312) 782-3902 ext. 231.

---
MAP grants for the 2018-19 academic year were suspended as of February 28, 2018. This date, which is almost five months after the FAFSA opened in October, represents a significantly longer open period for MAP grants than in previous years. According to the Illinois Student Assistance Commission, MAP grant applications are down overall, which has led to the lengthier period.

Overall, the decrease in MAP grant applications mirrors a trend in enrollment across Illinois, an issue that was exacerbated by two years without a budget. The funds for the 2018-19 academic year are contingent upon a state budget for FY 2019. WE is responding by arming students with the tools to be their own advocates and to speak to legislators on their own behalf.

Contact Jessie Gotsdiner at jgotsdiner@womenemployed.org or (312) 782-3902 ext. 256 if you would like to host a Student Advocacy Workshop for your students.

---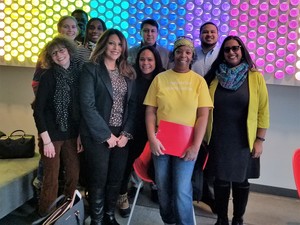 For Career Foundations students focused on transitions and interested in manufacturing and supply chain management, the Method soap factory in Chicago's historic Pullman neighborhood was a great stop. Twelve students and staff from five community-based organizations toured the factory in December. The tours are designed to give students and instructors an idea of what an industry looks like behind-the-scenes. They also allow each student to decide whether their career of choice makes sense based on what they see, experience, and learn on the tour. Method, which boasts low employee turnover, also offers benefits such as a competitive vacation bundle and a fun atmosphere (company-wide ping pong tournament, anyone?). The factory also has a 75,000-square-foot green roof that produces about 500 tons of fresh, pesticide-free produce for the community and surrounding retailers and restaurants.

Future tours of Method and other employers are in the works to showcase the day-to-day aspects of careers in various industries throughout Chicago. For more information or to join a tour, contact Shirlondra Brooks at sbrooks@womenemployed.org or (312) 782-3902 ext. 252.

---
Challenges Ahead: The PROSPER Act
Congress is once again considering reauthorizing the Higher Education Act, the law governing Pell grants and other forms of financial aid. The law's original purpose was to expand postsecondary opportunities to those who did not have the financial means to do so. But some of the proposals on the table would set us back in that regard instead of moving us forward, especially when it comes to protecting student borrowers.

One such bill, the PROSPER Act, exacerbates the burden of student debt and rolls back the most important safeguards put into place to ensure students are protected. For instance, the bill eliminates the gainful employment rule and allows for-profit institutions to be fully federally funded, instead of subject to the free market. It also makes it much harder for students who are defrauded by colleges to recoup their money.

Women Employed has signed on to a number of letters urging Congress to reject the PROSPER Act and will continue to work to defeat it, but you can too. Call your U.S. Representative and urge them to reject the PROSPER Act!

---
Mark Your Calendars:
Zero Weeks, Lettie, and The Working Lunch!
Mark your calendars for a strong slate of upcoming Women Employed events!

Friday, March 23rd at 7:30 p.m.
Women Employed is proud to co-host the Chicago premiere of Zero Weeks, a groundbreaking documentary that examines the impact of being the only industrialized nation without paid family leave. Join us after the screening for a panel discussion and Q&A moderated by WE's President & CEO, Iliana A. Mora, featuring film director Ky Dickens and special guest U.S. Congresswoman Jan Schakowsky as well as health care experts, small business leaders, individuals featured in the film, and other partners.

Click here for more information and to purchase tickets. (When you register, please select the "Women Employed Affiliates" ticket level.)
---
Tuesday, April 10th at 6:00 p.m.
Women Employed is partnering with Victory Gardens Theater to present a gripping portrait of one woman's struggle to gain meaningful employment and create a brighter future for herself and her children in the face of adversity. Join us for this impactful story, and stay for a discussion and more information about how to advocate for low-income students.

Seats are limited, and ticket sales close on Sunday, April 1st at midnight. Click here for more information and to purchase tickets.
---
Thursday, May 31st at 11:00 a.m.
You won't want to miss our special anniversary program! At this year's luncheon, Women Employed is celebrating 45 years of women speaking up and speaking out. We are looking forward to presenting a dynamic presentation and discussion about how to make your voice heard. Please join us to support advancement and economic opportunity for women at a key moment in time in our country.

Join women leaders from business and civic life as we toast WE's record of success and look to the future. Purchase tickets, reserve a table, or make a donation today!