WE Goes West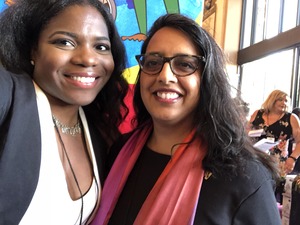 WE's Ishena Robinson (left) and Sharmili Majmudar at the United State of Women summit.
The WE team travelled to Los Angeles, California for the United State of Women summit earlier this month, and gathered with more than 5,000 women, girls, and allies in support of gender equity. The summit featured a variety of speakers, including former first lady Michelle Obama, actress and activist Jane Fonda, founder of the #MeToo movement Tarana Burke, and two of Women Employed's panelists for
The Working Lunch
on May 31
st
, Ai-jen Poo and Mónica Ramírez.
At the two-day summit, WE took part in vibrant discussions where attendees and experts tackled issues like sexual harassment and abuse across various industries, the fight for equal education, and prioritizing women in the workplace. The conference reflected Women Employed's own long-standing ethos—
It's Up to Us
—which was echoed on stage by Michelle Obama herself.
"We are the answer," Mrs. Obama told attendees at the summit. "All of us here in the room are the answer to our own problems―it is not finding the one right person that we think can save us from ourselves. It's us."
She Says: Making Memories, Making Change
On May 31, more than 1,000 people will gather at
The Working Lunch
in support of Women Employed's mission of economic advancement for women. Below, longtime WE supporters share their favorite memories from past luncheons.
"I've had the opportunity to hear fabulous speakers like Valerie Jarrett, and to share WE's mission with new supporters. If I had to choose my favorite memory from
The Working Lunch
, it would have to be last year, listening to my former Advocacy Council co-chair Abigail Sylvester stand up and speak in front of 1,000 people about her determination to better the world for her daughter—who was coincidentally born on the same day as the Women's March in 2017."
-
Beth Kenefick, WE Advocacy Council
"Not only does
The Working Lunch
deliver dynamic keynote speakers who inspire me to work even harder to achieve workplace equity, it gives me a chance to hear from women whose careers and families have been directly affected by Women Employed's programs. These uplifting stories always touch my heart, and sometimes bring a tear. They affirm that my support is making a tangible, positive difference in so many lives."
-
Pat Arnold, WE Marketing Committee
Be sure to register for The Working Lunch before ticket sales close on May 24! »
Family Matters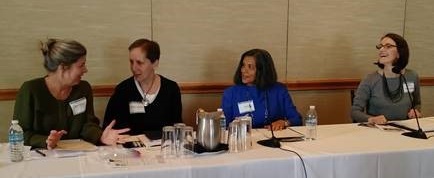 WE's Melissa Josephs (second from left), joined by panelists from the Department of Family and Support Services' Chicago Young Parents Program, the Chicago Foundation for Women, and Chicago Cook County Workforce Partnership.
How do we develop policies that not only address the needs of today's working people, but also their families and the workers of the future? Melissa Josephs, Women Employed's Director of Equal Opportunity Policy, shared how WE's approach to social change answers that very question at a recent event in Chicago,
Whole Family Success: Advancing Excellence in Two Generations.
WE works toward systemic changes that benefit all working women by also reflecting the diversity of America's families. For example, WE advocates for paid sick time and family and medical leave laws that cover workers and their loved ones, including their chosen families.
Learn more »
What Will Your Legacy Be?
Ensure a future of economic equity and expanded opportunities with your legacy gift to Women Employed. You can make your planned gift through a will or living trust, retirement account, or life insurance policy. When you do, we'll welcome you as a member of WE's legacy society, the Generations Circle.
For more information, visit
our website
or call Linda Ballard at 312-782-3902 x245.
Your legacy gift will create a better economic future for all working women and their families.



Policy Watch

While affording higher education is a major barrier for many non-traditional students, just accessing further education and training is still a problem for many more. According to research from the Urban Institute, almost 3 million adults in the U.S. live more than 25 miles from a college or university and lack the sufficient internet speeds to take online courses.

These education 'deserts' are predominately in rural areas, where high numbers of Native peoples reside. Researchers say community colleges are key to addressing this disparity and have recommended that these institutions work more collaboratively with four-year colleges to better support the needs of students in these areas.

Share This

Support Women Employed and get the chance to win great prizes by entering The Working Lunch raffle! Special thanks to our raffle sponsors: Southwest Airlines, PanIQ Escape Room, Murphy's Bleachers, and former HGTV host Joan Kohn.
What We're Reading
Refinery29



Progress Illinois

Chicago Tribune
We thank the following sponsors for their support of The Working Lunch:

Anniversary Sponsor
ComEd

Visionary Sponsor
Southwest Airlines – The Official Airline of Women Employed

Benefactor Sponsors
Allstate Insurance Company, JPMorgan Chase & Co., Wintrust

Champion Sponsors
BMO Harris Bank, fairlife, Kirkland & Ellis, Nancy and Rick Kreiter, Woodward, Inc.

Supporter Sponsors
Aon, Bill Bass Foundation, International Services, Inc., PepsiCo, RBC Wealth Management/RBC Capital Markets

Media Sponsors
1871, Make It Better Magazine, Windy City Times