The State of Change in Illinois
Though it seems hard to believe, we are almost half way through 2018! The state legislature has paused for the summer, and we have updates on legislation Women Employed has been advocating for that will benefit working women and students.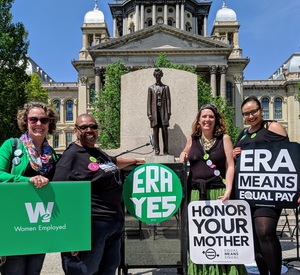 Equal Rights Amendment: Forty-six years after Congress approved the Equal Rights Amendment, Illinois has ratified it! We are now only one state away from an amendment to the U.S. Constitution that would guarantee equality of rights under the law for women. Which state will be next?

No Salary History: Our re-introduced bill to ban employers in the state from requiring job applicants to share information about their previous wages has passed the Illinois House and Senate! Now we just need the Governor to sign it into law. Sign up for our Action Network to know right away when your advocacy is needed to get Illinois closer to equal pay for all.

Student Financial Aid: Illinois has its first on time budget in four years! The state's FY19 budget includes a $401 million appropriation for the need based Monetary Award Program (MAP), which helps many low-income working women in Illinois get to college. Earlier in the year, WE gave testimony to lawmakers that to meet the need of students, MAP funding should be increased to $501 million. We will continue to advocate for the state to invest more in higher education.
"Everyone has a role in this movement"
Women Employed was joined by close to 1,000 advocates, supporters, and civic leaders at The Working Lunch last month, as we celebrated our 45
years of speaking up, speaking out, and making change for working women. Our panel featured Ai-jen Poo, Andrea Pino, and Mónica Ramírez—three key leaders of today's women's movement—who discussed the roles that everyone can play in advancing gender equity.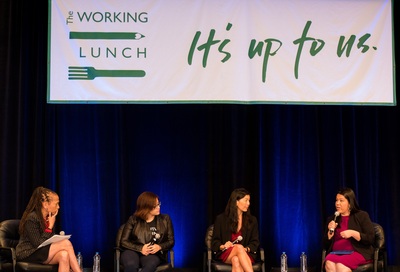 From left: Panel moderator Laura S. Washington, Andrea Pino of the National Center for Lesbian Rights, and Ai-jen Poo of the National Domestic Workers Alliance listen in as Mónica Ramírez of Alianza Nacional de Campesinas makes a point.
Ai-jen pointed to the Illinois legislature's passage of the Equal Rights Amendment as an example of the power of speaking up. "Women are the most powerful force for change in the country right now," she said.
The panelists also discussed the need for men to be more vocal on issues like sexual harassment. "Male allies—we need you at the table. We need you marching with us, we need you speaking up when we're not in the room," said Mónica Ramírez.
And though the #MeToo and #TimesUp movements have created space for many to speak out, Andrea Pino encouraged luncheon attendees to not let it end there. "Keep the conversation alive beyond the news cycle, so that
everyone
feels like they have a role to play in this movement."
Didn't make it to the luncheon? You can watch the best parts of the panel discussion here.

If you were at The Working Lunch, be sure to tag yourself in
the official photos »
She Says: Susan Ismail & Aisha Ismail
Throughout our 45th anniversary year, WE will be highlighting the generations of women who've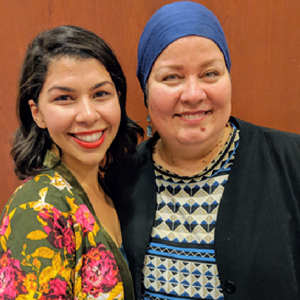 Susan Ismail (right) and her daughter Aisha.
been impacted by our advocacy for gender equity.
Susan Ismail, a past WE staff member and alumnus of The Pattis Family Summer Leadership Program, gave a moving testimonial at
The Working Lunch
about her journey to higher education and how Women Employed helped her find her voice as an advocate. Susan is also the mother of Aisha Ismail, a Program Coordinator at WE.
"Mom, you are a warrior," said Aisha after watching her mother deliver her speech at the luncheon. "I am so incredibly proud to be your daughter."
Watch Susan's speech and prepare to be inspired »



Policy Watch

Investing in single mothers pays out dividends to individuals, families, and society at large. That's the finding of a recent study by the Institute for Women's Policy Research, which evaluated the costs and benefits of increased college attainment for single mothers. College credentials are associated with increased earnings, higher rates of employment, and even improved outcomes among the children of college graduates. Though the benefits of higher education are clear, financial insecurity, unstable scheduling, and caregiving responsibilities limit access for too many working women, which is why our work at WE is not done.

Share This

Paid sick time became a reality for hundreds of thousands of Chicagoland workers on July 1st last year. Share the graphic below to mark the anniversary of this win for working people. Are you an employer or worker who has experience with the new law? WE wants to hear your story.
What We're Reading
Salon



The New York Times

NPR



Esquire

Washington Post