Celebrate 45 Years of Women Employed at The Working Lunch!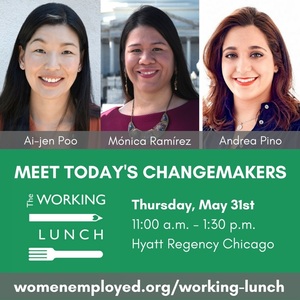 Ticket sales are open
for
The Working Lunch
! We hope to see you on May 31
st
at this special anniversary luncheon, where WE will celebrate 45 years of speaking up, speaking out, and making change for working women.
This year, thousands spoke out to say #MeToo and #TimesUp. With their decades of organizing and advocacy experience, our featured panelists for
The Working Lunch
are empowering all women to raise their voices and fight for equity and respect in the workplace.
You have seen them on the red carpet at the Golden Globes, on national news, in magazines, and on college campuses…Now see them in Chicago at
The Working Lunch
!
Learn more about our panelists and purchase your tickets today »
Making History Every Day
It's been a busy month for the team at Women Employed! Here are some of the ways we've been marking Women's History Month 2018 (in clockwise order):
On International Women's Day, WE's Director of Community Engagement Mary Kay Devine delivered a workshop on salary negotiations to a packed room of women at 1871, Chicago's center for technology and entrepreneurship.
The WE staff, including Program Coordinator Aisha Ismail (seen above at left), then attended the launch event for the Illinois Council on Women and Girls, an initiative of the state legislature aimed at evaluating the impact of policy on women and girls in Illinois. WE President & CEO Iliana Mora is pictured at bottom left with event organizer Kina Collins and recipients of the Marva Collins Trailblazer Award who were honored at the event.
What better way to mark Women's History Month than by honoring the women who fought for our right to vote? On March 20, WE staff members exercised their civic duty and voted in the Illinois primary.
To close out the month, WE co-hosted the Chicago premiere of 'Zero Weeks', a film exploring America's paid family leave crisis. After the sold-out screening, WE's Iliana Mora moderated a panel discussion featuring the film's director Ky Dickens, Congresswoman Jan Schakowsky, and Director of Family Values @ Work Ellen Bravo.
Help us make more history for working women and their families.
Ask your legislators to support comprehensive paid leave in Illinois »
She Says: Melissa Souto
Twenty-three year old Melissa Souto works in the construction industry as a marketing professional. An activist against sexual assault and a member of WE's Advocacy Council, Melissa spoke to WE about how she's using her voice to win change in the workplace.
You're a recent college graduate and you work in an industry that has traditionally been male-dominated. How have you navigated that as a young professional?
When I first started I was really scared, but most of the men I work with are great. I was in the job for two weeks when a female coworker of mine commented on a mess in the office kitchen and a guy responded, "There's a bunch of females here, you should clean it up." At the time I thought, "'I'm not gonna say anything, I don't want to stir trouble up." Then, at a company breakfast to mark International Women's Day, the same guy tried to make a smart remark about women in the kitchen. I spoke up and said, "Your comments aren't welcome here, no one wants to hear them." Later I found out that because I said something, and everyone heard it, the man was made to go to HR and apologize to staff.
What would you say to young women in the early stages of their career who fear ruffling any feathers at work? How do they find their voice and speak up even when they may feel scared to do so?
Know your value, know that you
do
add something very important to the company. They choose you because you have a great set of skills. Even though it's easier said than done, don't be afraid to use your voice and say something. Otherwise bad behavior continues to go unnoticed--and maybe they think you're okay with it.
Read on to learn how Melissa negotiated and won a 20 percent salary increase »
Upcoming Events
Women Employed is showing up for working women all over town. We'd love to see you at our next event in Chicago!
Equal Pay Day Rally,
Noon on Tuesday, April 10th
Daley Plaza

WE Night at the Theater
6:00 p.m. on Tuesday, April 10th
Victory Gardens Biograph Theater

WE Summer Mixer
5:00 p.m. on Wednesday, July 18
Emerald Loop Bar & Grill



Policy Watch

Women Employed education policy expert Jessie Gotsdiner recently gave testimony to the Illinois House Higher Education Appropriations Committee in support of increased funding for the Monetary Award Program (MAP). The need-based grant program once covered 100 percent of tuition and fees for low-income students in community college, but now covers less than two-thirds of those costs due to chronic underfunding.

By 2020, most jobs in Illinois will require an education beyond high school, but only 54 percent of adults in Illinois today can meet that qualification. Illinois cannot afford to keep underfunding MAP—WE hopes to see an investment in our state's future with a $501 million appropriation to MAP for the 2019 fiscal year.


Share This

Share this image and invite your friends and colleagues to The Working Lunch in Chicago on May 31st!
What We're Reading
Women Employed



Inside Higher Ed


Rebellious Magazine



Chicago Sun-Times


Community College Daily