Year Two of #MeToo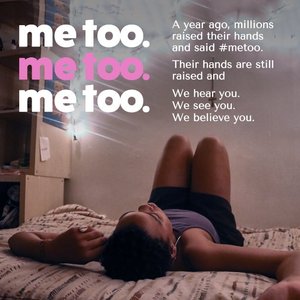 Source: metoomvmt.org
October 15 marked the one year anniversary of #MeToo going viral, building on an initiative originally launched by activist Tarana Burke and giving survivors around the world a space to talk about sexual assault.The recent confirmation of Brett Kavanaugh to the Supreme Court, despite Dr. Christine Blasey Ford's credible allegations against him, prove that there is still further to go in eradicating sexual violence. Our workplaces, governments, and schools must play a lead role in addressing this epidemic, which is why Women Employed has joined our partners across the country in calling for meaningful efforts that will lead to systemic change.

Stay tuned to our social media channels in the upcoming days to learn about the specific measures we'll be joining our partners to champion on the state, federal, and institutional levels in the next year. In the meantime, you can help by learning about the candidates for office and where they stand on policies to address sexual assault. Use your voice to stand up for survivors, and vote!
Marching to the Midterms
Speaking of voting, WE joined women and their allies in Chicago for a March to the Polls last weekend to galvanize voters for this year's midterm elections. At our Women Employed booth in the 'Voter Village' marchers took photos with our #WeMarchWeVote photo frame and learned about our work to advance the economic status of working women.
Longtime women's advocates, men, youth organizing to end gun violence, and first-time voters were just a few groups represented among the thousands of people there. The rally culminated with a march to an early voting location in downtown Chicago, where advocates had the chance to vote.
Moving on Up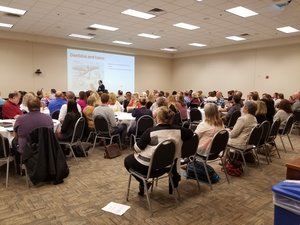 The packed room at the Reducing Remediation workshop.
Our education and training work has been making exciting strides, and in the past few weeks WE has been meeting with partners across the state to make career pathways stronger, developmental education more effective, and our state more responsive to the needs of adult students. At a one-day Reducing Remediation workshop WE hosted alongside the Illinois Community College Board and Illinois Board of Higher Education, close to 200 representatives from community colleges and four-year universities gathered to learn how to better support and accelerate students who need pre-college level coursework after beginning college.

We also joined the National Skills Coalition for the 2018 Skills in the States forum, where WE's Senior Policy Associate Sarah Labadie co-led a session on ways to engage new legislators on workforce and skills policies. And at a recent Governor's Summit on Work-Based Learning that took place in Peoria, Illinois, Sarah shared how she works to help our state fill critical job needs, set residents on pathways to self-sufficiency, and improve community prosperity.


She Says: Lisa Turley
Throughout our 45th anniversary year, WE are highlighting the generations of women who've been impacted by our advocacy for gender equity.
Lisa Turley is a committed supporter and member of WE's Generations Circle who has generously helped to ensure WE's work continues into the future by including the organization in her planned giving. Lisa spoke to us about her gift and her commitment to the next generation of working women.
How did you first get involved with WE and what has kept you connected for so many years?

I met a WE board member through work in 1986. She invited me to a WE event and I was hooked. At that time, there weren't many—really any—support systems in the professional space for women. I was committed to WE's issues and enjoyed the people, and the organization accomplished real results. Also, the
annual luncheon
is the best and most fun fundraising event I attend—every single year!
Is there any particular area of work or accomplishment WE has achieved that you are especially proud of?

WE is an organization that has been able to "change with the times" while remaining completely committed and focused on its goal of improving the economic self-sufficiency of women. It addresses this issue in so many ways, from addressing the gender wage gap and issues facing low-wage workers, to expanding access to education and combatting sexual harassment.

You've included WE in your estate plan by making the organization a beneficiary of your IRA. What do you hope your gift will help WE accomplish?

The work for economic equality is ongoing. I trust that WE will continue to push to accomplish that goal. Of course, WE will need resources to be able to do that. I am pleased that my gift recognizes the terrific work that WE has done over the years and will help to make WE's efforts possible and even more successful in the future.
Learn more about the Generations Circle »



Policy Watch

For the second time, Illinois Governor Bruce Rauner has vetoed a bill that would prohibit employers from seeking a job applicant's wage history, a practice that perpetuates income inequality. In refusing to sign this bill, Governor Rauner instead suggested a number of changes that would weaken equal pay in Illinois. Read our op-ed in Crain's Chicago Business to learn more.

We won't stand for Rauner's short-changing of equal pay. If you won't either, tell legislators to override the Governor's veto in their upcoming veto session »

Share This

Halloween is around the corner, but we're still not close enough to equal pay for all. Share the graphic below to show why our work to close the wage gap still matters.
What We're Reading
Crain's Chicago Business


WBEZ

New York Times


Refinery29

CNN