Dr. Christine Blasey Ford Deserves to be Heard

Women Employed and our partners have called on Dick Durbin, the U.S. Senator from Illinois and a member of the Senate Judiciary Committee, to oppose a rushed hearing for Dr. Christine Blasey Ford, the professor who has made sexual assault allegations against Supreme Court nominee Brett Kavanaugh. Judge Kavanaugh has already proved to be a nominee who will threaten the rights of women, and the Judiciary Committee must now allow a fair and independent investigation that honors Dr. Ford's bravery in coming forward.
---
Back to School with New Partners!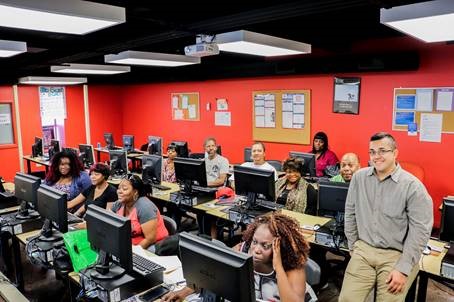 A Career Foundations class at Central States SER, one of the 12 community-based organizations that teaches the course.
We're excited to announce that two new partners have joined the group of community-based organizations Women Employed works with to help low-income adults get back to school. Goldie's Place,
an organization that assists adults who are homeless become self-supporting, and YWCA Metropolitan Chicago
are now on board to deliver the Career Foundations curriculum to students who need it the most.
For working adults who've been out of school for a while, the transition to college can be especially daunting—which is why WE developed the Career Foundations course with the City Colleges of Chicago to help them assess their skills, pinpoint their interests, explore career paths, and craft a plan to get to college. By joining forces with organizations on the ground, WE can ensure that more students across Chicago know how to get on the path to getting the jobs they want.
Upcoming Events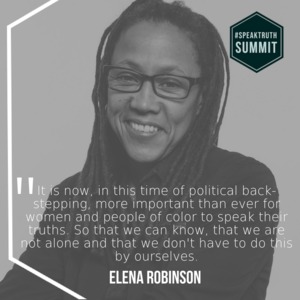 WE Board Member Elena Robinson will take part in a panel discussion about women of color in the workplace
at the Speak Truth Summit.
This fall is filled with opportunities for you to gather, network, and learn about the work women across Chicago are doing to advance gender equity. Women Employed will be out and about at these
upcoming events from our partners
, and we'd love to see you!
Young Feminist Conference
October 6
March to the Polls 2018
October 13
Women Supporting Women Conference
October 18
Speak Truth Summit
October 20 – 21
The Women Behind the Numbers
As we get closer to the end of the year, we also come closer to understanding just how devastating the gender wage gap can be for women of color. September 12 marked the date when Southeast Asian women finally caught up to the average earnings of white men from last year, and September 27 will mark that day for Native women. When the earnings of all Asian American and Pacific Islander women are taken as an average they appear to face the smallest wage gap of any group of women, but when we break down that data some sub-groups like the Burmese earn as low as 38 cents to a white man's dollar.

It's a stark reminder that aggregated data doesn't tell the full story. What the video below to hear some of the diversity of experiences behind the average number:
She Says: Lydia Bueschel
Throughout our 45th anniversary year, WE will be highlighting the generations of women who've been impacted by our advocacy for gender equity.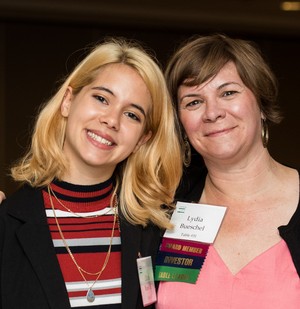 Lydia Bueschel (right) and her daughter.
Lydia Bueschel is a long-time supporter of Women Employed who serves on the Board of Directors. She shared with us how WE has helped her become a better advocate for gender equity, and how she's brought her daughter along for the ride.
What led you to become involved with Women Employed?
I learned about Women Employed from a colleague. I was (and continue to be) so impressed with how driven, effective, and nimble the staff at Women Employed are in working for long-term policy solutions to challenges facing working women at all economic levels and was thrilled to join the Board of Directors when the opportunity arose.


How has Women Employed made you a better advocate for women's rights in the workplace?
Women Employed's written materials and in-person programs provide me with the language and confidence to speak to companies and workers at all professional levels about the benefit of fair workplace practices and educational opportunities.



Policy Watch

WE's interim CEO, Sharmili Majmudar, joined other women leaders in Chicago earlier this month at a launch meeting for the City of Chicago's Status of Women and Girls Working Group—an initiative headed by City Clerk Anna Valencia.

Women Employed's deep commitment to the working women of Chicago goes as far back as our founding days in the 1970s, and we'll bring that history and expertise to the group's steering committee as it works to develop an action plan with policy suggestions that will make the city the best place for all women and girls to live, work, and play. Look out for a report from the working group in spring of next year!

Share This

Illinois Governor Bruce Rauner has until October 8 to sign the 'No Salary History' Act into law. The bill would help more women in the state earn the salary they deserve, by prohibiting employers from requiring that job seekers disclose their previous pay. Help put pressure on the Governor to sign the bill and ask your networks to do the same:
What We're Reading