Good Grades Gone Bad?
A recent study
examining how grades affect a job applicant's chances for employment has revealed that high achievement in college can
hurt
women's chances of securing a job after graduation. While grades seem to matter little for men applying for jobs, women are actually less likely to get a follow-up call when they had high grades as undergraduates.
Women Employed
works every day to increase access to education and training
so all women can attain the skills they need to get the jobs they want. But education alone isn't enough to counter systemic barriers that still exist in the workplace. The good news is we all can play a role in dismantling those inequities.
Begin by examining your own workplace or business and asking these questions:
Do we interview more men than women? Do we hire more men than women? Do we pay people with equal job responsibilities and experience the same? Do we make hiring decisions based on objective criteria, or on unquantifiable measures like "likeability?"
Gender-based discrimination is woven into many of the workplaces we inhabit. It's up to all of us to end it.
The Results Are In
Stable schedules are good for workers
and
for business! A
study conducted
at Gap stores in Chicago and San Francisco showed that more predictable hours for workers improved both employee satisfaction
and
the retailer's bottom line. Scheduling expert Dr. Susan Lambert was part of the team that led the study, and she joined Women Employed earlier this month for an event discussing the findings at the University of Chicago.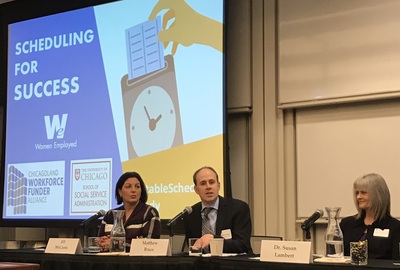 From right: Dr. Susan Lambert; Executive Director of the Chicagoland Workforce Funder Alliance Matthew Bruce; and Starbucks District Manager Jill McCants, at WE's Scheduling for Success event.
Unstable scheduling is particularly prevalent for hourly workers in the retail industry. Nearly 40 percent report that they don't get set minimum work hours each week, and a quarter are scheduled for on-call shifts.
"In retail, somebody has to open the store doors every day, somebody needs to close up the cash register," said Dr. Lambert. "There's lots of stability in there that could be built on. The question is how do we manage around the stability that is already there and find ways to at least pass that on to workers?"
Shining a Spotlight on Workplace Sexual Violence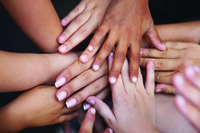 Nearly one in five women and in the United States have experienced rape or attempted rape at some time in their lives. For far too many low-paid working women, the risk of sexual assault is heightened while they are on the job.
April is Sexual Assault Awareness Month, and Women Employed has partnered with Alianza Nacional de Campesinas on The Bandana Project, a movement to end workplace sexual violence against the women and girls who pick, pack, and plant the food that Americans eat. Farmworker women wear bandanas on the job not only to shield themselves from the sun, but also to disguise their gender and ward off sexual assault.
WE staff members joined allies across the country in decorating similar bandanas with messages of support and solidarity for these working women:
You can help address the widespread sexual violence against farmworker women in the United States.
Join The Bandana Project »
She Says: Meet The Working Lunch Panelists
More than 1,000 supporters, community and business leaders, and advocates will join Women Employed for a timely and electrifying conversation about speaking up and speaking out for equity and respect in the workplace. Meet our panelists for
The Working Lunch
: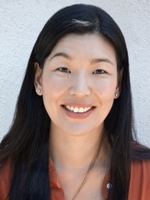 "Pay inequality and sexual harassment are inextricably linked. They are both the result of a culture in which women's lives and contributions are devalued. The cultural devaluation of 'women's work' has resulted in the vulnerability of an entire workforce of professionals who work in our homes—the nannies, house cleaners, and home care workers who support our families and aging and disabled loved ones."
Ai-Jen Poo
Co-Founder and Director of the National Domestic Workers Alliance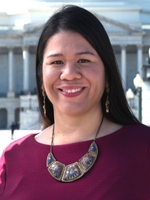 "Our letter sparked the creation of the Times Up Legal Defense Fund, which now has raised about $20 million in only two months and has really created a cross sector movement to address sexual harassment against all workers. That was the result of the compassion of farmworker women to say to the women in the entertainment industry that we see them, that we understand, and that we are there for them."
Mónica Ramírez
Co-Founder and President of Alianza Nacional de Campesinas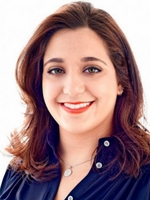 "It's really up to everyone to be part of the solution. It's really not about creating a culture of awareness—it's going beyond that and creating a culture of accountability."
Andrea Pino
Co-Founder of End Rape on Campus, featured in the Emmy-Nominated film
The Hunting Ground
Purchase your ticket to The Working Lunch today »



Policy Watch

The City of Chicago has banned salary history questions from its hiring process. Mayor Rahm Emanuel signed an executive order earlier this month prohibiting all city departments are from screening job applicants based on their wage or salary history or requiring that an applicant disclose that information. Additionally, no city department can seek the wage or salary history of any job applicant from their current or former employer.

Women Employed applauds this important move and hopes to see more employers voluntarily removing these questions from their hiring process, as we continue to advocate for a law to ensure all workers in Illinois can earn the pay they deserve.

Share This

Equal Pay Day was April 10, a marker of how long it takes the average working woman to earn what the average man did in the previous year. But for women of color, who often face a wider wage gap, it can take even longer to catch up. Watch and share this video from the Equal Pay Day rally in Chicago:
What We're Reading
The New Yorker

Inside Higher Ed

Make It Better



Chicago Tribune

Washington Post