Career pathways are invaluable programs for non-traditional students. They meet adults where they are on their educational journey and put them on a smooth track to build their skills and meet their education and career goals. Across the country and here in Illinois, education policymakers and advocates like Women Employed are championing these innovative programs and pathways, but without a unified understanding of what they should look like, the efforts weren't as connected as they could be.

That's where Women Employed stepped in. With our partners, WE worked to develop a single definition of career pathways for the state of Illinois. Now funders, policymakers, and educators have the guidance they need to work together and ensure these education and workforce development initiatives are as unified and effective as possible. Ultimately, this benefits students who seek clarity on the in-demand jobs they can get and what they need to do to get them. With everyone on the same page to help more Illinoisans start on the path to economic security, our entire state succeeds.
She Says: Jacqueline Priego
Throughout our 45th anniversary year, WE will be highlighting the generations of women who've been impacted by our advocacy for gender equity.

Jacqueline Priego is the writer, creator, and co-director of
PinkSlipped
, a new web-series chronicling the lives of three millennial Latinas navigating careers, relationships, and the societal realities for women of color at work. She spoke to WE about how this generation of working women is grappling with the discrimination that still exists in workplaces.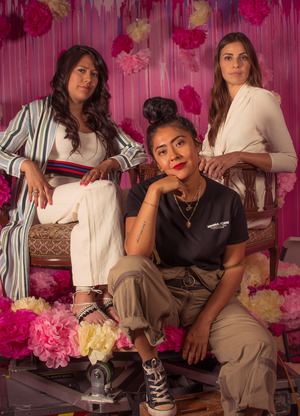 Jacqueline Priego (far left) with PinkSlipped cast members.
What inspired you to make Pinkslipped?

The show was inspired by the need to understand and put on screen the inequities that keep Latinx at the bottom of the pay hierarchy. Latinx and Hispanic women make 54 cents to a white male's dollar. I wanted to create a show that brought respect and dignity to these women's plight and showed their perspective.

Do you think people will identify with the main characters and their experiences?

PinkSlipped follows the lives of three Latinx best friends, but the story itself is universal. We are in the midst of a technological revolution, much like the industrial revolution, where what it means to work and make a living is changing drastically. A nine to five work week doesn't serve our economy or our workforce anymore, yet this old-fashioned mindset prevails. This is creating a greater chasm that only exacerbates problems such as the pay gap, workplace discrimination, sexual harassment and a myriad of other issues.

What are the challenges millennial women face in the workplace?

They feel a lot like the challenges working women experienced in previous decades. But I have hope because women across the globe are more connected than ever because of technology, and they are leveraging this collective voice to make change. Where in the past there would be one singular voice addressing the social ills of the day, now we have #MeToo, #TimesUp and other social movements that are moving the needle.