FOR IMMEDIATE RELEASE:
CLEARWATER. FLORIDA.
"We are delighted to announce that Racing For Kids will be the Official Charity of Historic Sportscar Racing. Vintage racing brings cars of the past to life and we look forward to sharing our passion for this form of motorsports in a way that will encourage support for the Racing For Kids program". (David Hinton. President HSR)
HSR will bring the exciting world of historic racing to Racing For Kids with hospital and race track visits. Unique to the HSR events will be the huge variety of cars that race with HSR as well as being able to host outpatient children and their families at historic race tracks such as Daytona International Speedway, Sebring International Raceway, Road Atlanta and Mid-Ohio Sports Car Course.
Many of the HSR drivers are parents, grandparents and even great-grandparents. Husbands and wives, fathers and sons, fathers and daughters all race together at HSR. Maybe future racers will come from the Racing For Kids Program! We certainly hope so.
"Everyone at Racing For Kids is very excited about our new partnership with HSR. Visiting sick and hospitalized children is at the core of what we do and so whenever we can bring a new team of drivers into our mission that helps us expand our reach to even more kids. Being the Official Charity of HSR is a very special honor and we are very gratified to be chosen, "said Robbie Buhl, former IndyCar racer and national spokesperson for Racing For Kids.
ABOUT RACING FOR KIDS
Racing For Kids is a Detroit-based national charity that uses the popularity of motorsports to focus public awareness and funding on the health care needs of children. Founded in 1989, Racing For Kids is celebrating its 25
th
anniversary in 2014 and has visited more than 27,000 children in more than 525 children's hospitals in the United States, Brazil, Canada, Mexico, Japan and Australia. It has raised nearly $6 million for the hospitals visited and other children's health institutions.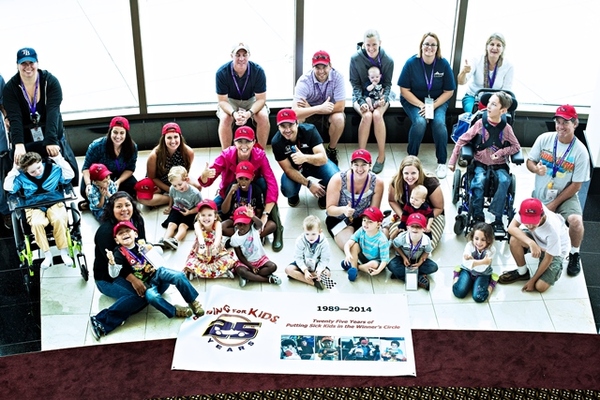 Major sponsors of Racing For Kids include Humana, Inc., TranSystems, Bridgestone Firestone Trust Fund, Meridian Health Plan of Michigan, Douglas E. Fregin and Benson Ford, Jr. Toyota Motorsports and The Grand Prix Foundation of Long Beach have made Racing For Kids a major charity of The Toyota Grand Prix of Long Beach. Additionally, Andretti Sports Marketing has named Racing For Kids as the official charity of the Milwaukee IndyFest, taking place in August of this year.
ABOUT HSR
Historic Sportscar Racing was formed in the mid-'70s with an event at Road Atlanta. There was one goal then and it remains true today: to celebrate the race cars from our past. As a "time machine" of sights and sounds, HSR provides a venue for competitors and spectators alike to share in the wonderful history and excitement created by the cars that competed at race tracks around the world. For more information please go to
www.HSRrace.com
For more information about Racing For Kids and how you can support the program please visit
http://www.racingforkids.org