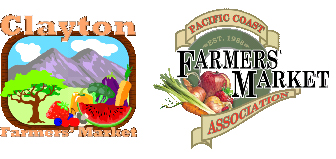 Hello Friends of the Clayton Farmers' Market
Summer is in full swing! And that means luscious heirloom and beefsteak tomatoes, tiny grape and cherry tomatoes; mild bell peppers and hot chile peppers; wonderful yellow crookneck squash, pale green pattypans, and dark green zucchini; and tasty sweet white and yellow corn. There are juicy stone fruits like white and yellow peaches, plums, apriums, and pluots; big sweet watermelon, cantaloupe and honeydew – are you hungry yet?

Shop close to the source of your food at your farmers' market and enjoy the most flavor and nutrition - like nature intended. Talk to your farmers and let them guide you to the best that the season has to offer. And enjoy summer's flavors more by cooking less. The season's produce is best eaten fresh and uncooked, or cooked quickly on the grill with as little preparation as possible. Eat fresh and eat simple!

G&S Farms is here with the best white and yellow corn straight from Brentwood - fantastic for grilling! Resendiz Farms is here with on-the-vine plump tomatoes - get there early because they always sell out! And G&A Farms has great vegetables from beets and carrots to potatoes, cabbage, and broccoli. If you like mushrooms you have to stop by J&M Ibarra for many varieties.

Rodin Farms has juicy stone fruit from peaches to pluots. They also have delicious almonds in several flavors. Vasquez Farms and Rodriguez Farms continue to bring the best strawberries and Eat the Best has sweet salty kettle corn to tempt you.

We'd like to welcome Sonoma Olive Co. with olives, olive spreads and fresh pastas. Try some today!

"It's difficult to think anything but pleasant thoughts while eating a homegrown tomato." Lewis Grizzard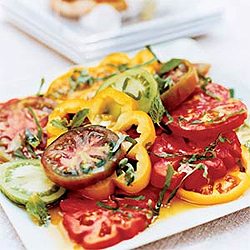 Tomatoes at your farmers' market come directly from your local farmers so their fresh, just-picked flavor comes through. No waxing to make them "pretty," no cold storage to destroy the flavor, no traveling miles and miles to get to you. Just pick 'em up and enjoy 'em! Note: The FDA has stated that tomatoes grown in California have not been shown to be contaminated with Salmonella and are safe to eat.

The glorious heirloom tomato makes this simple salad live up to its full potential. It's elegant enough for guests and simple enough to include at a picnic or barbecue.

Marinated Heirloom Tomato Salad

3 tablespoons balsamic or red wine vinegar
2 tablespoons extra-virgin olive oil
3 pounds mixed firm-ripe heirloom or other tomatoes (Mix up the colors for a vibrant salad)
3 tablespoons chopped fresh mint leaves
3 tablespoons chopped fresh basil leaves
Salt and cracked black pepper

In a small bowl, whisk together vinegar and oil. Rinse and core tomatoes and slice 1/3 to 1/2 inch thick. Arrange in layers in an airtight container or on a serving dish, drizzling vinegar mixture and sprinkling mint, basil, salt, and pepper evenly over each layer. Cover and chill at least 30 minutes or up to 4 hours. Bring to room temperature before serving to bring out the full flavor of the tomatoes. Makes 6 servings.
Recipe: www.myrecipes.com

Visit your farmers' market frequently for the freshest locally-grown produce. And this summer eat lightly and eat healthy from the abundance that California's bounty offers. Here's to your health this summer!

Thank you for supporting the Clayton Farmers' Market. We're here every Saturday, from 9am to 1pm, through October 25th, on Diablo St. between Main and Center.

Pacific Coast Farmers' Market Association