Grassroots Motorsports Black Friday Deals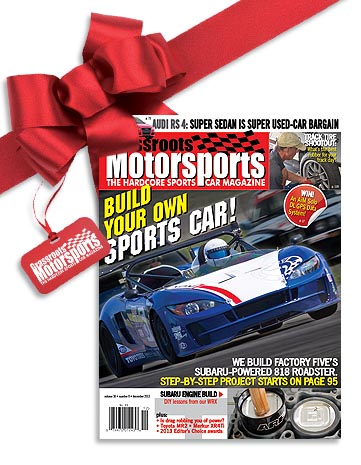 We've got a special sale for Black Friday just like the other stores, but there are no lines to wait in overnight.
What is it? $9.99 for a 1-year subscription to Grassroots Motorsports. This is the best subscription deal we have ever offered. Treat yourself. Renew early. Hook up a buddy. Can you think of a better holiday gift?
If you want to renew or extend your subscription, this price works for you, too. Just enter everything as if it's a new subscription order. Our sub department will automatically convert it to a renewal.
The sale just went live, and the top secret promo code is BLACK.
Overseas and Canadian subscriptions have been discounted as well. Enter the code to see your savings.
Don't forget to enter the promotion code
BLACK
at the subscription signup page linked below or you will not get this special deal.
You can also get that pesky shopping done early by giving the gift of Grassroots Motorsports at the same great rate. The people on your list will receive a year of the magazines delivered right to their doorsteps throughout the year. They'll also get our 2014 Grassroots Motorsports calendar as a free gift. Again, make sure to use the offer code BLACK to get this amazing deal!
There are also a ton of great gift items in our online store, including a special sale on t-shirts. For two days only,
Grassroots Motorsports
t-shirts are only $6–that's half the regular price.