Art - It's a Family Affair
Reception: Saturday, November 27, 10 am to 3 pm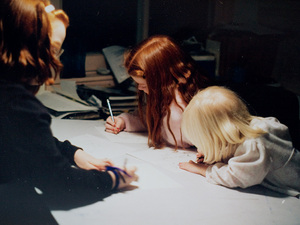 While working for many years in my home studio, I have had the pleasure to watch our daughters, Katherine, Alison and Madeleine, grow as artists. When they were toddlers, I would let them use my big matting table to draw or paint whatever they felt like doing, and they came up with some interesting stuff over the years! They have all become very versatile at painting, drawing and design! (Alison's design work is visible all around the coffee shop below the gallery.)
In recent years, my wife Vicki has found great joy in capturing stunning nature scenes, her favorite people, and images of varied hobbies and interests with her camera. I continue to paint my ocean series, New Island series, and sometimes a nebula-image from a neighboring galaxy.
During this holiday season, for the first time, we are all assembling our best pieces to show together at the Oceans and Dreams Gallery. Come to the party on Saturday, November 27th -- we'll all be there!
--Lee Mothes
When: November 27, 2010, through January 31, 2011 - Reception Saturday, November 27, 10 am to 3 pm
Where: Oceans and Dreams Gallery, above kc&t/Ali Cat Caffe at 127 W. Wisconsin Ave, Kaukauna, WI 54130 (920-766-4038)
Gallery Hours: Weekdays from 6:30 am to 8 pm, Saturdays from 8 am to 3 pm, Sundays from 9 am to 2 pm.

---
---
Oceans and Dreams
425 Dixon St.
Kaukauna, Wisconsin 54130


Read the VerticalResponse marketing policy.