Spotlight on Kevin Bulmer: Finding inspiration on stage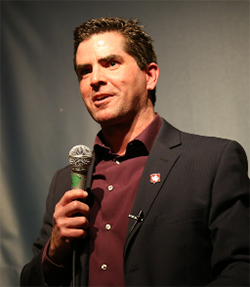 Kevin Bulmer, the long-time host of Rock for Dimes London, is an account executive, motivational speaker and self-proclaimed "rock and roller" at heart. Two of the things he loves most are ambitious, positive people and music
–
making him the perfect fit for the March of Dimes family.

When Kevin Bulmer was asked to be the master of ceremonies for Rock for Dimes London, he jumped at the opportunity: "Putting me in an environment where I can interact and collaborate with dynamic and creative people is like setting a kid loose in a candy store. I've enjoyed every second."
Over the years, Kevin has met dozens of incredible people who have become great friends – from sponsors to judges, performers, supports and more. "I have a massive amount of respect for anyone who chooses to adopt and live from a positive mindset, and I've met scores of people like that through March of Dimes Canada."

As for his favourite moments? "Oh wow, there have been a lot of them! One that comes immediately to mind is seeing the band 7T8 for the first time in London. They actually went up and played some of their own music, and the moment they started, the air in the room changed, and everybody knew it. It was an electric experience."

Kevin hopes to continue hosting Rock for Dimes London, meeting even more inspiring people along the way: "I love being around good energy, and find that anyone else who gets involved [with Rock for Dimes] tends to feel the same way. It's contagious."
David Farmer: Lawyer by day, rock star by night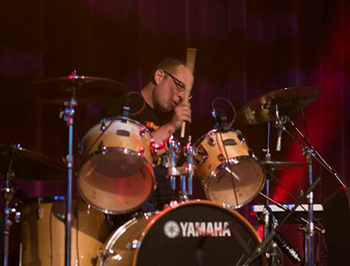 David Farmer is a lawyer who participates with his band "No Reply" in both Rock for Dimes Calgary and Vancouver. For the last three years, David has been a judge for RFD Calgary, and is also on the Calgary Volunteer Committee.

David's initial involvement with Rock for Dimes arose through a chance to play in a professional venue. He then realized there was more to the event than just playing: "It's the opportunity to make a difference and work with a really good organization and that really drives the desire to be involved in a more significant way."

Over the years, one thing that really stood out for David is how Rock for Dimes has evolved into a special community. "Every year we get a chance to do something we love and work hard at for a very special purpose, and there's a bond that develops through that. The March of Dimes Canada team really fosters this too. They make you feel like you are a part of something important – and you are."

David notes that supporting Rock for Dimes is the chance to "have a lot of fun, and make a direct contribution to a great organization that is working in their community. Somehow, through all kinds of crazy schedules we still find time for the band and especially Rock for Dimes."

The highlight for David? "Our band winning in 2013 in Vancouver is definitely a highlight! There were some great bands that year, as there always are, and that was really satisfying!"

A decade of Rocking for Dimes in Calgary has raised over $249,000!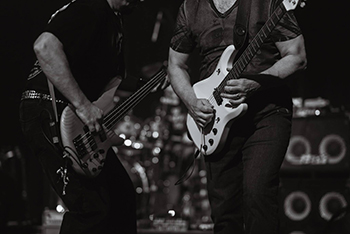 2017 marked Rock for Dimes Calgary's 10th anniversary, and it was a fantastic night! More than 400 people packed The Palace Theatre to watch CryBaby, The F.O.G., and The Contraband flex their musical muscles and support local MODC programs.

Competition was tough but, in the end, the Contraband won both the Judge's Favourite and Top Fundraiser Awards.

A total of $26,000 was raised for local Conductive Education classes and Peer Support groups.

2017 also marked the second year we offered the Assistive Mobile Technology Initiative in Calgary. Dyllan Mills-Harten, Gillian Whipp, and Linda Curysek will all received tablets customized with apps that meet their specific needs.

Special thanks to our sponsors: Global Calgary, the Calgary Sun, Q107, The Palace Theatre, First Calgary Financial, Avante Solutions, OCL Recording Studios, Mountain View Re/Max Real Estate, and Infinite Chartered Accountants, Airgo, Long & McQuade, Agency 59, and the Canadian Music Therapy Trust Fund.

Extra special thanks to our MC and Judge Cam Sullivan, evening and weekend announcer on Q107, judges Dan Owen (OCL Recording Studios), Rob Christopher (Compensation Manager, Canadian Natural Resources Ltd and occasional musician), Glenn Solomon (Glenn Solomon, QC: Partner, JSS Barristers), volunteers, and everyone who came out to support our programs. We had a fantastic time, and we'll see you next year on February 3, 2018 at the Palace Theatre!
AMTI Winner: The future's looking bright for Don Harris
The Assistive Mobile Technology Initiative (AMTI) is a March of Dimes program that provides devices to disabled adults and children in order to assist them with their functional independence.

Last year, Don Harris was the recipient of a shiny new iPad and has been using it ever since to get back to his full potential.

"Before my injury," says Don, "I was on the internet 24/7 for my job. From morning till night, I placed orders, I did research and I connected with customers. That was taken from me after my brain injury because of my inability to see clearly.

The iPad, which comes equipped with loads of accessibility features, has been a real game changer for Don. "The iPad enlarged everything for me so that I could actually see what I was doing and reading. I've downloaded an app to help with my cognitive function, my memory and my motor skills. It brought me back to social media. Also, I live far away from my family, and I now have Skype, which has supported my ability to see them on a very regular basis. It's just been an incredible tool all around."

As for his career, "Honestly, I could not even be working right now without this amazing device. For me, being able to transport my mobile device around has me fully employed with a good salary and I can enjoy life again."

"I was so computer savvy and my whole life was based on the computer. To have this type of technology where I can enlarge anything – it's just remarkable. So I'm very thankful for your support and for rewarding me with this prize. It's going to be a prize for life."
Events Review: And the Beat Goes On...
Rock for Halifax

Date: October 28, 2016
Bands: Impulse, The Showcase Showdowns, Gene featuring Jean, Spare Parts, Terminal Road, Red C and Blue M'Ocean
Top Fundraiser: Red C
Host: Tom Bedell, Q104 FM
Celebrity Guest: Bret 'The Hitman' Hart
Total Raised: $33,500
Proceeds funded: March of Dimes Canada's Conductive Education® and Stroke Recovery Canada® programs

Rock for Dimes Halifax 2016

Rock for Dimes Montreal

Date: November 18, 2016
Bands: Miss M & The Gents, The Cellar Rats, MTL, The Sharx, pS, Exiled on The Main and Nobody's Business
Host: Kim Sullivan, Global Montreal
Total Raised: $29,000
Proceeds funded: March of Dimes Canada Conductive Education®
and Stroke Recovery Canada® programs

Rock for Dimes Montreal 2016

Rock for Dimes Vancouver

Date: February 23, 2017
Bands: The Fallen Angels, Big Back Yard & Co, The Ringtones, Deeter Dives for Donuts and No Reply
Top Fundraiser: Big Back Yard & Co
Host: Rick Lee, 96.9 Jack FM
Total Raised: $10,000
Proceeds funded: March of Dimes Canada Conductive Education®
and Stroke Recovery Canada® programs

Rock for Dimes Vancouver 2017

Rock for Dimes Windsor

Date: February 24, 2017
Bands: Autumn Kings, Wolfhooker, Lawrence Affeldt, Band Rock of Ages, The Mixx, Midnight Metro
Top Fundraiser: Wolfhooker
Total Raised: $4,500
Proceeds funded: March of Dimes Canada's Assistive Devices Program

Rock for Dimes Windsor 2017

Rock for Dimes Saskatoon

Date: March 11, 2017
Bands: Hurricane, Ecil A, Penny Reign, Cidne Treed, Zipper Fuel, Phoenix and the Silver Voodoos, The Noble Liars
Top Fundraiser: The Noble Liars
Host: Piggy and Colette
Total Raised: $5,600
Proceeds funded: March of Dimes Canada Conductive Education®
and Stroke Recovery Canada® programs

Rock for Dimes Sarnia

Date: March 25, 2017
Bands: Suit Up, Dressed to Kill and Jeff Poolton
Host: BrownStones
Top Fundraiser: Dressed to Kill
Total Raised: $2,000
Proceeds funded: March of Dimes Canada's Assistive Devices Program and Stroke Recovery Canada®

Rock for Dimes Sarnia 2017
IN THIS ISSUE
Welcome



Spotlight on Kevin Bulmer: Finding inspiration on stage



David Farmer: Lawyer by day, rock star by night



Decade of Rocking for Dimes in Calgary



AMTI Winner



Events Review



Upcoming Events

But Wait, it's Not Over: And the beat goes on…



RFD Toronto
May 6, 2017
The MOD Club Theatre
722 College St. West,
Toronto, ON



RFD Sherkston Shores
August 5, 2017
Live Lounge
490 Empire Rd.
Sherkston Shores, ON




If you live in any of these areas, mark your calendar now to save the date for an evening of fun you won't soon forget. Keep an eye out for further information on electrifying events across Canada in upcoming Rock for Dimes enewsletters.

Get details at www.rockfordimes.ca