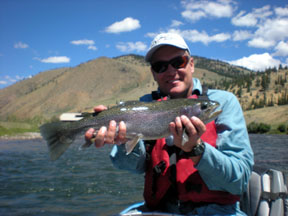 Hello all, I would have to say we are entering "peak" season in terms of hatches. I had several days on the Rio Grande during which I never even had to put on a nymph. It was just a smorgasbord of bugs including drakes, Stoneflies and caddis all hatching and crashing into one another and the fish were eating them all – everything on top.
As you can see, we are playing with the format of this newsletter in an effort to make the large quantity of information more readable. I hope you find it more accessible!
After 28 years, Front Range Anglers has decided to move locations to 2344 Pearl St. This move will happen this fall and you will be notified of the opening in future editions of this news magazine.
Hope to see you and thanks for your business,
Bill
---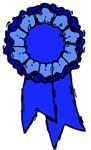 Click here for the Front Range Anglers quiz
Fish Tales :: Shop News :: Hook-Ups :: Pro Corner :: Anglers That Care :: The Deep End :: Downstream
Fish Tales
Customer Pictures Front Range Anglers customers are located in many different countries, and they are generous enough to send us photos which we love to share. If you would like to pass along a favorite shot or two click here
The Walleye Who Ate My Fly by Eric LaChapelle -It's amazing what a $20 fly rod and a little patience can produce. Please remember you can gain fame and fortune (a $20 gift certificate) for submitting a short fishing story along with a photograph that we can include in this newsletter. Click here to participate
Front Range Anglers would like to thank its customers and friends for sending in some great photographs. We received over 100 submissions making the choice of three winners particularly difficult. We've put together a sampling of 50+ shots to give you a general perspective.
---
This past month in the shop things have been heating up as our rivers are coming down and people are anxious to get out and wet a fly. Keep up with what is happening at the busiest shop in Boulder. Login to our Blog which provides daily information on everything fly fishing.
Hardy - For well over a century Hardy has been recognized as one of the top manufacturers in fishing tackle. Consequently we felt it was appropriate to offer our customers an opportunity to purchase these products.


Become a Fan of FRA on our Facebook and upload your favorite photos to win great prizes.
See OUR BLOG for more stories and fishing reports.

---
Fly Tying
Drew Chicone, Fisherman, Fly Designer, & Instructor - While visiting Sanibel Island this spring I met a young man who is well on his way to becoming a truly great fly fisherman. He lives and breathes the sport and his fly creations are something to behold. We've put together slides including recipes of some of his favorite patterns and step-by-step instructions and images on his Puglisi Pinfish.
Black Ice BLM - Developed by Tim Heng, the BLM (Beaded Little Mayfly) is one of the most effective small mayfly/midge imitations ever. A thorax style bead with just the right amount of material....deadly.
Double Down Flies - If one bead is good then two beads must be better. That's what Charlie Craven must hae thought when he developed the 2-Bit Hooker.
Front Range Anglers not only has one of Colorado's largest fly tying inventories, we continue to have more master fly tyers on staff than any shop in the Rocky Mountain West.
---
Special Features
Newscasts of General Interest
Independence Day 2010 - I met Army Ranger, Major Jesse Stewart last month and we fished together for two days.It was Jesse's first vacation in nine years and his first trout caught on a fly in ten years. Jesse wanted to use the fly rod that his dad had given him many years ago, the same rod that he had learned to fly fish with on the streams near his home in northern Washington.
A Pack for Wet or Dry Conditions - As far as I'm concerned the big deal is the totally waterproof submersible pocket for cameras and electronics. With zippers that work and are easy to open and shut.
Night Fishing for Largemouth Bass - The biggest hurdles to overcome with any night fishing are the casting and line management.

All your casts will have to be done by feel. There is no turning your head to watch how your back cast is doing.

The best practice is to stand out in an open yard blindfolded and flail about.
America's Most Endangered Rivers - Each year since 1986, American Rivers has released its America's Most Endangered Rivers™ report to spotlight the nation's ten most imperiled rivers. Number 6 on the list is the Upper Colorado! This is priority one on Colorado Trout Unlimited current agenda.
Down Stream (upcoming content)
Todds Wiggle Minnow is probably one of the best kept secrets in fly fishing. I've never found any aggressive surface feeding game fish that can ignore it. But when I ask fly fishermen about it I get a blank stare or the refrain ."Oh you mean the saltwater fly."
When trout are taking emerging midges just under the surface, how should you respond?
What is CU accomplishing with its youth program and Trout in the Classroom?
Is it possible to get to the Bighorn by way of Mount Rushmore?
What is Tenkara (traditional Japanese method of fly-fishing) - is it really fly-fishing?