Hello Fans of Good Design,


The lazy days of summer are behind us and the autumn breeze brings inspiration and motivation. MOD has been quite busy lately supplying our clients with the kind of design that impacts our lives on a deeper level... Does good design have a soul? We would have to believe yes! You know the feeling, when you walk into a room and it just "feels" good. You don't necessarily know why, and you really don't care, it is a subliminal, subconscious feeling that will often bring a smile to your face and make those around you wonder what you are thinking.... not that you are even thinking, just experiencing the inherent qualities that good design brings. Yes life is beautiful isn't it? As Charles Eames once said: "Who ever said that pleasure wasn't functional?"
Please review some of MOD's picks for new design that could influence your state of mind in a very pleasurable way… Enjoy and contact MOD for more information info@modobjects.net or (212) 925 5506
---
Hay There!

One of our very favorite design houses hails from Denmark. It's called
Hay
and we're not talking cow food here. Hay does things a little differently and the installation at New York's Yotel is a good example. The
Other One
seating system has a very modern, almost digital
silhouette.... Hey let's all meet up for a cocktail after work. See you at the Yotel!
.
www.hay.dk
---
ALTEWAI SAOME
Swedes Johannes Herbertsson and Jonas Nordgren founded RVW in 2009, having previ
ously worked together as designers and producers for the VUJJ brand (what's not to love). One of their latest projects is the ALTEWAI SAOME shop in Malmo Sweden. Pretty darn cool if you ask us. Check out the products by RVW that are available through MOD!
RVW´s main office is located in the city of Malmö in Skåne, the southernmost region of Sweden. RVW produces furniture and interior objects for the contract as well as the domestic market.
RVW represents consistency in creation, denouncing trends and hypes. We believe in preserving heritage as well as producing something specific and novel from the universal library of materials, ideas and geometries crafted over the centuries. We place great importance in maintaining the integrity of the slow art form of furniture design and in achieving a better understanding of the use of space, material and form. Our main focus is to produce tangible furniture without a time stamp, thus generating products that will last for decades to come. RVW seeks the refined solution and provides works of art –
---
SKYPE IT!

Skype's new offices in Sweden boast a plethora of design that you can have too! MOD imports many of the way too fabuloso objects that are found here. From ZERO's
Wood Light
designed by our good friend
Fredrik Mattson
, to the uber comfortable
Oyster Chair
by
Michael Sodeau
for OFFECCT... seeing is certainly believing. But we ask, where are all the people? maybe working remotely? Hmmmm. We think we know where to stay when we go to the Stockholm Furniture Fair this coming February...
---
PRESS ALERT!

Ottomans and Tray Tables Merged With Flowerpots
By TIM McKEOUGH for the NYTimes
Published: May 4, 2011
The Oasis collection from the Swedish furniture company Offecct offers a new way to add plant life to interiors, by merging furniture with flowerpots. "Plants and flowers enhance the quality of the air," said David Lerdell, a spokesman for the company, but some people don't like the look of ordinary plant containers. With Oasis, he said, you can have vegetation and "the feeling of the interior that you want."
To create a range of options, Offecct asked several designers to develop pieces for the collection. Green Islands (from $2,872), oversize ottomans with a hole for sprouting plants, were created by Jean-Marie Massaud. The design firm Front came up with Green Pedestals (from $620), one of which is a long metal container that can be used as a room divider. And Claesson Koivisto Rune created Green Trays (from $893), tray tables with lacquered metal tops specifically designed to support moist plants. Information: offecct.se; to order: (212) 925-5506 or modobjects.net



---
Swell!

What do Google, HBO, MTV and the Standard Hotels all have in common? Well it's Swell, in Soundwave panels that is.
OFFECCT of Sweden just doesn't stop when it comes to producing new beautiful, yet functional designs. And they use all the coolest designers from around the world to do it! We love the the new patterns that have come out recently, and we're not talking superficial beauty here either.
All the Soundwave panels have been tested to also function as both sound absorbing and sound dispersing devices. Who knew? Well we do and you can too. Give a call and we will run over with a sample for your next project presentation. And the color options are out of this world! Actually no they're not, they really exist and even match Pantone numbers.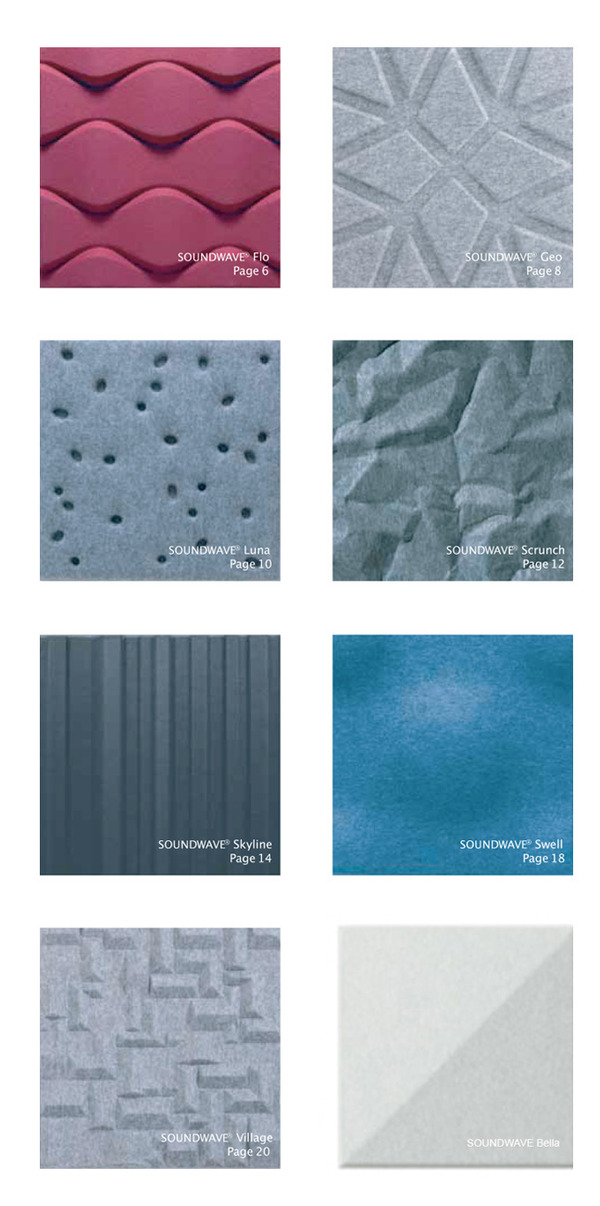 ---
Modern Objects + Design
183 Broadway 4th Floor
New York, NY 10007
T/ (212) 925 5506
F/ (212) 925 5082
info@modobjects.net