Hello Design Fanatics!
MOD has just returned from Stockholm and Copenhagen and found lots of new, cutting edge design for your consideration. For the 63rd year running, the Stockholm Furniture Fair has brought light to a dark, cold region of the Nordic landscape. 730 exhibitors from 31 countries installed their latest and greatest designs for thousands of International visitors and of course MOD was there. One of the highlights was the (now a tradition) installation at the Fair's entrance, this year by Oki Sato, founder of Nendo (see below).

All our favorites were there and outstanding presentations by OFFECCT and HAY who MOD represents in the US were the talk of the town. Strong showings by the relaunched David Design and other MOD staples like Asplund, Form Us With Love, Muuto and of course our favorite Men In Black, Claesson, Koivisto, Rune once again divided and conquered their hometown. New lines that MOD is picking up for US distribution include: One Nordic, Mass Productions and Frama.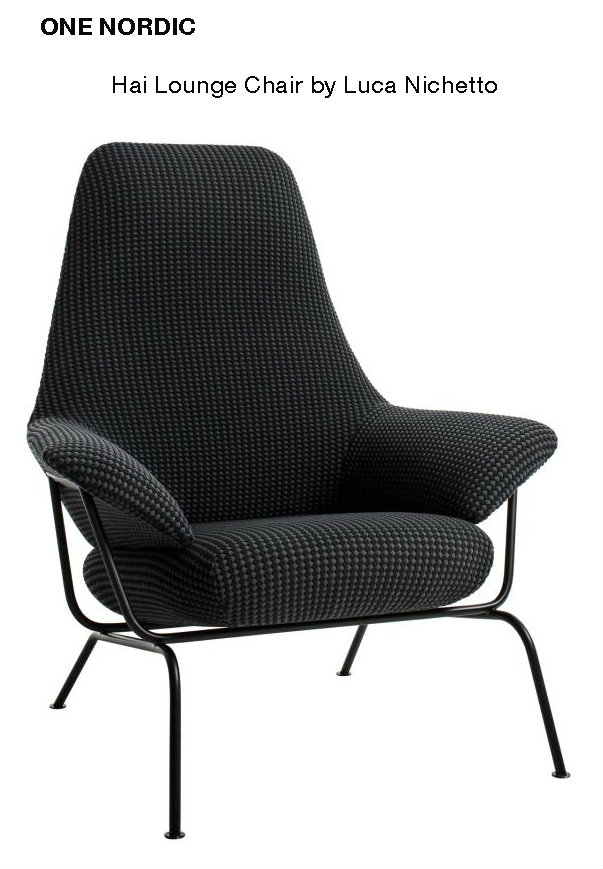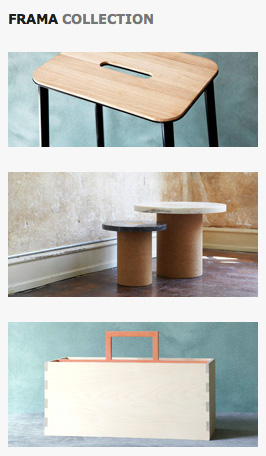 The EVERYBODY sofa by Stephen Burks for LK Hjelle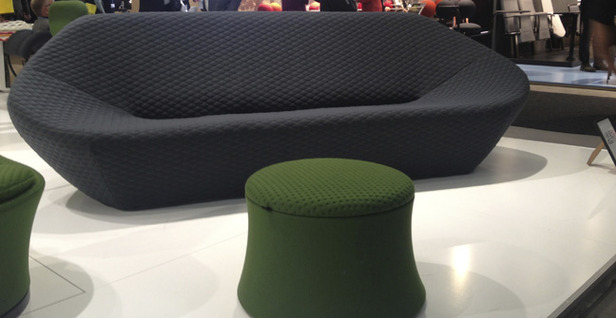 At the Greenhouse unestablished designers displayed their works, just waiting for their breakthrough, and a collaboration between the Stockholmsmässan and ABB Robotics a poetic design installation, called Glass Elephant, was displayed at Östasiatiska Museet, in the caverns of Skeppsholmen.
Please enjoy some of the highlights and contact MOD for the latest info on the product launches. (212) 925-5506 or info@modobjects.net
---
NENDO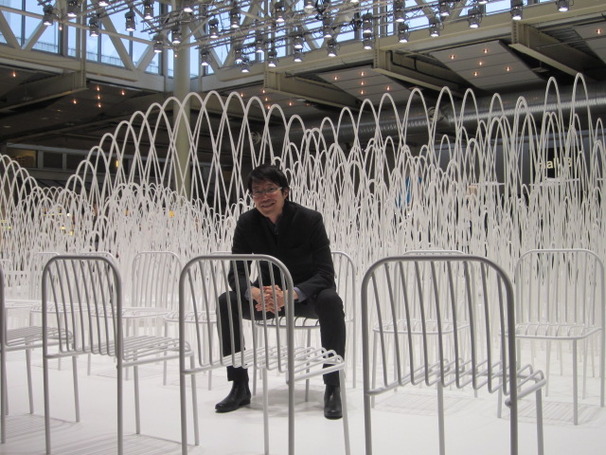 For the tenth year running, a celebrated international designer is creating a lounge in the entrance to Stockholm Furniture & Light Fair.This year Mr. Oki Sato, Chief Designer and founder of Nendo design studio, has produced an installation that creates the illusion of snow-capped mountain peaks soaring into the sky. This is an instance of the method being as central to the creative process as the visual effect.
"We've laser cut more than 100 plastic foam sheets and transformed them into a landscape that expresses how the design process begins and evolves, from a simple idea to a finished expression. This is a method that illustrates our design philosophy," explains Oki Sato.

"It's also been very important to us to minimize the installation's environmental impact, so we've finished all materials on site to be able to transport the props as compactly as possible.
After the fair, it will be possible to recycle the installation as well," he continues.

Oki Sato has been called the 21st century's most ingenious designer and his work is praised for its low-key humor and constant desire to tell a story. He was born in Toronto in 1977, but spent a large part of his youth in Tokyo and studied to be an architect there. Following his breakthrough in Greenhouse ten years ago, he has risen to stardom in the design world and has worked with Cappellini, Swedese, De Padova, Foscarini and many others.
www.nendo.jp
---
MOD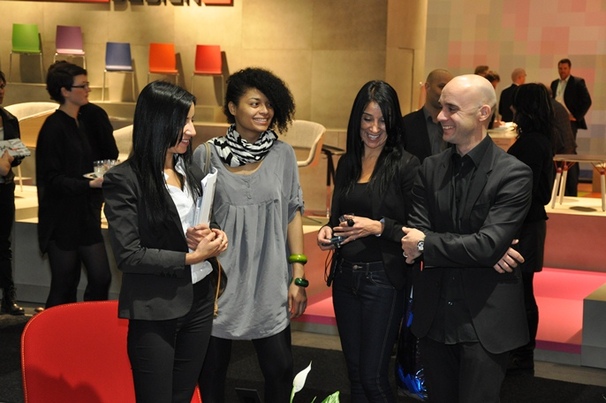 MOD mingling with Design Star Martin Claesson of CKR (sometimes referred to as the Swedish MIB).
www.ckr.se
---
OFFECCT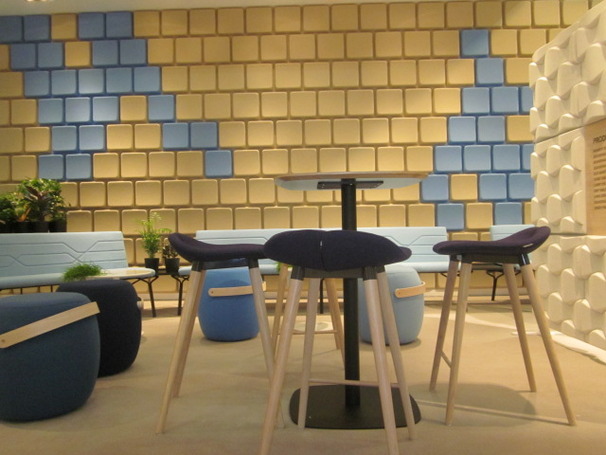 OFFECCT was founded in 1990 by CEO Kurt Tingdal and Design Manager Anders Englund, and is situated in Tibro, Sweden. OFFECCT has 42 people employed with sales of SEK 115 million. More than 50% of the sales are made up of exports to 55 countries. OFFECCT has grown rapidly to become a major furniture manufacturer with high design ambitions, which is particularly evident in the many international design awards that OFFECCT has received over the years. OFFECCT believes that qualitative, innovative and sustainable design creates interiors that have a positive impact on people - in meetings, at home and at work.
Public spaces all over the world have been furnished with objects from OFFECCT. A few examples are the offices of Skype and the Swedish Association of Architects as well as Nobis Hotel in Stockholm; MoMA and the MTV studio in New York, Microsoft in Hong Kong, Philips in Istanbul, MoMA (The Museum of Modern Art) in New York; Schiphol in Holland, Statoil in Norway, and BMW in Belgium.
MOD represents OFFECCT in the USA - contact us for the latest product info!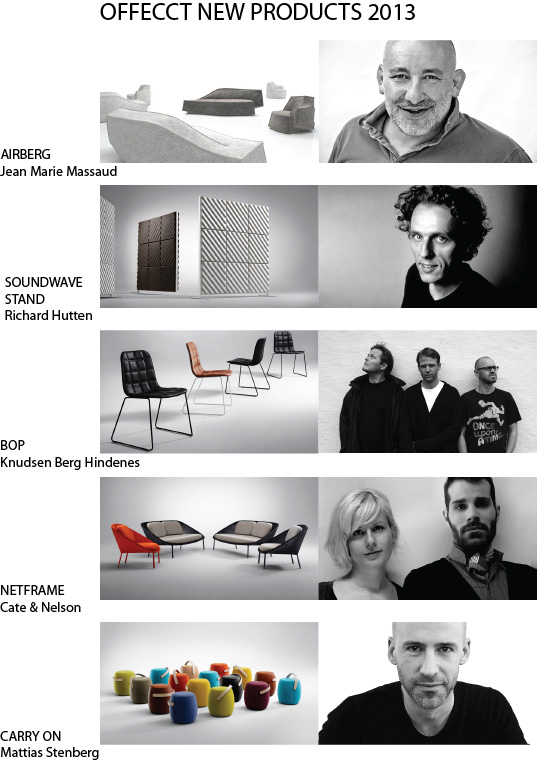 OFFECCT STOCKHOLM SHOWROOM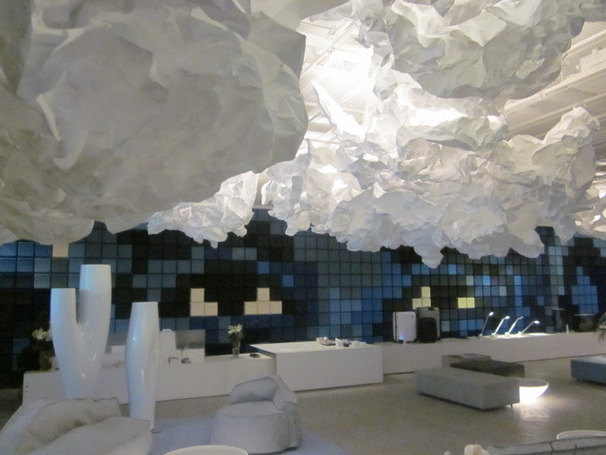 Jean-Marie Massaud and Offecct's collaboration goes back to 2001. In conjunction with the 2013 edition of the Stockholm Furniture Fair Offecct arranged an exhibition in its Stockholm showroom where Massaud's new and earlier designs are put into perspective. At the l'Exposition Jean-Marie Massaud Offecct and Massaud get the opportunity to display their joint enthusiasm for new creations and contemporary design.

w
ww.offecct.se
---
HAY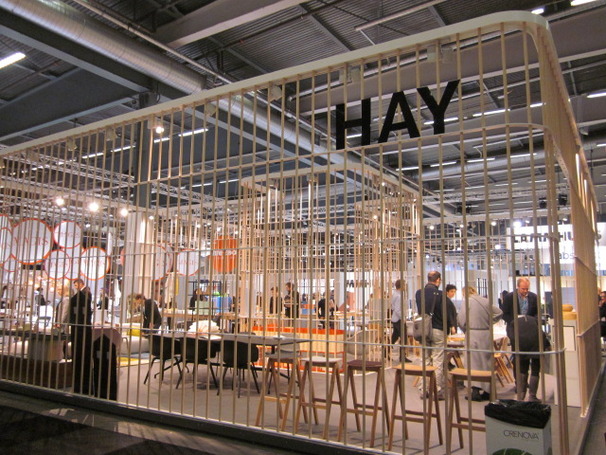 HAY was founded in 2002 and the furniture collection was launched at IMM Cologne in 2003. HAY's ambition is to encourage Danish furniture design's return to the innovative greatness of the 1950's and 1960's in a contemporary context.
Today, ten years later that ambition has not changed! It is still a great inspiration and keeps us inspired and motivated every day in creating meaningful and sincere design.
Through our commitment to the design and production of furniture and accessories with an international appeal HAY strives to make good design accessible by supplying our trademark designs with affordable price tags. HAY is committed to nurturing and promoting the originality of young talents as well as exploring the twisted minds of established designers.
HAY always circles around architecture, sustainable design and high quality at affordable prices. In striving to design the perfect product, we embrace space, new technology, and society and seek to understand the grounds for modern life.
HAY operates in the field between architecture and fashion bridging the statics from architecture and the dynamics from fashion. We are ambitious in the field of innovation and the use of cutting edge technology.
www.hay.dk
---
DAVID DESIGN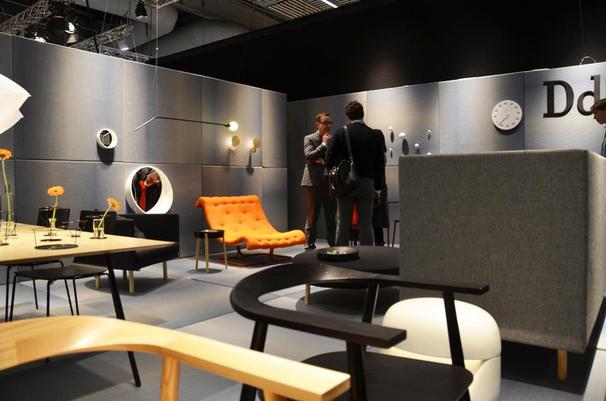 Swedish brand David Design which started back in 1988 turns 25 this year. David Design was among the first Swedish brands to internationally promote a new simple, minimalistic and sustainable Scandinavian design style. Not to become a rolling stone gathering moss, the brand is still alive and kicking with new products by well known designers like Nendo, Luca Nichetto and Claesson Koivisto Rune among others.
www.daviddesign.se
---
INSTALLATION AT FAIR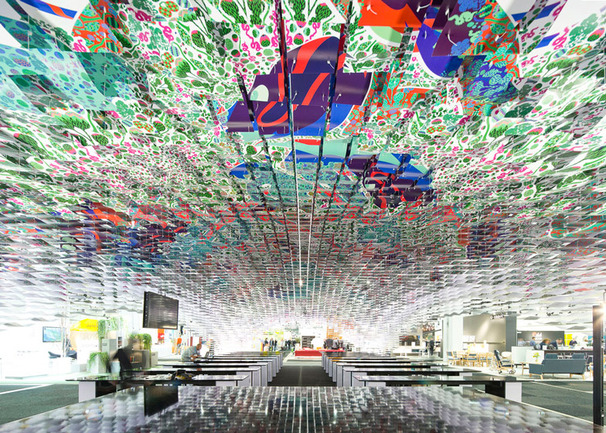 Architect Gert Wingårdh and illustrator Kustaa Saksi have designed an installation at the Stockholm Furniture & Light Fair for 'The Hello! Show,' which offers debates around the workplace, design, and communication.
The event space has been constructed using 700,000 sheets in total. It is reminiscent of a church interior, with rows of high tables in front of an 'altar' for the panel. The tabletops are made of a mirror laminate and balance on stacks of A4 paper sheets.
Stacks also hang from the roof in a Venetian blind-like construction, with the lowest sheet in each stack carrying part of an enormous illustration that forms the dome-shaped ceiling. Saksi said:
I'm fascinated by architecture and antique ceiling paintings in temples all over the world, and the way they've attracted people to share their thoughts and ideas. I've wanted to create a similar esthetics, mixed with orientalism, art, mathematics, science and psychedelia, by depicting communication as Darwinistic evolution. Constantly on the move and a work in progress, like bacteria and marine animals when they crawled out of the depths of the sea millions of years ago.
www.stockholmfurniturefair.se
---
IN MEMORIUM

We are extremely saddened to report that designer
James Irvine
has passed. Irvine was one of MOD's most loved designers and in addition to being one of the most humble designers we have ever met, created products for some of our favorite companies such as CBI and Asplund. He was considered one of the most prominent English industrial designers and had an intuitive aesthetic and considered design solutions from a "less is more" approach that created iconic products that are timeless in their minimal design.
Irvine attended the Royal College of Art in London; after his graduation in 1984, he began his career at Olivetti, where he worked under the direction of Michele de Lucchi and Ettore Sottsass. He later founded his own firm where he designed for clients including Thonet, B&B Italia, Canon, Foscarini, Muji, Magis, and Ikea. During his lifetime, he received an honorary doctorate in design from Kingston University and was also made a Royal Designer for Industry. Today, we honor him and his contributions to the field of design. He was 54.
He will be missed.