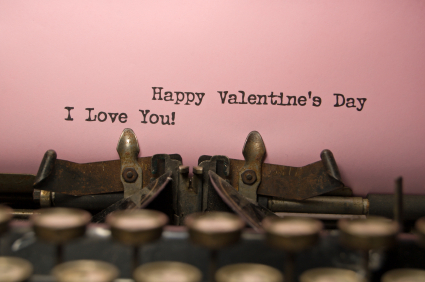 Be Our (Vegan) Valentine!
Make this your best V-Day ever with recipes, tips, and deals from the editors of VegNews.
It can be easy to get caught up in the craze of Valentine's Day, but remember that simply showing someone you care doesn't have to mean you have to spend a lot. Cook a special meal together, send a box of vegan chocolate, or treat your loved one to a massage (or give them one yourself). Your trusty VegNews editors have compiled tried-and-true tips, our most romantic recipes, and sexy suggestions to make this year your best vegan V-Day yet.
What's Cooking
Nothing could be more romantic than a thoughtfully prepared menu with candlelight in the comfort of your home. With these amazing recipes, you'll be making your sweetie a delicious vegan supper in no time.
The Ultimate V-Day Menu
Lovely Butternut Squash Salad
Sexy DIY Sushi Rolls
Perfect Polenta Pie with Wild Mushroom Filling
Be My Baby Artichokes Marinara
Cheese Fondue for Two
Simple Rainbow Chard with Figs
Thai for Two Vegetable Curry
Aphrodisiac Asparagus
Rustic Seitan Almondine
Rich Avocado Pesto Pasta

Hello, Dessert!
Boozy Raspberry Pretzel Dessert Bar
Chocolate Maple Peanut Bars
Decadent Chocolate Tart
Fudge Brownies with Peanut Butter Mousse
Aphrodisiac Almond Blondies
Simple Chocolate Mousse
Crazy for Coconut Chocolate Chews
Peanut Butter Mini-Kiss Cookies
Sinfully Rich Vegan Chocolate Fudge
Caramel Rum Sauce
Jelly Donut Cupcakes
Need even more ideas? Visit VegNews.com for incredible editor-tested recipes so you can get cookin'.
Tips & Ideas
Need some tips to wine and dine that special someone, vegan style? VegNews has taken the guesswork out of wooing and making whoopie—pies, of course.
Ultimate Vegan Romance Guide
Vegan Wine & Cheese Guide
8 Delicious Vegan Aphrodisiacs
Cruelty-Free Candles
V-Day on the Cheap
Romantic Getaway: Sunny Palm Springs
Romantic Getaway: Beautiful Upstate New York
Romantic Getaway: Northern California Vegan Inn
Product Review: Dark Chocolates
Product Review: Chocolate Coconut Spread
Product Review: Salted Chocolate Caramels
Product Review: Marshmallow Truffle Bar
Super Shortcuts
If you're in the mood to go fancy this V-Day, hit up one of these elegant eateries for a Valentine's night out you'll never forget.
TORONTO: Three-Course Vegan Feast at The Hogtown Vegan
PHILADELPHIA: Four-Course Valentine's Dinner at Vedge
WASHINGTON, DC: Live Jazz at Elizabeth's Gone Raw
FORT WORTH & DALLAS: Special V-Day Menu at Spiral Diner
NEW YORK: Vegan Valentine's Menu at Blossom
NEW YORK: Lavish Four-Course Meal at Candle 79
NEW YORK: Cruelty-Free Korean Dinner at Hangawi
NEW YORK: Vegan Valentine's Day Pop-Up Shop
LOS ANGELES: Vegan Valentine Prix-Fixe at Sun Café
SAN FRANCISCO: Romantic Dinner for Two at Millennium
SEATTLE: Eco-Friendly V-Day Eats at Café Flora

Getting vegan goodies delivered is easier than ever! Check out a few of our favorite mail-order must-haves.
Heart-Shaped Vegan Chocolate Sampler from Rose City Chocolatier
Gift-Wrapped Cruelty-Free Sweets from The Inspired Cookie
Organic & Fair-Trade Truffle Assortment from Vegan Essentials
Delectable Sweets from Allison's Gourmet
Vegan Milk-Chocolate Sampler from Farm Sanctuary
V-Day Collection from No Whey Chocolates
Handmade Vegan Truffles from Derrick Sky
Dark Chocolate Hearts from Rescue Chocolate
16-Piece Vegan Chocolate Collection from TraverseGourmet.com
Assortment of Vegan Chocolate Boxes from Pangea
Variety of V-Day Sweets from Cosmo's Vegan Shoppe
Holiday Deals
We've wrangled together the best deals for conscientious cupids to make V-day gift giving a breeze. Who doesn't love a great deal?
15% Off Valentine's Chocolates (Use Code Love15)
Chocolates, Condoms, & Balms from the VegNews Store
Raw Vegan Chocolates & Truffles On Sale
3 for $10 Handmade Vegan Soap Sampler
FREE Vegan Pink Grapefruit Bath Bomb
20% Off Soy Aromatherapy Candles
Beautiful Lingerie on Sale
Sign Up For Our Newsletters
Share the VegNewsletter with your friends. Or, if it was forwarded to you, sign up at VegNews.com to join the thousands of readers who are tuning in to America's hottest veg publication. Can't get enough? Read up on past editions FREE by clicking on "See our past VegNewsletters."