Maybe it's the crisp, multi-colored fall leaves scattered on the sidewalk or bright orange pumpkins on porch steps that make us love October. We're still dreaming up what our Halloween costumes will be this year (any ideas?) while sipping warm mugs of hot apple cider. Whether you plan on hitting up haunted houses (boo!) or handing out vegan candy to eager trick-or-treaters, enjoy the crisp autumn air and the hint of the holidays that are just around the corner. Read on to discover what we love most about the first full month of fall. (Hint: It's sweets!)

7-Eleven Offers More Vegan Meals
After a successful trial run in select New York stores, convenience store chain 7-Eleven has decided to expand its vegan meal options to three additional states—New Jersey, Pennsylvania, and Massachusetts. Now meals such as linguine tikka masala, pad Thai, and spinach noodles with vegetables will be available at more than 100 locations on the East Coast. In addition to these meals, Huffington Post reported on five accidentally vegan snacks already sold at 7-Eleven locations.

West Hollywood Bans Fur
West Hollywood, CA became the first city to ban the sale of any clothing or apparel made from the pelt or skin of an animal with hair, wool, or fur. With unanimous approval from the City Council, Councilmember John D'Amico is asking for the ban to take effect June 30, 2012, but no official date has been set. The ban still requires a second reading before it receives final approval. The city has proven to be a leader in animal welfare and already prohibits puppy mills, declawing felines, animal testing for cosmetics, and steel-jaw leghold traps.

Class-Action Lawsuit Against Dairy Companies
A major class-action lawsuit was filed against several dairy companies and trade groups who collectively produce 70 percent of all the milk in the US. The suit was brought by consumers including members of the animal-welfare nonprofit Compassion Over Killing, alleging that the companies formed Cooperatives Working Together to manipulate milk prices. CWT is accused of paying off farmers to slaughter more than 500,000 young dairy cows to reduce the milk supply, which resulted in more than $9.5 billion in revenue for CWT members.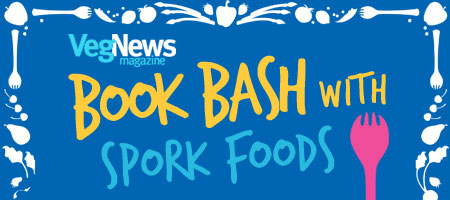 Ready to have a total blast with two of the most beloved vegan chefs on the planet? Don't miss the first-ever party on the swank new VegNews rooftop deck, where we'll host and toast Heather Goldberg and Jenny Engel to celebrate the launch of their hot-off-the-presses cookbook, Spork-Fed. Enjoy tantalizing appetizers inspired by the book, free-flowing Champagne and pink lemonade, a cinnamon bun bar by Cinnaholic, all the photobooth photos you can take, and a trivia game judged by the Sporkies. Plus, all guests receive a complimentary copy of Spork-Fed and the chance to get it signed by the lovely authors. Snag your tickets here before the party sells out!


Project Promote
Here at VegNews, we understand the importance of effectively promoting vegan businesses and organizations. After more than 11 years in business, we know how vital it is to get the word out about the great work you and your team are doing. This is why we're thrilled to announce the fifth annual Project Promote program. VegNews will award a one-year advertising campaign (including professional design services) to the organization deemed most deserving of the exposure. The group must promote veganism to be considered, and the advertising package is valued at more than $7,000. Interested groups need to simply download an application, complete it, and submit by November 1. The 2012 Project Promote winner will be announced by November 15. Good luck!

Download your 2012 Project Promote Application here!

Vegan Yoga Retreat to Mexico
Want to travel the world? Book your spot on a thrilling VegNews Vacation! Our 2012 trips to India, Bali, and Thailand are sold out, but we still have space on this year's VegNews Vegan Yoga Retreat to Mexico. Experience amazing yoga, stay at a luxurious eco resort, sip aguas frescas on the beach, enjoy incredible organic vegan cuisine, make vegan s'mores by the fire, and so much more. Click here for more details!

October Twitter Chat
This month, we bring you vegan cookbook superstar duo Terry Hope Romero and Isa Chandra Moskowitz for Pie Cha(r)t: a graphic discussion of divisible desserts. The team's latest cookbook, Vegan Pie in the Sky, is a drool-worthy cornucopia of pies. We nearly died when we featured the Boston Cream Cake Pie in our September+October issue. Chat with this dynamic duo on on October 18 at 6pm PT at #VegNewsChat. Never participated in a Twitter Chat before? Don't worry. We have a handy guide to explain it all. VegNews editors will be hosting the chat, and you don't need to have a Twitter account to enjoy the discussion.
You know what's hip? The internets. Here are our top five picks for hot VegNews.com stories you should probably check out right this minute.

1. Five Amazing Burger Joints We Love We've compiled a list of our favorite vegan burger joints from Chicago to Singapore.

2. Behind the Scenes with Vegucated's Filmmaker Learn all about the recently premiered documentary, which showcases three meat-loving New Yorkers as they pledge to go veg.

3. Vegan Etsy Superstars From vegan caramels to homemade cupcakes, we found Etsy sweets shops that we can't stop clicking through.

4. DIY Vegan Dog Treats If your pooch is your numero uno companion, try your hand at making Fido's very own vegan treats with a few simple recipes.

5. Food Favorites Gone Raw Think raw food means giving up your favorite comfort foods like pizza, burgers, or pasta? Think again! These raw recipes will freshen up your mealtime faves.


Lights, Camera, Compassion
On October 6, enjoy a dynamic evening of vegan treats, wine, and music at Mercy For Animals' Lights, Camera, Compassion fundraiser, hosted by former MTV News correspondent John Norris and a special committee that includes The Discerning Brute's Joshua Katcher, Vegucated's Marisa Miller Wolfson, and VegNews' own Joseph Connelly, among others. Each $150 ticket purchased for the event will allow the animal-welfare organization to reach nearly 15,000 viewers with new television advertisements.

Central Florida Veg Fest
The sixth annual Central Florida Veg Fest in Orlando promises to be a great day of speakers, entertainment, kid-friendly activities, and more. On October 22, vegan authors Ellen Jaffe Jones, author of Eat Vegan on $4 a Day, and Colleen Patrick-Goudreau will be speaking. Eat your way through this festival with more than 250 vendors who will be offering food demos and samples.

Texas State Veggie Fair
Yeehaw! Prep your belly for an all-day extravaganza of fried-food decadence at the 2nd Annual Texas State Veggie Fair, coming to Dallas on October 23. This free festival brings together vegan food vendors, carnival games, live entertainment, and fantastic guest speakers, like Mercy For Animals' Nathan Runkle and VN columnist Julieanna Hever, for a rollicking cruelty-free celebration unlike any other. One of the fair's highlights is the Vegan Fried Foods competition, where last year a deep-fried vegan Reuben took home the grand prize.

Factory Farming Conference
Farm Sanctuary's first-ever National Conference to End Factory Farming, designed to facilitate a network between advocacy movements, professionals, and concerned citizens, will be held October 27 to 29 in Arlington, VA. More than 30 world-renowned experts in a variety of fields, including Whole Foods Co-CEO John Mackey, Congressman James P. Moran, and Wayne Pacelle will be discussing how factory farming negatively impacts the environment, public health, and animal welfare. In addition to panel discussions and plenary sessions, the event will also include a welcome reception, a banquet dinner, book signings, and Q&A sessions.

You'll have to wait until next month to check out Chicago Vegan Mania on November 5! We erroneously listed the date for Chicago Vegan Mania as October 9 in VegCal in our September+October issue.


Vanilla Fudge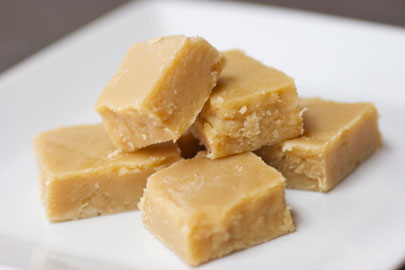 We think the song "I Want Candy" pretty much sums up how we feel about Halloween. We just wrapped up our November+December issue and we feature not one, but seven amazing DIY candies by the lovely Claire Gosse, author of Are You Sure That's Vegan? Claire kindly shared with VegNewsletter readers her simple vanilla fudge so you don't have to wait until our issue drops to start making your own confections. Makes 18 pieces


What You Need:
3 cups white sugar
1-1/4 cups white corn syrup
2 tablespoons vegan margarine
1-1/4 cups soymilk
2 teaspoons vanilla


What You Do:
1. Line an 8-inch square pan with foil and grease. Set aside. In a large saucepan over medium heat, combine sugar, corn syrup, margarine, and soymilk. Stir until it comes to a boil. Once it boils, stop stirring and cook until candy thermometer reaches 238 degrees.

2. Remove saucepan from heat and let mixture cool down to 120 degrees. With an electric mixer on low speed, add vanilla and beat until mixture starts to lose its gloss. Immediately pour mixture onto greased pan and spread out if necessary.

3. When fudge is cool, lift foil out of pan and place on a cutting board. Cut fudge into pieces to serve.



Looking for more sweet treats recipes? Try out a few of our favorites:
Pecan Pralines
Chocolate Mousse
Frozen Oatmeal Raisin Sandwiches

Whoopie Pies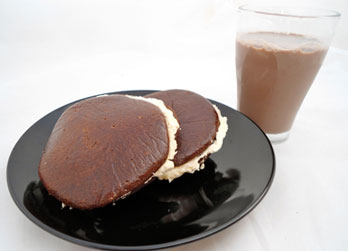 Cupcakes just not cutting it anymore? Yawning at the thought of brownies? Be bored no more, for Cafe Indigo's behemoth, indulgent, frosting-filled Whoopie Pies are here to put some spark back into your vegan dessert life. The VegNews office was seriously stoked when we sampled these decadent pastries. These Whoopie Pies dazzled us with their light chocolate cake perfectly enveloping a rich, can't-believe-it's-vegan filling of vanilla fluff. While they may resemble neither whoopie nor a pie, these treats had us at hello.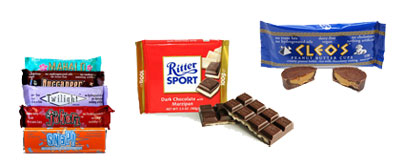 Who says that you have to don a costume to get a nice armful of sweets? Instead of ringing doorbell after doorbell and yelling out, "Trick or treat!" head the easier route and buy yourself a pillowcase's worth of vegan candy. The VN Store snacks section is filled with an assortment of goodies, including: vegan candy bars, peanut butter cups, chocolate marzipan, organic candy bars, and Dandies marshmallows. Grab your goodies here! Have a happy and safe Halloween!

Satisfy your between-issues cravings with this complimentary supplement, featuring exclusive product reviews, musician, artist and event spotlights, slammin' recipes, giveaways, plus the lowdown on how veganism is bettering the world—one delicious bite at a time.
Share the VegNewsletter with your friends. Or, if it was forwarded to you, sign up yourself at vegnews.com to join the thousands of readers who are tuning in to America's hottest vegetarian publication.