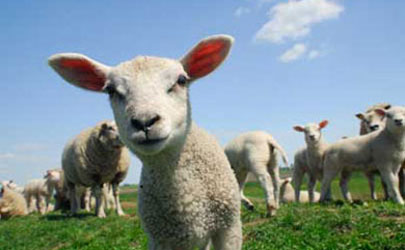 April '11

The VegNewsletter arrives in your inbox just once a month and clues you in on vegan news, dining, recipes, products, reviews, culture, giveaways, and all the other good things in life.

In This Issue
Spring into Action
V in the News
VegNews Twitter Chat
What's Hot on VegNews.com
Event Showcase
Peanut Butter Truffles
Dandies Tweets
Signed Books Sale
Attention Vegan Yogis
VegNewsletter Preview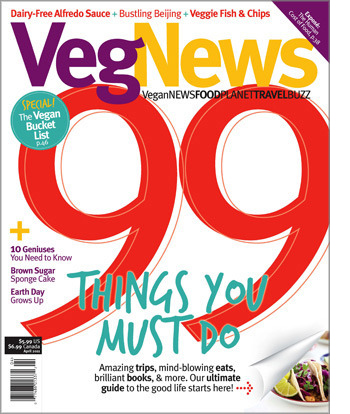 The Genius Issue!
Get ready to go on the adventure of your life with our Vegan Bucket List, a vacation to China, food from around the globe, and 10 vegan geniuses changing the world.




Our Blogs
Café VegNews
Press Pass
This Just In
Savvy Vegan
VegNews Book Club

Our Website
VegNews.com


Trouble viewing this email? We hate that. Click here for the pretty version.
Vegan Baker Stars in new Animal Planet Show
Danielle Konya, owner of Vegan Treats, is set to star in a new series on Animal Planet tentatively titled Sweet Avenger, which will revolve around ethical eating. The show is slated to premiere this summer on the network that created Whale Wars. The series will follow Konya, a passionate animal activist and single mother, as she runs her hugely successful bakery, and will detail her personal relationships with her best friend, mother, and employees. Check out the July+August issue of VegNews for an exclusive interview with the sweet star.

Iowa Voters Oppose Prohibiting Secret Footage
Sixty-five percent of Iowa voters oppose a proposed bill, House File 589, which would make it illegal for any whistleblowers to film footage at factory farms, puppy mills, and other animal activities. The bill was approved by the House, and is currently being considered by the Senate. Iowa agribusinesses are pushing for the legislation that would make a first offense an aggravated misdemeanor, and a second offense a Class-D felony.

Vegan Doughnut Shop on Food Network
Seattle-based vegan doughnut shop, Mighty-O, will be competing on Food Network's Challenge: Donut Champions, which airs on April 10. Three other doughnut shops will compete and make the ultimate doughnut showpiece for a chance to win $10,000. Mighty-O makes its doughnuts in small batches and uses only certified-organic ingredients to whip up tasty dunkers such as Cinnamon & Sugar, Nutty Chocolate, and Cuckoo for Coconut. Tune in as Mighty-O competes to be crowned doughnut champion.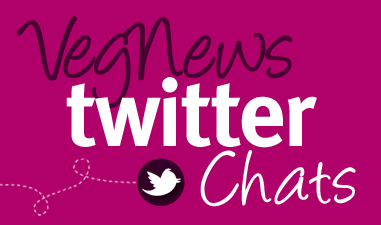 VegNews is thrilled to host our third Twitter Chat on "How to Start Your Own Vegan Business." If you've been dying to launch your own vegan sweater Etsy empire or sell your artisanal chocolates online, we've got the experts in the business world to help you get your ideas off the ground. Joining our chat will be the founders of great vegan businesses—Sweet & Sara, Chicago Soydairy, Vegan Essentials, VegNews, and others—all will be on hand to share tips, challenges, and the secrets of success in starting a vegan enterprise.

Never participated in a Twitter Chat before? Don't worry. We have a handy guide to explain it all. Join us on April 26 at 6pm PST at the hashtag #VegNewsChat. VegNews editors will be hosting the discussion, and you don't need to have a Twitter account to join. Here's to building a vegan empire!



You know what's hip? The internets. Here are our top five picks for hot VegNews.com stories you should probably check out right this minute.

1. Animal Rescue in Japan Several US-based, international, and local Japanese animal organizations are seeking donations to help now-homeless companion animals in Japan.

2. 7 Best Vegan Sandwiches It's a tough job, but we ranked our favorite vegan sandwiches around the country from the best grilled cheese to a mouthwatering Reuben. Did your favorite make the cut?

3. Q & A with Julie Hasson Cookbook author Julie Hasson discusses Vegan Diner and shares her comfort-food recipe for Biscuits and Creamy Sage Gravy.

4. Vegan in Houston Think traveling in Texas is hard for vegans? Think again. With museums, great vegan eats, and shopping galore, Houston offers up more than just Texas BBQ.

5. Choreographer Cynthia King VN catches up with dancer and studio owner Cynthia King, the creator of the world's first vegan ballet shoes.

Bonus! This Week's Giveaway The sweet smell of vegan Cinnaholic buns is enough to drive us crazy. It's vegan catnip, folks. Three lucky fans will win a dozen delicious cinnamon rolls sent to their home. We'll be pawing at your front door when you win. Simply comment by April 11 at 9am PST.

Worcester VegFest
Sample tons of vegan food at this annual VegFest that celebrates vegetarianism and socially-responsible businesses. On April 17, the free event features speakers, live music, vegan vendors, and much more. VegNews will be exhibiting, so stop by to say hello to VN staffers and subscribe or renew the magazine!

Worldwide Vegan Bakesale
Take your activism to the next, sweetest level. Sign up from April 23–May 1 to hold a local vegan bake sale and be part of an international effort to raise funds for worthy causes. Several bake sales are being organized to benefit Japan. School groups, Girl Scout troops, churches, as well as animal-rights and vegan groups are invited to participate.

Baltimore Veg Fest
Join fellow vegans and vegetarians in Baltimore, Md., for its first-ever VegFest. The free event on April 30 is being held at the University of Maryland Baltimore County and will feature live music, local veg restaurants, vegan cooking demonstrations, guest speakers, and more.
Looking for more fun events this month? Head to VegNews.com for more great happenings.
Portland Peanut Butter Truffles

Stuff your Easter candy basket—or your face—with these easy-to-make, yet decadent confections. This stellar recipe is from the cookbook Licking the Beaters 2: Vegan Chocolate and Candy by Siue Moffat. Moffat whipped up these sweet treats for a Portland dessert potluck in 20 minutes. Makes 20 truffles

What You Need:
1 cup chocolate chips
1/4 cup peanut butter
1 tablespoon confectioners' sugar
1/8 teaspoon salt
1 tablespoon soymilk
2 tablespoons walnuts, finely chopped


What You Do:
1. In a small pot over low heat, melt all ingredients except soymilk and walnuts.

2. After ingredients are melted, pour in soymilk. Stir quickly to eliminate lumps. Chocolate will form into a ball.

3. In a bowl, pour melted ingredients and chill in the fridge for a few minutes until cool.

4. On a baking sheet, spread walnuts. Remove chocolate from fridge and roll chocolate into walnut-sized balls. Roll balls into walnuts.

5. In an airtight container, place all truffles. Truffles will stay fresh for a week.


Looking for more recipes to satisfy your sweet tooth? Try out a few of our favorites:
Coconut Truffles
Peanut Butter Mini Kiss Cookies
Pecan Pralines

Dandies Tweets
We're giving you fair warning: You can't just eat one Dandies Tweet, the vegan version of marshmallow Peeps. We tried. We failed. These fluffy little treats come in cute shapes—rabbit-shaped orange flavor or chick-shaped lemon flavor—and are covered in a crunchy sugar coating. Yes, the office pretty much runs on a Tweets-induced sugar high these days. Pick up your own at Vegan Essentials or Cosmo's Vegan Shoppe. Dandies' marshmallows just went on sale in the VegNews Store. Oh, and get yours before they're gone!


No offense to your electronic wunderkind, the Kindle, but does it have handwritten autographs from today's top vegan authors? We didn't think so. We have signed copies of the hottest books out right now, including Vegan's Daily Companion by Colleen Patrick-Goudreau, The Bond by Wayne Pacelle, and Veganist by Kathy Freston for just $15 each. Get your signed copy today at the VegNews Store before these classics disappear. And don't miss our discussion on these great books in the VegNews Book Club!

Are you a vegan yoga instructor or know of a really fabulous yoga retreat center that caters to vegans? We want to know! Email the VN tip line, and we'll be in touch. Namaste.
Satisfy your between-issues cravings with this complimentary supplement, featuring exclusive product reviews, musician, artist and event spotlights, slammin' recipes, giveaways, plus the lowdown on how veganism is bettering the world—one delicious bite at a time.
Share the VegNewsletter with your friends. Or, if it was forwarded to you, sign up yourself at vegnews.com to join the thousands of readers who are tuning in to America's hottest vegetarian publication.