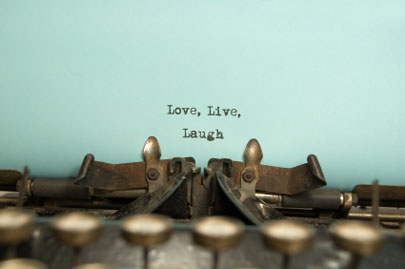 Fantastic February!
Love is in the air, and we're not talking about the mushy, get-each-other-cards kind of love. We're talking about the love for animals.
With more people opting for a plant-based diet than ever, an explosion of vegan cookbooks, and tons of amazing recipes, it's all about showing compassion for ourselves and the animals this month. Of course, we also have a swoon-worthy chocolate recipe, the news you need to know, and an exclusive Matt & Nat giveaway for readers. This newly revamped VegNewsletter is our love letter to you. Enjoy!
V in the News
Veggie Grill Opens in Oregon
The Veggie Grill, a fast-casual restaurant based in Southern California, recently opened its eighth location in Beaverton, OR. A Portland-area restaurateur noticed the popularity of the seven California eateries and persuaded the founders to open up in the PDX area. The 100-percent vegan restaurant features veggie burgers, creative sandwiches, and sweet potato fries.

Popularity of Meatless Meals Grows
According to the Wall Street Journal, the number of US food products labeled as "meatless" or "meat-free" grew 21 percent from 2009 to 2011. The WSJ points to the rise of vegetarian companies such as Yves, Lightlife, and Gardein that are marketing faux-meat products to flexitarians and those wanting to eat less meat. The companies are hoping to attract the growing number of consumers looking for alternative sources to animal protein.

Celebs Tout Vegan Diets
Actor Woody Harrelson, musician Jason Mraz, and actor Ted Danson have been busy proclaiming the health benefits of eating vegan. Harrelson told Esquire magazine that his chronic acne cleared up after going vegan 27 years ago. Mraz blogged about how much better he feels, adding that the film Fork Over Knives was a "life changer." Danson has switched to a vegan diet while filming the TV show CSI, sharing that he has more energy now since making the change.
What's Hot on VegNews.com
You know what's hip? The internets. Here are our top five picks for hot VegNews.com stories you should check out right this minute.
1. 4 Vegan Superbowl Recipes New York City vegan chef Ayinde Howell shares Superbowl recipes that are true game changers. Serve up some Quinoa Nachos and Three-Bean Chili this weekend.
2. 25 Ways to Relax, Vegan-Style Feeling stressed out? We hear you. We share quick, inexpensive tips to get Zen now.
3. Bryant Terry Talks (Vegan) Food Politics The author of three vegan cookbooks discusses his thoughts on our food system and where he thinks the plant-based food movement is headed.
4. 5 Fitness Must-Reads If you need some inspiration to get back on track with your fitness goals, here are our picks for five books that will get you moving.
5. 10 Reasons We Need Dennis Kucinich in Congress VN Publisher Joseph Connelly shares why he supports Rep. Dennis Kucinich, the lone vegan in Congress.
Bonus! Exclusive Matt & Nat Giveaway One lucky reader will win a gorgeous white vegan handbag before it debuts in Matt & Nat's soon-to-launch spring collection. Hurry! Contest ends Friday, February 3 at 5pm PT.
What's Up at VegNews
February Twitter Chat
Veganism: Race, Politics, & Equality
Wednesday, February 29 @ 6pm PT/9pm ET

Join VegNews editors and our panel of experts as we discuss these key issues (and more) that our movement is facing today. Never participated in a Twitter Chat before? Don't worry. We have a handy guide to explain it all. Join us at the hashtag #VegNewsChat. You don't need to have a Twitter account to join.
Event Showcase
DC Meat-Free Week
On Feburary 6, join animal organizations DCVegan, The Kindness Collective, Compassion Over Killing, and Compassion for Animals, for the third annual DC Meat-Free Week in Washington, DC. The event kicks off with a barbecue, followed by a Food Truck Day, a special meal from Sticky Fingers Sweets & Eats, and much more. The event planners have also organized special deals at local restaurants and a DC Vegan Drinks.

Veg Speed Dating
In celebration of Valentine's Day, event planner Karine Brighten has organized three veg speed dating events in San Francisco and Berkeley. Starting on February 11, the events are broken up into age groups and will take place at Pause Wine Bar in San Francisco and Saturn Café in Berkeley.

Vegan Valentine's Day Shop-Up
Join vegan vendors for a Valentine's Day pop-up shop at Brooklyn's Pine Box Rock Shop vegan bar on February 12. Expect to find chocolates, cookies, clothing, greeting cards, and more at this annual event.
Get Cookin'
Chocolate Peanut Maple Bars
If you want a sweet treat to win over that special person in your life (your significant other, best friend, or even your boss), these chocolaty fudge bars with a layer of maple filling are the key to winning anyone's heart. Trust us.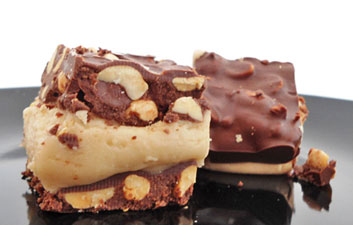 By Anne Callery
Makes about 80 mini-bars
What You Need:
2 12-ounce packages vegan chocolate chips
1 18-ounce jar creamy peanut butter
2 cups dry-roasted peanuts
1/4 cup dry vanilla pudding mix
1 cup vegan margarine, melted
1/2 cup unsweetened almond milk
4 cups powdered sugar
1 teaspoon maple flavoring
What You Do:
1. In a large bowl, add chocolate chips and peanut butter and microwave in 30-second intervals, stirring to combine, until melted. Stir in peanuts. In a 9x13-inch parchment-lined pan, spread half chocolate mixture. Place pan in refrigerator to cool and set.

2. In a saucepan over medium-high heat, combine pudding mix, margarine, and almond milk. Bring to a boil and let boil for 1 minute.

3. To a large bowl or stand mixer, transfer pudding mixture. Stir in powdered sugar and maple flavoring, and beat until smooth. Remove chocolate pan from refrigerator and spread pudding mixture onto cooled chocolate layer.

4. Spread remaining chocolate mixture evenly over pudding mixture. Chill in refrigerator for several hours or overnight. For easy cutting, remove bars from pan with parchment paper lining, and place on a cutting board. Cut into 1 x 1.5-inch squares.

Photo by Anna Peraino

Want even more sweet treats? Try a few of our favorites:
Raspberry Pretzel Dessert Bar
Pecan Pralines
Chocolate-Coconut Cream Pie

Product Review
No Whey! Chocolates
Vegan chocolate may be nothing new, but finding a dairy-free box of truffles with a variety of decadent, creative fillings? Not quite so simple—that is until No Whey! Chocolates stepped up to the plate.
VN editors couldn't get enough of No Whey's flavors such as pistachio-toffee, espresso-caramel with sea salt, and even (heart-shaped!) white chocolate studded with dried strawberries. With Valentine's Day just around the corner, a box of these tempting treats is the perfect formula for making your sweetheart swoon.
VegNews Valentine's Day Store
Love it or hate it, Valentine's Day is almost here.
We have a special V-Day store just for the occasion.

We're not saying you have to join in on this highly commercialized holiday, but if you want to treat yourself or someone you love, we can help. Skip the mushy stuff altogether and invite friends over for a vegan candy taste test (vegan peanut butter cups, candy bars, organic candy bars, and even boxed chocolates). Or set the mood by giving your sweetie a relaxing massage with The Balm, a soothing handmade body treat. Then, enjoy a safe and happy holiday with casein-free condoms. No matter what your plans are, we have you covered at the VN Store.
Preview: March VegNewsletter
Satisfy your between-issues cravings with this complimentary supplement, featuring exclusive product reviews, musician, artist and event spotlights, slammin' recipes, giveaways, plus the lowdown on how vegetarianism is bettering the world—one delicious bite at a time.
Share the VegNewsletter with your friends. Or, if it was forwarded to you, sign up at VegNews.com to join the thousands of readers who are tuning in to America's hottest vegan publication. Can't get enough? Read up on past editions FREE by clicking on "See our past VegNewsletters."