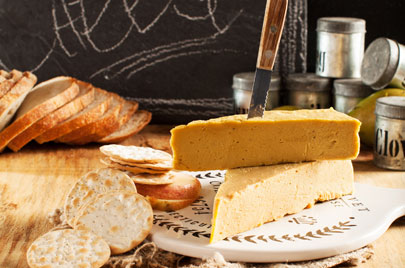 Say Cheese!
Vegan cheese is the future.
We are so excited to about our Cheese issue that we created Vegan Cheese Week just to celebrate. Gone are the days of faux queso resembling melted plastic; now, we have a plethora of delicious cruelty-free cheeses to choose from. And making world-class fromage at home is a snap (check out the September+October issue for six artisan cheese recipes). To get inspired, drool over our dairy-free cheesy delights pinboard on Pinterest, go crazy for our fromage-filled Tumblr posts, or just head straight to seven vegan cheese dishes that are currently blowing our minds. And while you're getting creative, you might as well enter the VegNews I Love Vegan Cheese Photo Challenge (details below!).
V in the News
Alicia Silverstone Announces New Projects
Vegan activist, actress, and author Alicia Silverstone has had a busy month. After announcing the addition of two new books, The Kind Mama and The Kind Cookbook, the new mom teamed up with Farm Sanctuary for its Compassionate Communities Campaign, which aims to motivate others to actively participate in animal-rights issues. Additionally, Silverstone joined People for the Ethical Treatment of Animals in writing to Russian President Vladimir Putin to allow imprisoned musician Maria Alekhina to get served vegan food. Most recently, the star took to Twitter to advocate for animals and call for the support of legislative bill SB 1221.

Subway Opening First All-Veg Restaurant in India
After the huge success of its vegan tasting menu and with continued support via animal-welfare group Compassion Over Killing's We Love Subway campaign, Subway is set to open the world's first all-vegetarian restaurant on a private university campus in Jalandhar, India. The Lovely Professional University, which openly promotes healthy eating and the consumption of vegetarian meals on campus, will debut the all-veg outlet September 4. Currently, American and European outlets only offer two vegetarian options, while all 280 Subway locations in India offer six vegetarian choices including aloo patty, veggi shammi, and garbanzo beans. Additionally, all Indian Subways refrain from selling beef.

Nationwide Drought Affecting Feed Prices
With the US facing its biggest drought in 60 years and record temperatures continuing their assault on the Corn Belt, prices for livestock feed are set to reach an all-time high. According to the US Department of Agriculture, the 2012 yield of corn and soybean crops have been destroyed, resulting in record-high prices for soy, corn, hay, and other feed ingredients—resulting in farmers taking desperate measures to feed their livestock. Joseph Watson, owner of United Livestock Commodities in Mayfield, KY has been feeding his 1,400 cattle a diet of second-hand candy (deemed unfit to sell in stores) mixed with an ethanol byproduct and mineral nutrient. As a result of the drought, prices for meat, dairy, and poultry are set to increase eight percent in 2013.
What's Hot on VegNews.com
You know what's hip? The internet. Here are our top five picks for hot VegNews.com stories you should check out right this minute.
1. 21 Ultimate Vegan Taco and Guacamole Recipes Who doesn't love wildly creative tacos such as slightly spicy tempeh topped with avocado-lime cream?
2. 4 Soy-Free Vegan Faux Meat Dishes Make your own plant-based pepperoni or even ground beef using basic whole-foods ingredients.
3. 4 Gluten-Free Vegan School-Friendly Lunch Bites This easy-to-make, gluten-free menu is brown-bag friendly, full of the nutrients your kid needs to stay healthy, and most importantly, delicious.
4. 9 Tasty Vegan Products Made in Canada These flavor-packed foods from the Great White North show that Canada has much more to offer beyond poutine and hockey.
5. Colleen Holland's Top 12 Vegan Meals VegNews Co-founder Colleen Holland shares the most memorable dishes she's eaten over the past 12 years. Commence drooling!
What's Up at VegNews
VegNews I Love Vegan Cheese Photo Challenge
If there's one thing vegans love, it's vegan cheese. On everything. Who can resist a piping hot pizza covered in gooey mozzarella, a plate of nachos smothered with cheddar and guacamole, an artisan wedge of cashew cheese with crackers and a glass of wine, or a slice of creamy strawberry cheesecake? Yes, the days of tasteless, non-meltable dairy-free cheese are gone—and it's time to usher in a new era, one covered in all things cheese. To celebrate, we want to see your best vegan cheese photos. Whether you've whipped up a plate of tacos for a weeknight meal or spent hours crafting a cheese souffle, send us your most inspiring and delicious photos for a chance to win one of three dessert packages from Sticky Fingers Bakery (where a box of cinnamon rolls, cookies, and crème-filled sandwiches will arrive to your doorstep). There are three easy ways to enter:

#1: Tweet or Instagram your photo with hashtag #ilovevegancheese
#2: Post your photo on Facebook.com/VegNews
#3: Email your photo to ilovevegancheese@vegnews.com

Submit as many photos as you'd like by Sunday, September 30. VegNews editors will choose three winners based on innovation, inspiration, deliciousness, and photo quality. We love vegan cheese!

Vegan Cheese Twitter Chat
Wednesday, September 19 @ 6pm PT/9pm ET

The moment has come: vegan cheese has arrived. We'll dish on tips and tricks for perfecting your own vegan cheese. Plus, we'll talk with cruelty-free cheese experts such as Miyoko Schinner (author of Artisan Vegan Cheese), Punk Rawk Labs, and Chicago Vegan Foods. Never participated in a Twitter Chat before? Don't worry. We have a handy guide to explain it all. Join us at the hashtag #VegNewsChat. You don't even need a Twitter account to enjoy the discussion.
Event Showcase
Toronto Vegetarian Food Festival
The Toronto Vegetarian Association is back again with the 28th annual Vegetarian Food Festival on September 7. The event, which takes place at Toronto's Harbourfront Centre, is the largest of its kind in North America, is entirely free, and will feature free talks and cooking demos from leading vegetarian experts. Patrons can also shop more than 100 vendors such as Sweets from the Earth, Gardein, Vitamix, and Vega in addition to local restaurants, bakeries, and a farmers' market.

DC VegFest
The nation's capital hosts its free annual VegFest on September 22 and 23 in Yards Park. Co-hosted by Compassion Over Killing and the Vegetarian Society of DC, this outdoor festival celebrates the delicious plant-based cuisine in and around the DC area. Cooking demonstrations, free food samples, multiple exhibitors, and speakers such as Jane Velez-Mitchell, Rich Roll, and Terry Hope Romero are all part of VegFest. Plus, four-legged friends are welcome.

Portland VegFest
VegFest, Oregon's largest plant-based food event, begins in September at the Oregon Convention Center. The event, which promotes sustainable, compassionate, and healthy lifestyle and food choices, will offer free food samples, big-name speakers such as Dr. Caldwell B. Esselstyn, Ruth Heidrich, and Jill Nussinow, as well as cooking demonstrations and family activities.
Get Cookin'
Two-Cheese Lasagna
In honor of our September+October Cheese issue, we knew just any ole cheese recipe wouldn't cut it. This decadent two-cheese lasagna filled with a macadamia nut ricotta, rich cashew cream, and a portabello mushroom marinara sauce is the dish that will convince just about anyone that vegan cheese rocks. VN columnist Allison Rivers Samson created this masterpiece and we suggest making it right now.
Serves 8
What You Need:
12 lasagna noodles
4 quarts boiling water

For the marinara sauce:
2 tablespoons olive oil
1 cup diced onion
2 cups diced portabello mushrooms
1 teaspoon minced garlic
4 teaspoons dried oregano
2 teaspoons dried basil
1 teaspoon dried rosemary
1 teaspoon fennel seeds
1 28-ounce can chunky tomatoes
1 28-ounce can tomato purée
2 teaspoons salt

For the herbed macadamia ricotta:
1-1/2 cups macadamia nuts, soaked in water 4 hours or longer
1/2 cup water
2 tablespoons fresh lemon juice
2 tablespoons olive oil
1 teaspoon minced garlic
3/4 teaspoon salt
2 tablespoons minced fresh Italian parsley
1 cup chiffonaded fresh basil leaves
1 cup coarsely chopped green or black olives

For the cashew-cheese sauce:
1 cup raw cashews
1/2 cup water
2 tablespoons fresh lemon juice
1 teaspoon salt
1/2 teaspoon rice vinegar

For garnish (optional):
2 tablespoons coarsely chopped pine nuts
1/4 cup minced fresh Italian parsley

What You Do:
1. In a 9x12-inch baking dish, place noodles and cover with boiling water. Let sit about 15 to 25 minutes until al dente. Drain and set aside.

2. For the marinara sauce, in a large saucepan over medium heat, heat olive oil and add onion. Sauté for 10 minutes, stirring frequently, until onions are translucent. Add mushrooms and cook for 5 minutes. Stir in garlic, oregano, basil, rosemary, and fennel, and reduce heat to low. Add tomatoes and purée, and cover loosely, simmering for 30 minutes. Add salt and cook another 15 minutes. Preheat oven to 350 degrees.

3. For herbed macadamia ricotta, in a food processor, purée macadamia nuts, water, lemon juice, olive oil, garlic, and salt for 1 minute. Scrape down sides and purée another minute until light and fluffy. Transfer to a bowl and fold in parsley, basil, and olives.

4. For the cashew-cheese sauce, in a dry blender, grind cashews into a fine powder. Add water, lemon juice, salt, and rice vinegar. Process until completely smooth.

5. Lightly cover bottom of 9x12-inch baking dish with marinara to prevent noodles from sticking to dish. Arrange a layer of noodles and top with a quarter of the remaining marinara. Spread a third of the ricotta over noodles and then a third of the cheese sauce. Repeat layers with remaining ingredients, sprinkle with pine nuts, and cover with foil. Place baking dish on a sheet pan to catch any drips in oven and bake for 30 minutes. Remove foil and bake an additional 20 minutes until sauce bubbles. Cool for 15 minutes, garnish with fresh parsley, and serve hot.

Photo by Hannah Kaminsky

Want even more decadent cheese recipes? Try a few of our favorites:
VegNews Vegan Macaroni & Cheese
Quinoa Nachos
Pumpkin Praline Cheesecake


Product Review
Veggie Snacks
Move over potato chips, kale chips are the new nosh.

Snacks: light of our lives, bane of our waists. We love to graze on treats both sweet and savory throughout the day, but sometimes there is a frightening caloric price to pay. Thankfully, we can now have the best of both worlds with Just Pure Foods' veggie snacks. Made from fresh, nourishing produce but still packing a satisfying crunch, the company's Crispy Onion Rings, Cheesy Kale Chips, and Spicy Jalapeño Tomato Chips are delish without being overly decadent, and are preservative-, additive-, and guilt-free. Sprinkle them in your salad or just nosh them by the handful—these edible delights satisfy cravings without sin.
VegNews Store
Collect Your Favorite Issues
In case you missed an issue, grab one now.

You move and forget to change your VegNews subscription address or your local Whole Foods is sold out of the current VegNews. Don't worry, you can pick up any issue in the VegNews Store! Pick from our recent Cheese Issue with nine artisan cheese recipes, a vegan foodie tour of Paris, the true stories of four farmers who went vegan, and so much more. Go on a vegan ice cream road trip, fall in love with our wedding couples, or grill up a delicious beet burger in our Summer Issue. If you need a little tune-up, turn to our Get Fresh issue, which offers you 31 tips to great health, advice from Beyonce's personal trainer, and the VN staff's favorite eats in San Francisco's Mission District (home to VegNews).

Top cheese photo: Vanessa Rees









September '12
The VegNewsletter arrives in your inbox once a month and clues you in on vegan news, dining, recipes, products, events, reviews, culture, giveaways, and all the other good things in life.

In This Issue
V in the News
What's Hot on VegNews.com
What's Up at VegNews
Event Showcase
Recipe: Two-Cheese Lasagna
Review: Veggie Snacks
Back Issues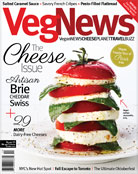 The Cheese Issue
We love vegan cheese, and we can't get enough of artisan brie, faux lox cream cheese, and sharp cheddar. Plus, we taste-tested the best party-platter worthy vegan fromages and ranked our favorites from every day to exotic (smoked macadamia nut, anyone?). Travel through Paris with our ultimate vegan foodie guide, and meet four farmers who changed their lives by going vegan. Indulge in pesto-filled flatbread, salted caramel sauce, and so much more!



Our Website
VegNews.com

Find Us On
Facebook
Twitter
Pinterest
Tumblr
Instagram
YouTube
Trouble viewing this email? We hate that. Click here for the pretty version.