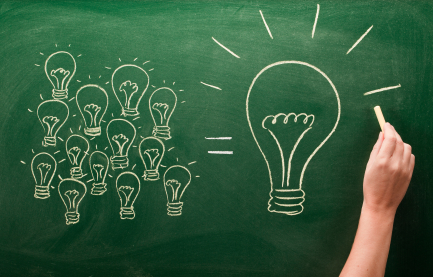 March '11

The VegNewsletter arrives in your inbox just once a month and clues you in on vegan news, dining, recipes, products, activist alerts, reviews, culture, giveaways, and all the other good things in life.

In This Issue
Mind-blowing March
V in the News
VegNews Twitter Chat
What's Hot on VegNews.com
Event Showcase
Shepherd's Pie
Caramel Agave
Celebrity Cover Blow-out Sale
VegNewsletter Preview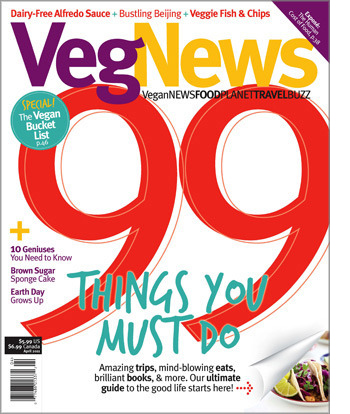 The Genius Issue!
Get ready to go on the adventure of your life with our Vegan Bucket List, a vacation to China, food from around the globe, and 10 vegan geniuses changing the world.




Our Blogs
Café VegNews
Press Pass
This Just In
Savvy Vegan
VegNews Book Club

Our Website
VegNews.com


Trouble viewing this email? We hate that. Click here for the pretty version.
Is your mind blown yet by all the cruelty-free craziness happening this month? Two vegan bakers are competing on Food Network and there are 10 vegans who are literally changing the world (Steve Wynn, Biz Stone, and Ellen DeGeneres, just to name a few). Our March+April issue hits newsstands this week, and we've compiled 99 things to do, see, and eat in our must-read Vegan Bucket List. Not to mention the fact that our crackerjack food writers have created vegan Alfredo and beer-battered "fish," and we take a veggie food-filled jaunt to Beijing. With so many exciting veg happenings going on, March Madness has taken on a whole new meaning.

Two Vegans Compete on Cupcake Wars
Tune in on March 8 at 9pm EST when Doron Petersan, owner of Sticky Fingers Bakery in Washington, DC, and Kim Garr, owner of LA's C'est La Vegan compete on Food Network's Cupcake Wars. The two vegan bakers, along with two other pastry chefs, will put their best cupcakes forward as they attempt to win this hour-long battle. The winner will earn a $10,000 grand prize and a chance to showcase their cupcakes at a Food Network event.

Lyfe Restaurants Set to Open
Two former McDonald's executives are launching a brand new chain of healthy fast-food restaurants called Lyfe Kitchen. The new made-to-order eatery promises to serve meals less than 600 calories, using no butter, cream, or high-fructose corn syrup. No fried food will be served and dairy-free desserts will be on the menu. The first restaurant will open in Palo Alto, Calif., this summer with 250 more locations set to open over the next five years. Vegan chef Tal Ronnen consulted on the vegan and vegetarian options on the menu.

China Bans Animal Circuses
Recently, China announced that it would ban all 300 state-owned animal circuses in an effort to combat the widespread animal abuses in the country. According to a recent article in The Telegraph, along with shutting down animal circuses, the ban forces zoos to stop selling animal parts in their shops and ends the widespread practice of serving rare animal meat in zoo restaurants. In addition, zoos can no longer feed live animals, such as chickens or even horses, to other zoo animals during audience demonstrations.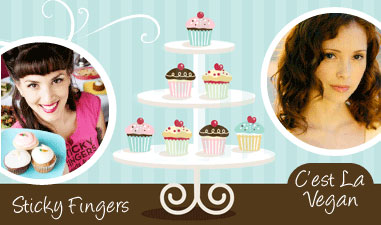 VegNews is thrilled to host our second Twitter Chat with two very special guests, Doron Petersan, the baking genius behind Sticky Fingers Bakery, and Kim Garr, the fabulous founder of C'est La Vegan. These talented ladies, fresh from their Food Network Cupcake Wars episode, will dish the behind-the-scenes dirt of what's it like to whip up vegan cupcakes on TV. Find out why Garr used to be afraid of baking cakes and what crazy ingredients they used on the show. What did their audition tapes look like? How did they handle the pressure?

Never participated in a Twitter Chat before? Don't worry. We have a handy guide to explain it all. Join in on Wednesday, March 9 at 6pm PST at the hashtag #VegNewsChat. Doron will be chatting under @stickyfingersdc, Kim under @cestlavegan, and @VegNews will be hosting the discussion. Here's to a fun-filled hour of sweet tweets!



You know what's hip? The internets. Here are our top five picks for hot VegNews.com stories you should probably check out right this minute.

1. Vegan Cookbook Superstar Isa Chandra Moskowitz, the author of some of today's most popular vegan cookbooks, talks with us about her latest book, Appetite for Reduction.

2. Vegan Chocolate 101 Life couldn't get any sweeter than vegan chocolate. We take you through the vast array of delectable desserts for a lesson in all things chocolate.

3. Animal Law Roundup With so many important animal law legislations passing and being proposed, we examine what's being done on behalf of animals' welfare around the US—and what is on the docket for the future.

4. Composting and Recycling It's time to dig deep—into your trash that is. Instead of wondering if what you're throwing away is for the compost or recycling bin, we put together a handy guide so you don't have to ponder any longer.

5. Launch a Vegan Business If you've been dying to open a vegan bakery, non-leather handbag shop, or write your first cookbook, Kickstarter's community-sourced fundraising platform might be just what you need to get your business off the ground.

Bonus! This Week's Giveaway It was love at first taste with Sjaack's new gooey, delicious vegan candy bars in peanut butter, peanut butter caramel, and coconut caramel. One lucky fan will win all three. Simply comment by March 7 at 9am PST.

Natural Products Expo West
One of the largest natural foods trade shows exhibiting natural, organic, and healthy products kicks off March 10 in Anaheim, Calif., with more than 3,000 exhibits. Attendees at Expo West have the opportunity to sample new products from thousands of vendors. VegNews staff will be judging our annual Best of Show awards, to be published in the May+June issue. It's an event not to be missed.


Genesis Awards
This star-studded awards show celebrates more than 30 compassionate celebrities who are working hard to bring animal-welfare issues to the forefront. The Humane Society of the United States hosts its 25th annual Genesis Awards on March 19 at the Hyatt Regency Century Plaza in Los Angeles. Some of the presenters include Betty White, Emily Deschanel, Olivia Munn, and James Cromwell.

March Meatout
On March 20, thousands of activists all over the US will be hitting the ground with a grassroots-approach in support of Meatout, handing out vegan food samples to expose 20,000 people to a compassionate lifestyle. Coordinators around the country will be organizing local feed-ins using samples provided by prominent companies such as Gardein, Tofurky, Tofutti, and Field Roast.
Looking for more fun events this month? Head to VegNews.com for more great happenings.
Shepherd's Pie

Celebrate St. Patrick's Day with a classic dish: Shepherd's Pie. A layer of tofu hash, tomato soup, and mashed potatoes make this cruelty-free classic a warm and wholesome meal. This meatless version was created by VN contributor Alka Chandna. Serves 4 to 6

What You Need:
6 medium potatoes, washed, cubed, and steamed for 15 minutes
Salt and pepper to taste
1 tablespoon olive oil
2 cloves garlic, minced
1 pound firm tofu
1 large onion, chopped
1 cup green peas
1 teaspoon each dried basil and dried oregano
1 15-ounce can condensed tomato soup


What You Do:
1. Preheat oven to 350 degrees. In a large bowl, mash potatoes and add salt and pepper to taste. Set aside.

2. In a large sauté pan, heat olive oil. Add chopped onions and garlic, and heat until onions are translucent. Mash tofu and add to pan. Continue cooking on medium-high heat for 4 to 5 minutes. Add peas, basil, and oregano. Cook for one to two more minutes, then set aside.

3. Lightly grease a 9-inch casserole dish. Spread tofu hash as the first layer; then, spread the tomato soup, and finally, the mashed potatoes. Bake for 25 to 30 minutes.


Looking for more Irish-inspired recipes? Try out a few of our favorites:
Irish Soda Bread
Vegan Irish Coffee
Grilled Seitan Steak & Potatoes

Caramel Agave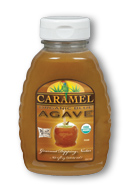 When we first got this bottle of caramel agave in the office, we wanted to put it on everything—ice cream, tea, and cookies. Then confession time came. A few of us tried it straight out of the bottle and soon we were all sneaking Mary Poppins-esque spoonfuls of this sweetener. Don't judge us. The Real Food Trading Company's Organic Caramel Agave Nectar just happens to be sugar free with no preservatives or additives. If you need us, we'll be dipping slices of apple and vegan marshmallows into this candy-like caramel.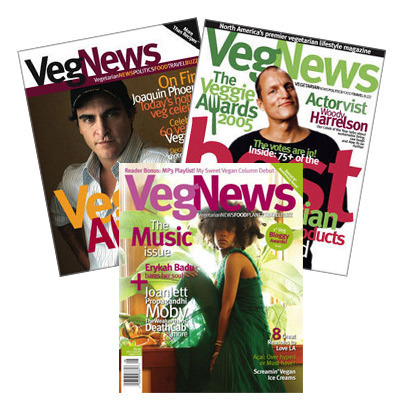 Vegan celebrities make our hearts go pitter patter, especially when they grace the cover of our magazine. Collect our vintage covers with superstars Joaquin Phoenix, Woody Harrelson, and Erykah Badu. Buy a single issue for $4 or snag the set for $10. Even better, shipping is on us! Take the time now to purchase our VegNews Celebrity Cover set before these classics disappear.

Satisfy your between-issues cravings with this complimentary supplement, featuring exclusive product reviews, musician, artist and event spotlights, slammin' recipes, giveaways, plus the lowdown on how veganism is bettering the world—one delicious bite at a time.
Share the VegNewsletter with your friends. Or, if it was forwarded to you, sign up yourself at vegnews.com to join the thousands of readers who are tuning in to America's hottest vegetarian publication.