Savor the Summer
This month begs you to try something daring before the days and nights get a little bit cooler.
It seems like yesterday it was June. Now in August we spend every day enjoying how long the sunshine lasts, the prevalence of popsicles, and the bounty of summer vegetables and fruits. Don't worry, we have some fool-proof ways to stretch out the solstice just a little bit longer. Gather your friends and try a new trend—cookbook clubs—where you and your vegan pals cook from one choice tome and discuss potluck-style. Whip up your own artisan pops (Chocolate-Dipped Strawberry Creamsicle anyone?) or eat a simple banana ice cream with vegan caramel sauce. And if all else fails, we suggest staring at this puppy at the beach to keep you in a summer state of mind all month long.
Vote in 2012 Veggie Awards
It's here, it's here! The 12th annual VegNews Veggie Awards have arrived, and it's time to vote for your favorite vegan people, places, and products in the the world's largest survey of its kind. Don't miss your chance to win a Caribbean cruise for two, a Vitamix blender, an Alternative Outfitters shopping spree, and a vegan ice cream party. Last year, nearly 45,000 people dished on their favorite vegan restaurants, cheese, chocolate, cookbook authors, blogs, websites, and more, so we want to know what your favorites are for 2012. Polls close August 31, so get your vote in today!
V in the News
The List of Vegan Athletes Continues to Grow
Houston's running back Arian Foster found himself amidst a stream of controversy after declaring his dedication to a new vegan diet via Twitter on July 5. Critics and football fans alike expressed concern that his performance would falter and he would suffer from a lack of protein in his new diet. Proud vegan and mixed martial arts fighter Aaron Simpson took to Twitter to defend Foster's decision, tweeting, "The macho world of meat eaters won't sway the compassionate mind of an athlete." Foster joins fellow NFL player and Dallas Cowboys fullback Tony Fiammetta in adopting a plant-based diet.

Global Campaigns Call for End to Animal Testing
Shortly after Urban Decay announced that it would not sell in Chinese markets to maintain its cruelty-free status, two monumental campaigns calling for a worldwide ban on animal testing for cosmetics were launched. Music legend Paul McCartney joined forces with the Humane Society of the United States and Humane Society International to launch the Be Cruelty-Free campaign, while The Body Shop partnered with Cruelty-Free International to introduce its global pledge across 65 countries. Both operations are highlighting what McCartney calls "the ugly truth" of the cosmetics industry. Animal testing for cosmetics is still legal in more than 80 percent of the world, including the US and Canada.

Companion Animals Boost Kids Immune Systems
A recent study conducted by Finnish researchers from Kuopio University Hospital and published in the medical journal Pediatrics shows that children are at lower risk of contracting infectious diseases when they have contact with companion animals from birth. The study followed the lives of 397 kids from the time of birth to the age of one, and recorded each week the amount of time each child spent with their companion animal. Results indicated that children in canine-friendly homes had 31 percent fewer respiratory tract infections, 44 percent fewer ear infections, and were less likely to require antibiotic treatment than children in homes without a dog.
What's Hot on VegNews.com
You know what's hip? The internet. Here are our top five picks for hot VegNews.com stories you should check out right this minute.
1. The 10 Best Eateries For Vegan Dining in London Just in time for the Summer Olympics, we give you a vegan foodie tour of this historic Great Britain city.
2. Colleen Holland's Top 12 Vegan Meals To celebrate our 12th anniversary, VN Co-founder Colleen Holland shares her 12 favorite vegan eats (commence hunger pangs).
3. 3 Ways to Share Your Love of Veg Food Take your love of all things veg to the next level by participating in a cookbook club, food swap, or pen-pal group.
4. A Pair of Cool Raw Dinners for Hot Nights Go oven-free when the temperatures are scorching with a delicious Kale Slaw and Chipotle Coconut Lettuce Wraps.
5. 3 Protein Myths Resident VN nutritionist Julieanna Hever, RD breaks down common misconceptions about how much protein vegans really need.
What's Up at VegNews
August Twitter Chat
The Allergy-Free Vegan
Wednesday, August 22 @ 6pm PT/9pm ET

If you're allergic to nuts or gluten or have food sensitivities, how can you maintain a vegan diet? We're bringing together an expert panel who will share everything you need to know about setting up an allergy-free kitchen. Never participated in a Twitter Chat before? Don't worry. We have a handy guide to explain it all. Join us at the hashtag #VegNewsChat. You don't even need a Twitter account to enjoy the discussion.
Event Showcase
Animal Rights 2012 National Conference
The world's largest and oldest animal-rights gathering the Animal Rights 2012 National Conference takes place August 2 to 5 in Washington, DC, with a theme of rekindling the spirit, enthusiasm, and commitment of first-time activists. The conference showcases 80 speakers, 90 exhibits, 40 films, and 100 sessions on animal abuse, organizing, tactics, and issues. VN Publishers Joseph Connelly and Colleen Holland will be in attendance, so be sure to say hello!

Country Hoe Down
Farm Sanctuary is hosting their annual Country Hoe Down, a celebration taking place August 4 and 5 in Watkins Glen, NY. The western-themed weekend features barn dancing, live music, and a dedicated pack of experts presenting on topics ranging from food and cooking to health and activism.

Veggie Fest Chicago
A weekend of family fun awaits at Veggie Fest 2012, the Chicagoland area's vegetarian food festival that attracts thousands of people each year. Set in Naperville, IL on August 11 and 12, the event is free to attend and features an international food court, informative presentations, food demonstrations, activities for kids, and live music.
Get Cookin'
Zucchini Bread
There's nothing better than a carrying an armful of zucchini back from the farmers' market and making a batch of warm, sweet bread from this delicious summer squash. Paired with pineapple and raisins, savor each bite of zucchini bread for breakfast or any time of day. Author Ashley Rowe shares this recipe from her cookbook, Barefoot and in the Kitchen.
Makes 2 loaves
What You Need:
1 large banana, mashed
2 cups sugar
1 cup canola oil
3/4 cup crushed pineapple
2 cups grated zucchini
1 tablespoon vanilla
3 cups flour
1 tablespoon cinnamon
1 teaspoon baking soda
1 teaspoon baking powder
1 teaspoon salt
1/2 cup chopped walnuts
1/2 cup raisins

What You Do:
1. Preheat oven to 325 degrees. Grease two loaf pans. In a large bowl, add banana, sugar, and oil and mix together. Add pineapple, zucchini, and vanilla to banana mixture. In a large bowl, add flour, cinnamon, baking soda, baking powder, and salt and mix together. Add dry ingredients to wet ingredients and slowly stir to combine. Fold in nuts and raisins.

2. Pour batter into loaf pans and bake for about one hour and 10 minutes. Cool on a wire rack before serving.

Photo by Hannah Kaminsky

Want even more breakfast bread recipes? Try a few of our favorites:
Chocolate Chip Loaf
Pumpkin Bread
Irish Soda Bread


Product Review
Gluten-Free Crisp Bars
Indulge in a new take-on rice crispy treats in three inventive flavors.
Vegan bars? Duh. Vegan cookies? Bountifully found in grocery stores nationwide. But Pure Sweets has caught our attention and gratitude for elevating hand-held vegan desserts to the next level with its mail-order line of organic, gluten-free Crisp Bars—grown-up versions of the crispy rice treats that we noshed happily throughout childhood (and adolescence, and maybe now). With inventive combos like The Kid (peanut butter and blackberry jelly), The Ladybug (raspberry and crème), and The Moose (roasted hazelnut butter with dark chocolate), you'll fall in love with these sweet but sophisticated flavor delights.
VegNews Store
Free Ice Cream Offer!
We had you at free ice cream, right?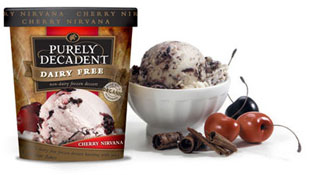 This month in the VegNews Store, we're giving away our version of the Willy Wonka golden ticket—a free So Delicious coupon with any VN store order during the month of August. Shop VN for everything from vegan candy bars, peanut butter cups, and vegan marshmallows to body balm, back issues, and signed book copies. The only problem will be deciding how to cash in your golden ticket. Will it be a pint of Cherry Nivana packed with chocolate chunks and sweet cherries, a container of Vanilla Coconut Milk Yogurt, or Neopolitan Ice Cream mini-sandwiches? Simply enter in the coupon code "icecream" with your order, and we'll take care of the rest. Happy shopping!

Top ice cream photo: Hannah Kaminsky