Fresh from his Just Eats tour, where he traveled from New York to California in a Volkswagon van, we'll talk with Gene about what's changed since he first started this journey 25 years ago and how far we've come and where we're going in the animal movement. Never participated in a Twitter Chat before? Don't worry. We have a handy guide to explain it all. Join us on June 30 at 6pm PT at the hashtag #VegNewsChat. VegNews editors will be hosting the discussion, and you don't need to have a Twitter account to join the discussion. Here's to the animals!


Love VegNews and want to tell the world? Great! We're thrilled to announce the VegNews Street Team, and would love for you to join us. We will select 50 readers from all over the country to become ambassadors for all things vegan, and help us get VegNews into as many hands as possible.

As a VegNews Street Team member, you will receive an official welcome package from the VegNews staff, get surprise swag throughout the year, participate in contests with great prizes, and be directly involved with growing and fostering the vegan community around the country. Click here to learn more about this exciting opportunity!


You know what's hip? The Internets. Here are our top five picks for hot VegNews.com stories you should probably check out right this minute.

1. Vegan Weddings 2011 With wedding season upon us, our 10 VN wedding couples dish about their gorgeous ceremonies and share all their resources to plan the perfect day.

2. DIY Kitchen Staples Save some money and get crafty by making your own hummus, almond milk, nut butter, veggie broth, and pesto.

3. Forks Over Knives Movie Review This ground-breaking documentary is helping audiences take a scientific journey on why a whole foods plant-based diet might be the only medicine we need.

4. Vegan Guide to Healthy Skin & Hair Take care of your skin and hair this summer with our guide to cruelty-free products that will keep you looking great all season long.

5. 10 Must-Read Books Need some great beach reads this summer? VN editors share their 10 favorite veg books that you should check out.


Toronto Veggie Pride Parade
After a successful first year, Toronto Veggie Pride Parade is back to celebrate the veg lifestyle. Emceed by TV host Kimberly Carroll, the June 4 event will feature capoeira, swing, sanskriti, and belly dancing performances. There will be plenty of music, so get ready to shimmy your way across the city with a veg-friendly parade of people. And that carrot costume you've been storing in the attic? This is the day to wear it with pride.

Maple Farm Sanctuary Farm Fest
Don't miss out on taking the whole family out for a day of live music, yoga, veg food, and more at the Maple Farm Sanctuary Farm Fest in Mendon, Mass., on June 5. Tour the farm and meet all of the rescued animals, including Jonathan, a 500-pound pig with a personality to match. Whether you're looking to relax with a professional massage or get your face painted in honor of the sanctuary's adorable cows and goats, this free event is sure to be a day packed with fun.

Race for Animals
Put your running shoes on for a 5K or 10K Race for the Animals sponsored by Northwest Veg. The race will go through Forest Park in Portland, Ore., on June 25 and is open to everyone of any age or ability. Start the day early and run, walk, or hike—no matter the speed, efforts all go to raising awareness for the plant-based lifestyle. The race will also be followed by a delicious post-run picnic full of veggie fare.
Looking for more fun events this month? Head to VegNews.com for more great happenings.
Coffee Chocolate Tart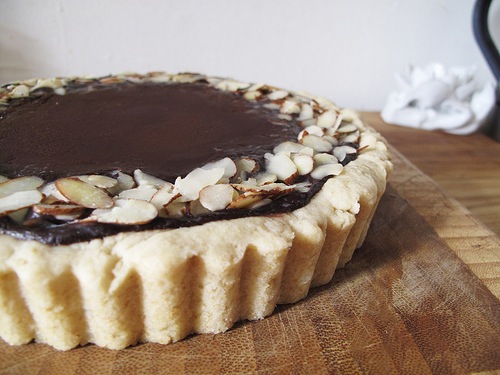 This decadent chocolate tart is a perfect party treat to bring to your next vegan dinner party or any celebration. Tarts are great for entertaining because they look beautiful and can easily be made ahead of time. Chocolate and coffee are combined in this version for a truly spectacular ganache filling. Created by Becky Stern for Craft, thanks to her and Craft editors for sharing it with VN readers!

What You Need:
For the crust:
1/2 cup non-hydrogenated margarine
1/3 cup sugar
1 teaspoon vanilla
3/4 cup walnuts, finely chopped
1-1/2 cups all-purpose flour


For the filling:
1 cup bittersweet chocolate, chopped
1-1/4 cups coffee
1 tablespoon cornstarch
1 teaspoon vanilla
1/4 teaspoon salt
1/3 cup almonds, slivered (optional)


What You Do:
1. Preheat oven to 350. In a medium bowl, cream margarine and sugar with whisk until light and fluffy. Add vanilla and walnuts and mix. Add in flour 1/3 cup at a time and mix until dough sticks together and is slightly moist.

2. Into a tart pan, press dough with your fingertips. Bake until edges are just barely starting to brown, about 20 minutes. Allow crust to cool completely before filling.

3. For the filling, in a small pot, melt chocolate until it softens. In another small pot, bring coffee to a boil. Pour coffee over softened chocolate and stir mixture until smooth. Add cornstarch, vanilla, and salt to mixture. Pour filling into cooled crust. Place tart in refrigerator and chill for 6 hours. Decorate top of tart with slivered almonds along edge of crust as desired, then slice and serve.



Looking for more party-perfect dessert recipes? Try out a few of our favorites:
Chocolate Peanut Butter Cheesecake
Cherry & Date Bites
Strawberry Streusel Cake

Miss Vegan Cupcakes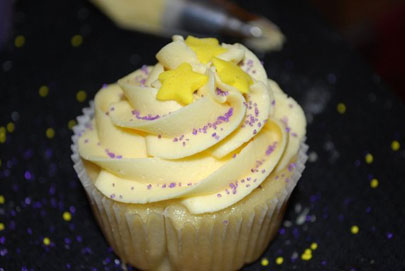 Some say that vegan doughnuts are the new cupcake. But we say, why mess with a good thing? So when we got a shipment of Miss Vegan's cupcake-making kit to sample, we happily frosted some cookies 'n' cream cupcakes as well as chocolate 'cakes with chocolate frosting (best combo ever). Our verdict? Miss Vegan cupcakes are delicious, and cupcakes might be the new cupcakes. This Rhode Island-based company sells its cupcakes and other baked goodies such as snickerdoodles, whoopie pies, and chocolate-butterscotch cookies online. Even better, the bakery is looking to go mobile-food-truck style with a Kickstarter campaign. Perhaps then they can roll up to our door? A staff can dream!


Summer is all about soaking up sunshine and being outside as much as possible. (Here at the VNHQ, we hold as many meetings on our outdoor deck as we can.) VegNews Store Manager Lyndsay Orwig has the perfect summer essentials to get you out and about all season long. If you're heading to a campground this summer, you're gonna need some marshmallows, trust us. Stock up on Dandies vegan marshmallows for making s'mores, rice crispy treats, or eating straight out of the bag (we do it all the time). Take our VegNews Market Tote, our roomy 100-percent recycled tote bag, to the farmers' market and stuff it full of gorgeous produce. Stay moisturized after long days at the beach with the multi-purpose beauty miracle The Balm or our stellar Crazy Rumors Lip Balm. Enjoy your summer, VegNews style!

Satisfy your between-issues cravings with this complimentary supplement, featuring exclusive product reviews, musician, artist and event spotlights, slammin' recipes, giveaways, plus the lowdown on how veganism is bettering the world—one delicious bite at a time.
Share the VegNewsletter with your friends. Or, if it was forwarded to you, sign up yourself at vegnews.com to join the thousands of readers who are tuning in to America's hottest vegetarian publication.