VegNews Spring 2012 Internships
Want to learn about the publishing industry? Hope to work for a socially conscious, vegetarian-owned business? VegNews is seeking editorial interns at our San Francisco headquarters for spring 2012. This is an excellent opportunity to learn the industry alongside experienced writers, editors, and media professionals who love what they do. VN interns write and edit for the magazine and website, as well as fact check, pitch story ideas, sample new products, and attend veg-friendly events. The program is an incredible opportunity to learn the ins and outs of publishing while working for a ethical company. The deadline to apply is October 1. Good luck!

Learn more about the VegNews Internship Program here.

Project Promote
Here at VegNews, we understand the importance of effectively promoting vegan businesses and organizations. After more than 11 years in business, we know how vital it is to get the word out about the great work you and your team are doing. This is why we're thrilled to announce the 5th annual Project Promote program. VegNews will be awarding a one-year advertising campaign (including professional design services) to the organization our staff feels will most benefit from the exposure. The group must promote veganism to be considered, and the advertising package is valued at more than $7,000. To be considered, simply download an application and complete and submit it by November 1. The 2012 Project Promote winner will be announced by December 1. Good luck!

Download your 2012 Project Promote Application here!

Compassionate Fashion Twitter Chat
Each month, we bring together the vegan community with our popular VegNews Twitter Chats! This month, we discuss fall trends in our "Compassionate Fashion" chat to discover the truth behind labeling laws, the real cost of fashion with top vegan stylemakers, and where to find the best deals on cruelty-free clothing. Save the date and join us for a fascinating conversation. Never participated in a Twitter Chat before? Don't worry. We have a handy guide to explain it all. Join us on September 20 at 6pm PT at the hashtag #VegNewsChat. VegNews editors will be hosting the chat, and you don't need to have a Twitter account to enjoy the discussion.

Join the VegNews Sales Team!
We're happy to announce a rare opportunity to join the VegNews sales team! Our small group of passionate, experienced salespeople assist veg companies to build their businesses with dynamic ad campaigns across all of our properties. Do you, too, love sales and live the veg lifestyle? This could be a dream opportunity for you! Simply send us your resume and why you want to join the VN team to jobs@vegnews.com by September 20. We can't wait to hear from you!


You know what's hip? The Internets. Here are our top five picks for hot VegNews.com stories you should probably check out right this minute.

1. 10 Hot New Vegan Restaurants From Toronto to Chicago, we found 10 delicious (and brand-new) vegan restaurants opening up across the US and Canada.

2. Must-See Movies Five new thought-provoking movies such as Fat, Sick, & Nearly Dead, Rise of the Planet of the Apes, and Forks Over Knives are educating viewers and changing minds.

3. Veg Fests 2011 Travel to four vegetarian festivals all across the country with VegNews TV Correspondent Jasmin Singer.

4. DIY Guide to Hair & Skin Care Our editors share some thrifty tips for making your own hair and facial beauty products to keep you looking your best.

5. Tips for Budget Vegan Cooking Budget vegan blogger Melody Polakow dishes on how to spend $3.33 a day (or less!) on delicious, inexpensive vegan meals.


Toronto Vegetarian Food Festival
Prepare your palate for the 27th annual Vegetarian Food Festival taking place September 9 to 11 in Toronto. The largest festival of its kind in North America, this free culinary event features more than 100 product vendors and animal-welfare organizations, as well as a plethora of cooking demos and lectures. Don't miss presentations by vegan bigwigs like author-activist Melanie Joy, nutritionist Jack Norris, cookbook queen Terry Hope Romero, and bodybuilder Robert Cheeke.

Portland VegFest
Experience all the best that the Northwest has to offer at Oregon's largest plant-based food event, VegFest 2011, on September 17 and 18. Treat yourself to an array of tasty samples from hundreds of vegan, vegetarian, and raw vendors, and enjoy presentations from renowned authors and experts like Dr. Neal Barnard, Sarah Matheny, and Wayne Pacelle. Be sure to stop the VegNews booth and say hi!

Charlottesville Vegetarian Festival
Now in its 15th year, the VegNews-sponsored Charlottesville Vegetarian Festival returns on September 24 to celebrate a healthy, sustainable, and compassionate lifestyle and bring together people and organizations eager to make the world a better place for all species. This year's event anticipates about 6,000 attendees, who will come to enjoy vegan food samples, live entertainment, fun family activities, a silent auction, and about 100 vendors and exhibits. VegNews will have a booth so stop and say hello to Office Manager Lyndsay.

Don't miss the DC VegFest on September 24! We erroneously listed the date for DC VegFest as September 11 in VegCal in our September+October issue.


Gluten-Free Crème Fraîche and Berry Parfait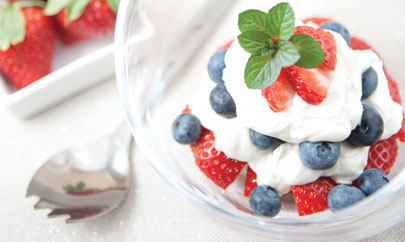 We're excited to bring VN readers an exclusive sneak peek of the soon-to-be released Spork-Fed, a cookbook by Jenny Engel and Heather Goldberg—the dynamic sister duo behind Spork Foods. For those of you in the San Francisco Bay Area, VegNews is hosting a fabulous Spork-Fed book launch party on October 21 at the VNHQ. Mark your calendars to meet the lovely ladies behind this month's deliciously simple gluten-free dessert. Tickets to go on sale September 15! Serves 4 to 6


What You Need:
1 tablespoon vegan margarine
3 tablespoons evaporated cane sugar
2 14-ounce cans coconut milk, chilled in refrigerator for 24 hours
1 teaspoon fresh lemon juice
1 to 2 teaspoons fresh orange juice
1/8 teaspoon vanilla
1/8 teaspoon salt
1 pint fresh strawberries, sliced
1 pint fresh blueberries


What You Do:
1. In a small pot over low heat, melt margarine and sugar. Cook for about 2 to 3 minutes, stirring constantly until sugar has dissolved and mixture is smooth and uniform. Remove from heat and set aside.

2. Open chilled cans of coconut milk and remove firm, white coconut cream layer from top, avoiding coconut water. In a mixer, blend coconut cream on high for about 30 seconds, or until well blended. Add caramelized sugar, lemon juice, orange juice, vanilla, and salt. Blend for an additional 30 to 60 seconds. To serve, layer berries and crème fraîche in a bowl.



Looking for more fruit-filled recipes? Try out a few of our favorites:
Apple Strudel
Southern Sunrise Smoothie
Pear & Fig Tart

Queso Bean Dip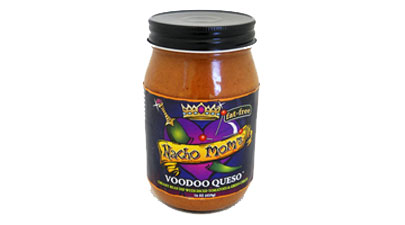 Let's say you're presented with several jars of a bean dip/vegan queso fusion, but you hardly have any chips left to partake in Nacho Mom's Voodoo Queso. Would you: a) run to your nearest corner store to buy tortilla chips b) open any remaining bags of chips and use the crumbs to snack on or c) dip anything remotely chip-like into the queso? B is our answer here at the VNHQ (no judgement please!). We loved the spicy bean dip with a hint of cheese and dreamed up a multitude of ways to eat it: stuffed in a burrito, topped on nachos, or even mixed in VN's signature macaroni & cheese for a chili-inspired meal. The possibilities are endless. But be forewarned, buy some tortilla chips ahead of time.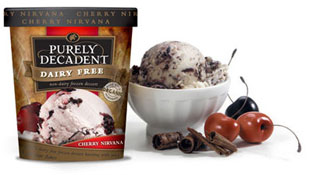 This month in the VegNews Store, we're giving away our version of the Willy Wonka golden ticket—a free So Delicious coupon. We have all kinds of goodies in the VN store like vegan candy bars, peanut butter cups, marzipan, body balm, back issues, signed copies of The Bond and Veganist, tote bags, T-shirts, and more. The only problem will be deciding how to cash in your golden ticket. Will it be a pint of Cherry Nivana packed with chocolate chunks and sweet cherries, a container of Vanilla Coconut Milk Yogurt, or Neopolitan Ice Cream mini-sandwiches? Simply enter in the coupon code "icecream" with your order, and we'll take care of the rest. So go shopping!

Satisfy your between-issues cravings with this complimentary supplement, featuring exclusive product reviews, musician, artist and event spotlights, slammin' recipes, giveaways, plus the lowdown on how veganism is bettering the world—one delicious bite at a time.
Share the VegNewsletter with your friends. Or, if it was forwarded to you, sign up yourself at vegnews.com to join the thousands of readers who are tuning in to America's hottest vegetarian publication.