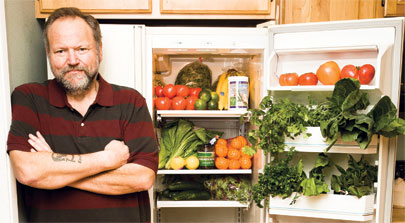 Vegan Men We Love!
We're head over heels for vegan men. They're amazing, compassionate, changing the world, and they're all over our March+April issue!
Meet 55-year-old Dave Conrardy. At the VNHQ, Conrardy is such an inspiration, we've pretty much told his story to everyone we know. Not only did he lose 230 pounds while working as a big-rig trucker after adopting a raw juice diet but he also ditched 24 of his 25 medications. And Conrardy is just one of the hundreds of awesome vegan guys featured in our March+April issue. We love that there are so many plant-powered dudes out there who are redefining what it means to "eat like a man." Go, men!
V in the News
Bon Appétit Reforms Animal-Welfare Policies
In late February, catering giant Bon Appétit, which services more than 400 corporate and university locations across the country, pledged to strengthen animal-welfare standards for its meat and dairy sources. Under its new policy, the company will no longer source ingredients from farms that use battery cages, gestation crates, or veal crates, and will no longer offer foie gras on its menus. Bon Appétit also offers a vegan chef training program to teach its chefs to prepare healthy, vegan meals.

MFA Investigation Leads to Arrests at Butterball Farm
Five Butterball turkey farm workers face animal-abuse charges following an undercover Mercy For Animals investigation. Footage released during the investigation prompted authorities to raid the company's North Carolina factory farm in December, eventually leading to the apprehension and arrest of several employees on misdemeanor and felony charges. Butterball responded to the arrests by pledging to re-evaluate animal-welfare policies at its various facilities.

Three New Vegan Spots Set to Open in NYC
Three new brick-and-mortar vegan shops are opening this month in the Big Apple. Vegan fashion house Vaute Couture will host its grand opening on March 4 in Brooklyn at its first-ever storefront. Pamela Elizabeth, owner of several New York City restaurants, is set to open Blossom Bakery on March 3 in the former Cocoa V space in the Chelsea area of Manhattan. The new bakery will open next door to the already existing Blossom du Jour. Finally, Candle Cafe just announced that they will open Candle Cafe West April 1 between 89th and 90th Street on Broadway in Manhattan. The new eatery will feature popular dishes such as the Cajun Seitan Sandwich and Aztec Salad, and offer a complete organic wine and beer bar.
What's Hot on VegNews.com
You know what's hip? The internets. Here are our top five picks for hot VegNews.com stories you should check out right this minute.
1. 7 Steps to Becoming a Healthier Vegan If you're finding yourself straying from your 2012 resolutions, blogger Bianca Phillips shares her tips for getting your health back on track.
2. Girl Scout Cookies Veganized! We asked the duo behind Meet the Shannons to veganize three classic Girl Scout cookies, and deliciousness ensued.
3. A Look at Local Activists Jasmin Singer and Mariann Sullivan, the multimedia mavens behind Our Hen House, share inspiring stories of animal activists.
4. Behind-the-Scenes Tour of Seed Bistro Get an exclusive tour of LA's latest vegan restaurant, Seed Bistro, with Executive Chef Eric Lechasseur on VegNews TV.
5. 5 Vegan Chocolate Combos That Will Blow Your Mind We're reeling over chocolate-covered gummy bears; a dark chocolate bar filled with ginger, wasabi, and black sesame seeds; and a peanut butter and jelly confection.
What's Up at VegNews
March Twitter Chat
Of Meat & Men
Wednesday, March 28 @ 6pm PT/9pm ET

To celebrate our first-ever Vegan Man Issue, we'll be chatting with amazing veg guys about why meat is often tied to masculinity and how a plant-based diet can be a game changer. Never participated in a Twitter Chat before? Don't worry. We have a handy guide to explain it all. Join us at the hashtag #VegNewsChat, and you don't even need to have a Twitter account to join.
Event Showcase
Veggie German Roast
Cincinnati's traditional Bockfest Parade, a German Renaissance-themed celebration that is heavy on beer and bratwurst, is getting a veg-friendly upgrade at the second annual Bockfest Veenie Roast, taking place at the city's eco-friendly boutique, Park+Vine March 2. Enjoy the parade while munching on veganized German grub—we're talking sausage and hot dogs on pretzel buns with a generous helping of sauerkraut and relish.

NYC Vegetarian Food Festival
On March 3 and 4, enjoy a weekend full of speakers, cooking demos, and veg eats at the NYC Vegetarian Food Fest, taking place at the Metropolitan Pavilion in Manhattan. With vendors such as Daiya, Chicago Soydairy, and Yves Veggie Cuisine participating, and lectures from VegNews columnists Gena Hamshaw and Terry Hope Romero, the festival is a must-attend event.

Vegan Book Tour
Throughout March, vegan cookbook author Christy Morgan, also known as the Blissful Chef, is heading on a nationwide tour to promote her new book, Blissful Bites: Vegan Meals That Nourish Mind, Body, and Planet. Get your copy signed by the author and watch her in action as she demos recipes from her book and gives tips on achieving optimum health and wellness with the help of a vegan diet.
Get Cookin'
Gluten-Free Olive Oil Bread
Similar to Italian focaccia, this gluten-free Greek version called ladenia is a flatbread pizza. This recipe is a favorite of author Laurie Sadowski, who wrote The Allergy-Free Cook Bakes Bread, and we can understand why. Who doesn't love pizza?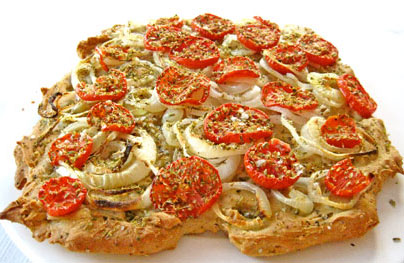 Serves 6 to 8
What You Need:
1-2/3 cups warm water
2-1/2 teaspoons active dry yeast
1 teaspoon sugar
1-1/2 cups sorghum flour
1/2 cup arrowroot starch
1/2 cup quinoa flour
1/2 cup tapioca flour
2 teaspoons xanthan gum
7 tablespoons olive oil, divided
1 tablespoon ground flaxseeds
1 teaspoon salt
1/2 teaspoon apple cider vinegar
2 yellow onions, thinly sliced
3 Roma tomatoes, cut into 1/4-inch slices
2 tablespoons dried oregano
Salt, to taste
Freshly ground black pepper, to taste

What You Do:
1. Line a baking sheet with parchment paper. In a large measuring cup, add water, yeast, and sugar and stir. Let stand for 5 minutes. Set aside.

2. In a large bowl or stand mixer, add sorghum flour, arrowroot starch, quinoa flour, tapioca flour, and xanthan gum and stir until combined. To the yeast mixture, add 3 tablespoons olive oil, flaxseeds, salt, and vinegar. Turn stand- or hand-mixer to low speed and add yeast mixture to flour until combined. Scrape dough off sides of bowl, then mix on medium-high speed for about 5 minutes.

3. Oil parchment paper with 2 tablespoons olive oil. With oiled hands, spread dough on parchment about 1/4-inch thick and 1 inch from baking sheet edge. Let dough rise uncovered in a warm spot for about 40 minutes, or until doubled in size.

4. Preheat oven to 400 degrees 10 minutes before dough finishes rising. Using your fingertips, indent top of dough. Brush with remaining 2 tablespoons olive oil and top with onions, tomatoes, oregano, and salt and pepper.

5. Bake for 40 to 45 minutes, or until edges are golden brown and onions and tomatoes are cooked. Cut into slices and serve warm.

Want even more gluten-free recipes? Try a few of our favorites:
Butternut Squash Baked Risotto
Garlicky Whipped Sweet Potatoes with Herbs
Caramel Pear Sundaes

Photo by Laurie Sadowski

Product Review
Vegan Easter Basket
Whether or not you celebrate Easter, we like holidays that involve big chocolate bunnies, specifically a chocolate rice crispy bunny like the one in the vegan Easter basket from Allison's Gourmet.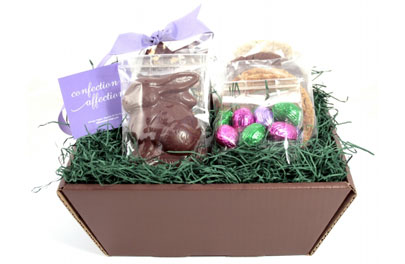 In this beautiful box, you'll find colorfully wrapped dark chocolate eggs nestled alongside a big rice crispy bunny (think a Nestlé Crunch bar in the shape of a rabbit). A baker's choice of three different cookie pairs are so soft that you'll swear they came straight from the oven. And if that wasn't enough, munch on some salted chocolate almond bark made by hand. Allison's Gourmet uses fair-trade, organic, and non-GMO ingredients, and the packaging is so pretty you might not want to open it (but who are we kidding, we dove in!).
VegNews Back Issue Blowout Sale!
It's time to shine with a big sale on VegNews' Health & Wellness Issue.
We're having an amazing back issue sale on our January+February 2011 issue. Get your $4 copy now (includes shipping)!

If you need a kick of inspiration to reach your best self in 2012, snag a copy of this special issue with cover gal Kris Carr, NY Times best-selling author of Crazy Sexy Diet. Right now, this edition is only $4 and is packed with gems like seven must-make soups, Nepalese dumplings, and Thai-inspired curry. Plus, the issue has in-depth features on how to stay healthy minus the meds and a look at the explosion of food allergies in the US.









March '12
The VegNewsletter arrives in your inbox once a month and clues you in on vegan news, dining, recipes, products, events, reviews, culture, giveaways, and all the other good things in life.

In This Issue
Vegan Men We Love!
V in the News
What's Hot on VegNews.com
What's Up at VegNews
Event Showcase
Recipe: Gluten-Free Olive Oil Bread
Review: Vegan Easter Basket
VegNews Back Issue Sale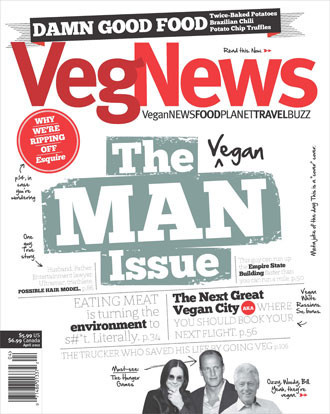 The Man Issue
In our March+April 2012 issue, we bring you amazing plant-powered dads, athletes, chefs, and so many more great guys doing great things. If you need some good food, look no further than twice-baked cheesy potatoes, potato chip truffles, and a hearty must-make Brazilian stew. And you won't want to miss the Austin vs. Salt Lake City face-off in our first-ever Vegan City Showdown. Enjoy!



Our Blogs
Café VegNews
Savvy Vegan
This Just In

Our Website
VegNews.com

Find Us On
Facebook
Twitter
YouTube
Pinterest

Trouble viewing this email? We hate that. Click here for the pretty version.