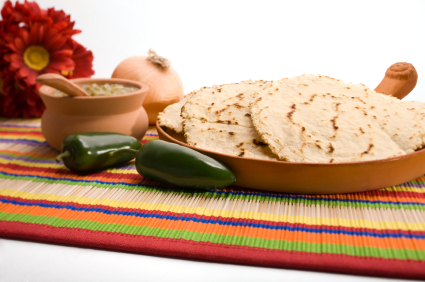 Tacos Veracruz
Nothing could be tastier than tacos packed with potatoes, green olives, fire-roasted tomatoes, and vegan chorizo. This easy weeknight meal by vegan chef and author Jason Wyrick takes taco night to a whole new level.

Makes 6 tacos
What You Need:
3 potatoes, diced
7 pitted green olives, sliced
1 teaspoon chopped fresh oregano
2 chipotle peppers in adobo, diced
2 cups crushed fire roasted tomatoes
1-1/2 tablespoons capers
1 12-ounce package vegan chorizo
2 teaspoons olive oil
1 bunch Swiss chard, roughly chopped, including stems
6 corn tortillas, warmed


What You Do:
1. In a pot over medium heat, add potatoes, olives, oregano, peppers, tomatoes, and capers and bring to a simmer until potatoes are tender, about 6 minutes. Add chorizo and simmer 3 more minutes.

2. In a pan over medium heat, heat olive oil. Add Swiss chard and sauté until just wilted, about 2 minutes. On each tortilla, place a serving of filling and top with wilted Swiss chard.

More Food News!
VegNews Twitter Chat: Vegan Parenting 101 (Tonight, 6pm PT)
VegNews Vacation: Just Announced! VN Vegan Yoga Retreat to Mexico
What's Cooking on VegNews.com: Vegan Dim Sum
This Week's Must-Have: Vegan Parmesan Cheese
Earth Day: 10 Tips for Going Green
Vegan Baking: Worldwide Vegan Bake Sale How-To Guide
Vegan Parenting: Progressive Parenting with Mayim Bialik
Food Politics: Pink Slime: Why the Meat Industry is Freaking Out
Café VegNews: Cheesy Vegan Pasta with Homemade Garlic Bread
This Just In: New Falafel Wraps
News: How Laws Protect Animals
Buzz: 5 Ways to Get Your Juice On
Food: The VegNews Guide to Vegan Chocolate
Travel: 5 Vegan-Friendly Towns on our Radar
VegNews TV: Inside Veggie Grill