Octoberfest!
Welcome to fall, pumpkins, tricks, and treats.
Why is fall so amazing? Let us count the ways. First, the start of the season means some of our favorite autumnal foods are back. Think Lentil & Mushroom Loaf stuffed with potatoes or Sweet Potato-Parsnip Ravioli with Shiitake Cream Sauce. You can find those dishes (and more!) on our Vegan Fall Favorites Pinterest board. Second, there's Pumpkin Whipped Cream, which we would like to put on everything right now. Finally, it's been confirmed: the City of Light is brimming with vegan wine and cheese, and VN's former Editorial Director Aurelia d'Andrea takes you on a foodie tour of the best spots in Paris. Throw in a a cute puppy playing with a fall leaf and our autumnal obsessions are set.
V in the News
Number of Companies Eliminating Gestation Crates Grows
September was a landmark month for the elimination of gestation crates, with recent announcements from food giant Hillshire Brands Company, Fortune 500 company ConAgra Foods, fast food chain Jack in the Box, hot dog chain Wienerschnitzel, and grocery store Harris Teeter announcing plans to phase out the confining metal crates used to house pregnant sows. However, despite a growing number of food suppliers committing to crate-free production, Dave Warner, the National Pork Producers Council director of communications, commented recently, "I don't know who asked the sow if she wanted to turn around."

Ian Somerhalder Secures Funds for Sanctuary
Actor and animal lover Ian Somerhalder has successfully secured funds for the development of the Ian Somerhalder Foundation Animal Sanctuary, thanks to the Chase Community Giving competition. The sanctuary will serve not only as a haven for animals, but give troubled youth the opportunity to bond with and care for the animals, channeling behavior problems into positive interactions. The Vampire Diaries star, who has faced multiple roadblocks in the development of the sanctuary including a lack of funds and the prospect of the land being turned into a transfer station and industrial park, was overjoyed to win $100,000 from CCG.

Weight Loss Attributed to Plant-Based Diet
Recent findings highlighted in The Journal of the Academy of Nutrition and Dietetics have found that long-term weight loss is associated with reduced intake of animal products and sugar. Study participants (postmenopausal women) who consumed fewer desserts and sugar-sweetened beverages, cut meat and cheese, and increased fiber-rich fresh produce experienced the most long-term success. The journal also revealed that US states with the highest consumption of fresh produce—California, Vermont, New Hampshire, and Oregon, Washington, DC—had low obesity rates compared to the lowest-consumption states: Mississippi, Louisiana, and West Virginia. The trio also ranked in the top five of most obese states.
What's Hot on VegNews.com
You know what's hip? The internet. Here are our top five picks for hot VegNews.com stories you should check out right this minute.
1. Why US Meat Consumption is Falling The past five years have seen America's meat consumption dive 12.2 percent despite a growing population. HSUS' Paul Shapiro explains why.
2. The 11 Best Veggie Burgers in the US Bun us up, Scotty! These meat-free burgers offer serious bite.
3. Why the Word "Vegan" is More Powerful than Ever No longer conjuring only images of anemic hippies, VN Co-founder Colleen Holland explores why marketers are finding fans when labeling products with a "V."
4. 13 Mind-Blowing Meals in Vancouver Our resident Canadian expert, Editorial Assistant Kimberly Budziak, shares her favorite dishes from the Great White North.
5. McDonald's to Open its First All-Veg Restaurant The second-largest food outlet in the world goes veg in India.
Bonus! Top 10 Vegan Products at Natural Products Expo East Get an exclusive sneak peek of what hot new vegan foods and beauty care will be hitting store shelves.
What's Up at VegNews
VegNews Twitter Chat: Rock the Vegan Vote
Wednesday, October 17 @ 6pm PT/9pm ET

It's an important election season, so join VegNews editors as they chat with policy experts on the most compassionate political choices. Our panel includes Michael Markarian, president of the Humane Society Legislative Fund and Change of Heart author Nick Cooney. Never participated in a Twitter Chat before? Don't worry. We have a handy guide to explain it all. Join us at the hashtag #VegNewsChat. You don't even need a Twitter account to enjoy the discussion.
Event Showcase
San Francisco World Veg Festival
The 13th annual World Veg Festival runs October 6 to 7 in San Francisco, showcasing the best of veg vendors, exhibitors, and speakers. This year's festival will feature a children's corner, green lifestyle film festival, healthy food demos, and international speakers, as well as top-notch vegan cuisine. The festival is also host to the International Vegetarian Union October 5 to 8. After wrapping in San Francisco, the congress heads south and continues in Los Angeles October 11 to 14.

Healthy Lifestyle Expo
Running October 12 through 14 in Woodland Hills, CA, the 11th annual Healthy Lifestyle Expo showcases presentations from leading health experts in an effort to guide expo patrons to better health. Among the topics covered are how to prevent and reverse heart disease, steps to permanent weight loss, and cancer protection. Speakers include ultramarathoner Rich Roll, Diet for a New America author John Robbins, and GMO expert Jeffrey Smith. Passes include a low-fat vegan gourmet banquet designed by Dr. Joel Fuhrman.

Texas State Veggie Fair
Coinciding with the State Fair of Texas, the Texas State Veggie Fair returns for its third year. Hosted by dallasvegan.com, the event will feature local food trucks such as Zombie's Food Truck and Good Karma Kitchen, workshops on vegan business and animal rights, and a fried foods competition. The 2011 event drew a crowd of 3,000 people and crowned fried banana pie as the "most creative" fried food.
Get Cookin'
Sweet Curried Rice & Vegetables
You don't have to travel to India or call for delivery to experience the sublime flavors of curry. This coconut milk-based dish simmers with mushrooms, bell peppers, sweet potatoes, and pineapple for a sweet and savory Indian-style dinner. Holistic nutritionist Caroline Dupont features this recipe in her new cookbook The New Enlightened Eating.


Serves 6
What You Need:
1-1/2 cups brown basmati rice, soaked in water for 4 to 8 hours
3-3/4 cups water, divided
2 teaspoons curry powder
2 teaspoons grated fresh ginger, divided
1-1/2 teaspoons salt, divided
1/2 cup fresh basil leaves, lightly packed
2 tablespoons coconut oil
1-1/2 cups sliced cremini mushrooms
1 red bell pepper, diced
2 teaspoons minced garlic
1 14-ounce can coconut milk
1 teaspoon chili sauce, plus more as desired
2 small sweet potatoes (about 2 cups), peeled and sliced 1/2-inch thick
1-1/2 cups diced fresh pineapple
3 cups coarsely chopped spinach, lightly packed
1-1/2 cups diced bananas, for serving
1/2 cup unsalted roasted peanuts, for serving
1/2 cup unsweetened shredded dried coconut, for serving
1/2 cup raisins, for serving

What You Do:
1. Drain and rinse rice, then transfer to a medium saucepan over high heat. Add 2-3/4 cups water, curry powder, 1 teaspoon ginger, and 1/2 teaspoon salt and bring to a boil. Reduce heat to medium-low, cover, and cook for 35 to 40 minutes or until water is absorbed. Let stand, covered, for 5 minutes.

2. Set aside 5 basil leaves, then chop remaining basil. In a large skillet over medium-high heat, add oil, 1/4 cup water, mushrooms, bell pepper, garlic, and remaining 1 teaspoon ginger and cook, stirring frequently, for 5 minutes. Stir in coconut milk, remaining 3/4 cup water, remaining 1 teaspoon salt, and chili sauce. Reduce heat to medium and cook, stirring occasionally, until heated through, about 5 minutes. Stir in sweet potatoes and pineapple. Cover and cook, stirring occasionally, until sweet potatoes are almost tender, about 10 minutes.

3. Stir in spinach and chopped basil. Cover and cook, stirring occasionally, until sweet potatoes are tender, about 6 minutes. Stack and roll up reserved basil leaves length-wise, then chiffonade.

4. Put bananas, peanuts, dried coconut, and raisins in separate small bowls for garnish. Transfer rice to a large serving platter. Top with vegetables and sprinkle with basil. Serve hot, topping with garnishes as desired.

Photo by Warren Jefferson

Want even more Indian-inspired recipes? Try a few of our favorites:
Vegan Masala-Infused Recipes
Sambar Lentil Stew
Coconut Curry Biscuits

Product Review
Vegan Macaroons
Move over, cookies! Macaroons are the new sweet treat.
We're (coco)nuts for macaroons, which have emerged in many vegan varieties. But few have risen to the top as the crème de la crème of cakey cookie perfection as eloquently as Coco-Roons, macaroons so lovely that it's hard to believe they're raw, gluten-free, and low-glycemic. Plus, they're available in six delicious flavors—while we're very partial to the fairly standard Vanilla Maple, we're dying to get our hands on the Apple Pie and Almond-Strawberry PB+J. If raw pastries are taking over the world, we nominate Coco-Roons to be their king.
VegNews Store
Halloween Candy Bonanza
Pick up some treats for Fright Night.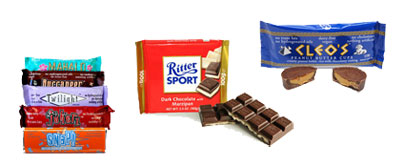 It's that time of year when little kids transform into witches and goblins and demand candy at your doorstep. While you could run out to your local pharmacy before the hordes descend to raid all the available candy, you could also simply hit "order" in our special VegNews Halloween Candy Store. We offer the vegan candy that you wish had been tossed into your plastic pumpkin when you were a kid, such as to-die-for peanut butter cups; replicas of Nestle's Crunch bar, Milky Ways, Snickers, and Three Musketeers. Claim the title of coolest house on the block with your awesome Halloween handouts, and sip a cup of hot cocoa filled to the brim with vegan marshmallows to stay warm while the neighborhood lines up for your vegan treats. Happy Halloween!










October '12
The VegNewsletter arrives in your inbox once a month and clues you in on vegan news, dining, recipes, products, events, reviews, culture, giveaways, and all the other good things in life.

In This Issue
V in the News
What's Hot on VegNews.com
What's Up at VegNews
Event Showcase
Recipe: Curried Vegetables
Review: Vegan Macaroons
Halloween Candy Bonanza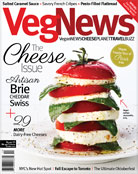 The Cheese Issue
As evidenced by the cover, we can't get enough of artisan Brie, faux lox cream cheese, and sharp cheddar. Plus, we taste-tested the best party-platter worthy vegan fromages and ranked our favorites from everyday to exotic (smoked macadamia nut, anyone?). Travel through Paris with our ultimate vegan foodie guide, and meet four farmers who changed their lives by going vegan. Indulge in pesto-filled flatbread, salted caramel sauce, and so much more!



Our Website
VegNews.com

Find Us On
Facebook
Twitter
Pinterest
Tumblr
Instagram
YouTube
Trouble viewing this email? We hate that. Click here for the pretty version.