Want to take vegan cooking classes in Thailand, ride bicycles through lush rice terraces in Bali, or do yoga overlooking the Pacific Ocean in Mexico? Get ready for the trip of a lifetime with VegNews Vacations. Our 2012 trip to India is sold out, but we still have a few spots available for Thailand, Bali, and Mexico—and we'd love to travel with you. Enjoy sumptuous vegan cuisine, experience breathtaking scenery, visit historical sites, and get to know like-minded people from around the world. We take care of everything, so all you need to do is show up. Reserve your spot today!


You know what's hip? The Internets. Here are our top five picks for hot VegNews.com stories you should probably check out right this minute.

1. 10 Reasons to Go to the Animal Rights Conference Fresh from the Animal Rights Conference 2011 in Los Angeles, VN Associate Publisher Colleen Holland shares why you should attend.

2. How to Cook Vegan for Your Family Real Food Daily's Ann Gentry shares her best advice for cooking healthy meals for the whole family.

3. Vegan NYC on a Budget VN Correspondent Jasmin Singer takes you on a budget-friendly tour of New York City for a fun vacation getaway.

4. Vegan Tour of Salt Lake City Feast your eyes on our visual tour of Salt Lake City, the new ultimate destination for amazing vegan eats.

5. Vote in the 2011 Veggie Awards Just a reminder to cast your vote for your vegan favorites for a chance to win a vegan Caribbean cruise, a Vitamix blender, a year's supply of Coconut Bliss ice cream, and more.


New York Country Hoe Down
Slip on your faux-leather cowgirl boots for Farm Sanctuary's Hoe Down in Watkins Glen, NY on August 6 and 7. Speakers including Farm Sanctuary's Co-founder Gene Baur, Crazy Sexy Diet author and filmmaker Kris Carr, and vegan bodybuilder Robert Cheeke are sure to inspire. Before camping under the stars, relax with sunset yoga on the pasture or boogie down at the barnyard dance. And save some time to meet and greet the real stars of Farm Sanctuary: the rescued animals.

Veggie Fest
Naperville, IL, just outside of Chicago, is home to one of North America's largest vegetarian festivals: Veggie Fest, and VegNews is a sponsor. Organizers expect more than 25,000 people to attend August 13 and 14 to savor international veggie cuisine and learn about the benefits of animal-free diets from more than 20 speakers. Chefs will be cooking up a storm during demonstrations of raw, gluten-free, and healing foods, and the event even has a dedicated section for face painting and arts and crafts, making it fun for kids, too. Be sure to stop by the VegNews booth and say hello to VN's Joseph and Colleen!

Vida Vegan Con
Also sponsored by VegNews, the sold-out Vida Vegan Con will unite vegan bloggers from across the globe August 26 to 28 in Portland, Ore. Each day will be chock-full of unique classes and panels to enlighten vegans and bloggers alike, such as "Activism & You" and "Experienced Vegan Travel." Nights of veg food and drink will provide ample chances for networking, and the conference will even offer a sneak peek of the new film Vegucated. Look for a full report from VN staffers, complete with mouthwatering photos of Portland's amazing vegan food.
French Toast With Apple Topping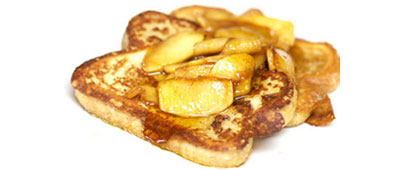 Vegan French toast shouldn't just be limited to the breakfast table. Whip up this simple version of a classic brunch item by VN contributor Claire Gosse for dinner or a lazy weekend afternoon. The apple-cinnamon topping turns plain bread into an apple pie-esque treat! Serves 4


What You Need:
For the French toast:
1 pound medium-firm tofu
1 cup soymilk
1 teaspoon vanilla
1 teaspoon cinnamon
3 tablespoons maple syrup
1/8 teaspoon nutmeg
8 to 10 slices thick white bread
Vegan margarine


For the apple-cinnamon topping:
4 apples, peeled, cored, thinly sliced
2 teaspoons fresh lemon juice
1 to 2 tablespoons vegan margarine
2 tablespoons brown sugar
1 teaspoon cinnamon


What You Do:
1. In a food processor, add tofu, soymilk, vanilla, cinnamon, maple syrup, and nutmeg, and blend until smooth. In a baking dish, pour tofu mixture.

2. Dip bread in mixture lightly, being careful not to soak it. In a large pan lightly greased with vegan margarine over medium heat, fry bread until brown (5 to 6 minutes). Flip and fry other side for another 5 to 6 minutes.

3. To make topping, in a medium bowl, add apples and lemon juice, and then stir together. In a large pan over medium heat, melt margarine, then add apples, sugar, and cinnamon. Cook 8 to 10 minutes, stirring occasionally, until apples are soft. Serve warm topping over French toast.



Looking for more fun breakfast recipes? Try out a few of our favorites:
Hearty & Healthy Oatmeal
Tropical Breakfast Smoothie
Hemp Breakfast Muffins

Chai Tea Latte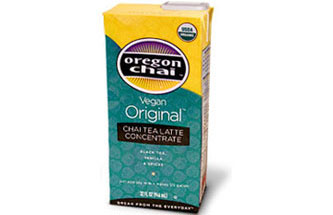 At a recent dinner party, VN staffers enjoyed ice-cold glasses of perfectly sweetened Indian-spiced chai that had us begging our host for tips on how to she made it. We envisioned her laboriously roasting spices and simmering them with almond milk for hours over a hot stove. Instead, she made her perfect pitcher by combining two cartons of Oregon Chai's new Vegan Original Chai Tea Latte Concentrate with one carton of almond milk and added ice cubes to chill it. The latest version of the company's signature mix contains no honey or animal products and states "vegan" right on the package. Move over iced tea, we have a new favorite summer drink!


We nearly lost our minds when Go Max Go Foods launched its latest candy offerings—Cleo's Peanut Butter Cups and Snap!, a rice-milk chocolate bar with crisped rice inside. It was a hot day in the office when we sampled the new treats and the peanut butter cups were slightly melted, but that only made them taste even better. What's better than gooey chocolate and sweet peanut butter in one perfect candy cup? Nothing. And we also loved the crackle of Snap! and how it tasted just like a Nestle's Crunch bar. Snag your own bars as a treat or a gift for a friend (which would make you the world's greatest friend) in the VN store today!

Satisfy your between-issues cravings with this complimentary supplement, featuring exclusive product reviews, musician, artist and event spotlights, slammin' recipes, giveaways, plus the lowdown on how veganism is bettering the world—one delicious bite at a time.
Share the VegNewsletter with your friends. Or, if it was forwarded to you, sign up yourself at vegnews.com to join the thousands of readers who are tuning in to America's hottest vegetarian publication.