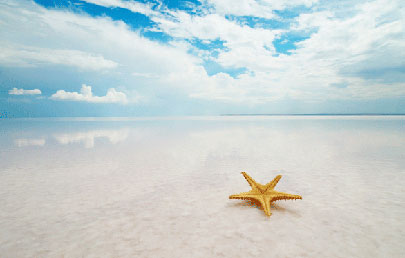 Endless Summer
The warmer weather begs for us to stop and take a moment to enjoy the great outdoors.
There's something magical about the first sunny day of summer. You can't help but smile when you walk outside. Slices of sweet watermelon and glasses of tart lemonade await you, and daylight lasts just a little bit longer. Throw together a smashing potluck or the ultimate vegan barbecue to party outdoors with your friends. Or head to the many vegetarian festivals around the country. Cool down with DIY popsicles such as chocolate pudding, piña colada, or orange creamsicle. Happy hot times!
V in the News
Lawmakers Propose National Standards for Egg Farms
California Sen. Dianne Feinstein, backed by the Humane Society of the United States and United Egg Producers, has introduced a bill that would set a federal welfare standard for hens on egg farms. Under the new legislation, egg producers would be required to almost double the size of hens' cages, as well as enrich their living spaces with features that encourage natural behaviors such as scratching and nesting. In addition to improving the quality of life for egg-laying hens, the measure is designed to prevent trade blockages between states with different egg-production laws.

Fruit-Heavy Vegan Diet Latest Craze Among Athletes
Emphasizing fresh, raw fruits and vegetables, along with limited fat and protein, the "80/10/10" diet has been making headlines due to endorsements from several professional athletes. Olympic hopefuls Michael Arnstein, a marathon runner, and wrestler Ohenewa Akuufo are two champions of the diet, which recommends getting a minimum of 80 percent of calories from carbohydrates, a maximum of 10 percent from fat, and a maximum of 10 percent from protein. The diet was created by Douglas M. Graham, a health practitioner who says the regimen helps adoptees "experience optimum digestion, ideal weight management, and stabilized blood sugar."

Study Links Fat in Meat and Dairy to Impaired Brain Function
According to research conducted by Brigham and Women's Hospital, saturated fat, found in foods such as beef, butter, and processed snacks, can negatively affect cognitive health over time. Studying the diets of more than 6,000 women aged 65 and older, scientists found that participants whose diets were high in saturated fat showed declining results on three cognitive-function tests administered over a span of four years, while women with diets high in monounsaturated fats demonstrated superior brain function. Monounsaturated fats, found in foods such as avocados, nuts, seeds, and olive oil, have also been found to reduce cholesterol and prevent cardiovascular disease.
What's Hot on VegNews.com
You know what's hip? The internet. Here are our top five picks for hot VegNews.com stories you should check out right this minute.
1. 7 Ways To Create Healthy Desserts Chocolate-Covered Katie blogger Katie Higgins shares her favorite tips for making decadent yet healthful desserts, and offers her exclusive recipe for Chocolate Chip Cookie Dough Mini Muffins.
2. 5 Asian Countries Making Strides for Animals As Asia becomes more sensitive to animal-welfare issues, activists across the continent are taking action against cruel traditions in an effort to create a more humane environment for all species.
3. Is Veganism Good for Kids? Vegan children's book author Ruby Roth responds to the media firestorm that ensued after several parenting experts questioned the appropriateness of her latest work.
4. Vegan Baking 102 Vegan pastry chef, culinary instructor, and cookbook author Fran Costigan offers indispensable tips for moving beyond the basics and taking your cruelty-free baking to the next level.
5. Superfoods Kids Love Having a tough time getting your kids to eat superfoods? Check out these tips for incorporating healthful ingredients into your children's diets daily, with tasty meals they'll enjoy eating.
What's Up at VegNews
VegNews Vegan Yoga Retreat to Mexico
If you're ready for sunshine, aguas frescas, and a beachside room in Mexico (aren't we all?), join VegNews for a eight blissful days of incredible food, yoga, and fun. Take cooking classes, relax on the beach, and enjoy the company of other guests on this wildly popular getaway. Book your spot today!

June Twitter Chat
Vegan Pride Parade
Wednesday, June 20 @ 6pm PT/9pm ET

In honor of LGBT Pride Month, we'll be talking with prominent gay animal-rights activists about the connection between both movements. Never participated in a Twitter Chat before? Don't worry. We have a handy guide to explain it all. Join us at the hashtag #VegNewsChat. You don't even need to have a Twitter account to enjoy the discussion.
Event Showcase
VegFest Houston
On June 9, head to Houston, TX for the annual VegFest Houston. Sample the best of local vegan restaurants and enjoy performances by Bayou City-area musicians. The free festival will also have hourly giveaways, crafts, guest speakers, and food demonstrations.

Vegan Craftacular
Vegan Craftacular is a special two-day event on June 16 and 17 produced by The Seed and Bust magazine. More than 80 vendors will be selling cruelty-free crafts and products, and try samples from some of New York City's best vegan restaurants. Check out movie screenings, cooking demos, and workshops all weekend long.

Vegetarian Summerfest
The 38th annual Vegetarian Summerfest kicks off on June 27 in Johnstown, PA. Join the nearly 700 attendees for this five-day festival with educational classes, cooking demonstrations, and entertainment. The lineup of guest speakers includes Victoria Moran, VN columnist Julieanna Hever, and Sticky Fingers Bakery owner and Cupcake Wars winner Doron Petersan.
Get Cookin'
Piña Colada Ice Cream
As temperatures skyrocket, we love the idea of combining a tropical drink and ice cream into one deliciously cool treat— piña colada ice cream. Rich coconut milk and white rum are mixed together with crushed pineapple and cherries for a flavor that will transport you to the beach. Caribbean Vegan author Taymer Mason created 125 island-inspired recipes to enjoy all summer long.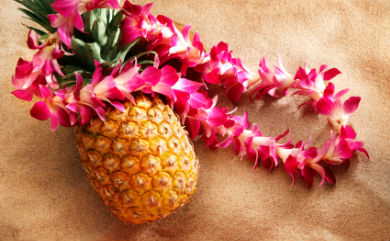 Makes 1 quart
What You Need:
2 tablespoons arrowroot powder
1/2 cup plus 2 tablespoons non-dairy milk
1-1/4 cups canned coconut milk
1 cup vegan creamer
1 cup sugar
1/2 cup crushed pineapple
7 candied cherries, finely chopped
1/2 cup white rum
1-1/2 teaspoons coconut extract (optional)
1/4 teaspoon Angostura bitters

What You Do:
1. In a small bowl, whisk together arrowroot and 2 tablespoons non-dairy milk. In a saucepan over medium-low heat, add coconut milk, creamer, sugar, and remaining 1/2 cup non-dairy milk and cook, stirring occasionally. When mixture begins to boil, remove from heat, stir in arrowroot mixture, and continue stirring until mixture starts to thicken.

2. In a large bowl, pour coconut milk mixture and let cool for 1 hour at room temperature, and then refrigerate overnight.

3. Remove mixture from refrigerator. Stir in pineapple, cherries, rum, coconut extract, and bitters. According to the manufacturer's instructions, freeze mixture in your ice cream maker. Place ice cream in freezer for 3 hours, then remove and stir briskly until texture is homogeneous. Return ice cream to freezer for 5 more hours before serving.

Want even more ice cream recipes? Try a few of our favorites:
Coffee Chip Frozen Yogurt
Gluten-Free Caramel Pear Sundaes
Oatmeal Raisin Ice Cream Sandwiches


Product Review
Cruelty-Free Sunscreens
With the summer sunshine upon us, these three vegan sunscreens are perfect for covering up.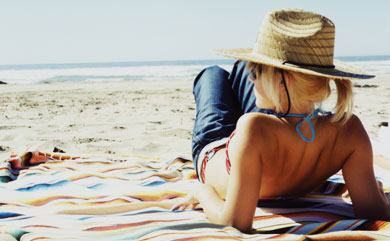 The sun is shining. Beach weather is beckoning. T-shirts and shorts are your main attire. But before you head out the door for all-day sunbathing, grab a tube of vegan sunscreen to protect your skin. We found three cruelty-free sunscreens that are great for toting in your beach bag. Kiss My Face Sunspray Lotion SPF 30 comes in a convenient spray bottle and is water resistant for up to 40 minutes of water activity, making pool time quick and simple. We spend a lot of our lunch hour on our sunny deck, so when Suntegrity All Natural Moisturizing Body Protection SPF 30 arrived at our office, we were quick to slather it on before enjoying some free vitamin D. We love its fresh, clean scent. For vegan parents on the go, Goddess Garden offers a plethora of kid-friendly sunscreens and a sunscreen bracelet that turns from white to magenta so you know when to reapply. For more ways to protect your body this summer, check out our 7 Must-Have Vegan Summer Beauty Essentials.
VegNews Summer Must-Haves
Before you head out to the beach, pack a few of the VN editors' must-have products.

No beachside bonfire would be complete without a bag of Dandies vegan marshmallows for making mile-high grilled s'mores. After several glorious days sunbathing on the beach, keep your pucker chap-free with Crazy Rumors Lemonade or Pink Grapefruit Juice lip balms. Soothe sun-drenched skin with the all-purpose beauty star, The Balm.









June '12
The VegNewsletter arrives in your inbox once a month and clues you in on vegan news, dining, recipes, products, events, reviews, culture, giveaways, and all the other good things in life.

In This Issue
V in the News
What's Hot on VegNews.com
What's Up at VegNews
Event Showcase
Recipe: Piña Colada Ice Cream
Review: Cruelty-Free Sunscreens
VegNews Summer Must-Haves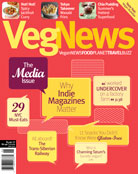 The Media Issue
In our May+June 2012 issue, we bring you fascinating insight on why independent magazines matter, plus a shocking account of one undercover investigator's work on a factory farm. Hop aboard the Trans-Siberian railway for a vegan getaway you'll never forget, or visit the New York City neighborhood that may be the most vegan-friendly spot on earth. We take you to the isles of Greece with classic Greek food recipes (think baklava and spinach spanokopita), along with chocolate chia pudding, Japanese wasabi fries, and super spicy jackfruit curry. Don't miss this issue!




Our Website
VegNews.com

Find Us On
Facebook
Twitter
Pinterest
Tumblr
Instagram
YouTube

Trouble viewing this email? We hate that. Click here for the pretty version.