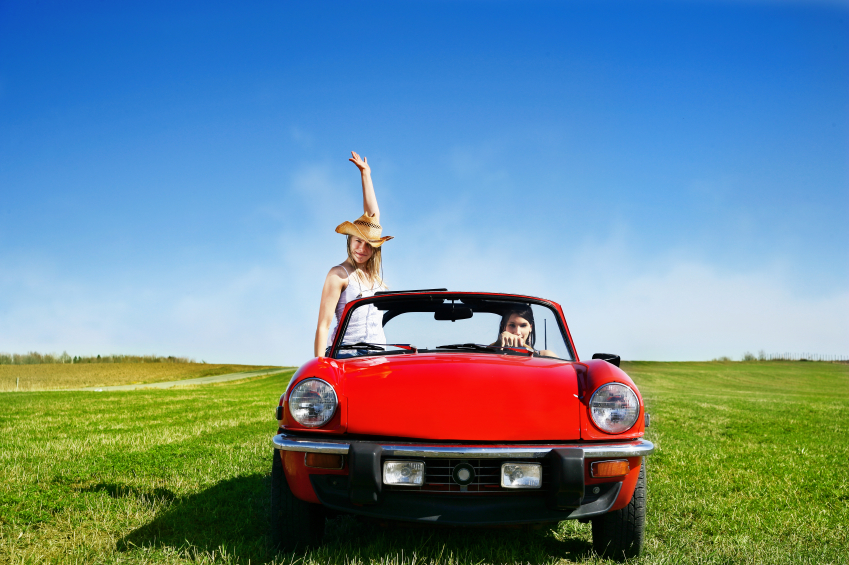 Summer Lovin'
It's time for travel. Whether you take a three-day weekend getaway or pack the car and hit the road for a month, we have your itinerary set.
What is it about the warm breezes and bright sunshine of summer that instantly kicks in our wanderlust? Traveling as a vegan has improved so much since the days of surviving on PB&Js for days on end. Check out these five veg-friendly cities that are emerging vegan destinations—be sure to stop by Kansas City's Mud Pie vegan bakery for its popular Mostess cupcake. Before you leave home, read Carolyn Scott-Hamilton's vegan travel tips. If you're a foodie, then you must visit these 10 travel spots where the veg eating is great and the VN staff love these tried-and-true hot spots—including San Francisco (our home base), Los Angeles, and Brooklyn. Happy travels!
V in the News
Study Says Consuming Soy Prevents Recurrence of Breast Cancer
According to a report appearing in the July edition of the American Journal of Clinical Nutrition, breast cancer survivors who regularly consume soy products may be more likely to prevent the disease from returning. Researchers examined the impact of soy on more than 9,500 previously diagnosed women, discovering that those who consumed the most soy were 25 percent more likely to stay breast cancer-free. The report's release coincides with a New York Times article that challenges the purported link between soy and breast cancer, debunking the notion that the presence of estrogen-like chemicals in soy fuels the disease.

Urban Decay Regains Cruelty-Free Certification
Cosmetics company Urban Decay has been embroiled in controversy since announcing that it would be expanding into the Chinese market, which would negate its status as a cruelty-free company due to China's requirement that all cosmetics be tested on animals. A few weeks after making the announcement and reeling from an avalanche of consumer responses, Urban Decay announced that it would no longer pursue selling in China and thus remain cruelty-free.

Former Hell's Kitchen Contestant Launching Vegetarian Sushi Eatery
Guy Vaknin, who was recently eliminated from Gordon Ramsay's televised cooking competition Hell's Kitchen, is following his stint on reality TV with a new all-veg sushi venture, set to open in New York this month. The kosher chef hopes to bring his culinary expertise to Beyond Sushi, which was initially conceived as a special plant-based catering menu for his company Esprit Events. As he prepares for Beyond Sushi's opening day, Vaknin is grateful for the exposure Hell's Kitchen has given him, telling realitywanted.com, "I have a great following on the store and the product. The show has given me a lot of publicity."
What's Hot on VegNews.com
You know what's hip? The internet. Here are our top five picks for hot VegNews.com stories you should check out right this minute.
1. Vegan Weddings Fall in love with our eight vegan wedding couples and their mouthwatering menus (and cakes!) and beautiful locations.
2. My Life as an Undercover Investigator VN contributor and law student Cody Carlson shares his experience as a Mercy For Animals undercover investigator.
3. Vegan Parenting Myths, Busted Set the record straight with answers to three of vegan parenting's most common questions.
4. VegGuides For all things vegan, check out our comprehensive guides to vegan beer, candy, cheese, chocolate, milk, and wine so you can shop and eat with ease.
5. Gay Rights and Animal Rights: How Are They Connected? A look at the link between the gay-rights and animal-rights movements through the eyes of three proud gay vegans.
What's Up at VegNews
VegNews Street Team
Love VegNews and want to tell the world? Great! We're thrilled to announce the second installment of the VegNews Street Team, and would love for you to join us. We will select 75 readers from all over the country to become ambassadors for all things vegan, and help us get VegNews into as many hands as possible. The VegNews Street Team lasts one year, and the application deadline is July 25. Click here to apply!

July Twitter Chat
Get Raw
Wednesday, July 18 @ 6pm PT/9pm ET

In our July+August issue, VegNews explored the benefits of a high-raw vegan diet in "Is Raw Always Right?". Learn why some vegetables are better eaten raw or cooked, and just how healthy flame-free eating really is. Join VN editors and raw-food experts to chat about this fascinating topic. Never participated in a Twitter Chat before? Don't worry. We have a handy guide to explain it all. Join us at the hashtag #VegNewsChat. You don't even need a Twitter account to enjoy the discussion.

Take the 2012 VegNews Reader Survey
It's that time of year again when we want to know how to best serve our wonderful readers. Do you prefer to get your meat-free news online or in print? What stories are you pining for most? What's your primary reason for going veg? The VegNews staff want to know all! And by completing our reader survey, you'll have a chance to win a year supply of vegan ice cream from So Delicious, plus other random (awesome) prizes we'll be giving away throughout the month of July. We can't wait to hear from you!
Event Showcase
Twin Cities Veg Fest
Nonprofit organization Compassionate Action for Animals is hosting the first-ever Twin Cities Veg Fest, taking place on July 14 at the University of Minnesota. Exhibitors include vegan food companies Field Roast, Upton's Naturals, and Peanut Butter & Co, as well as a variety of animal-welfare nonprofits.

Summer Soiree
Animal-rights organization Compassion Over Killing is throwing a Summer Soiree by the Sea on July 21 in Hermosa Beach. Join activists for a fun night of cocktails, vegan hors d'oeuvres, and comedy by Dan Piraro and Zach Sherwin on a rooftop patio overlooking the ocean.

Taking Action for Animals
The Humane Society of the United States hosts Taking Action for Animals, a conference to bring together seasoned animal activists with newbies, on July 27 through July 30 in Washington, DC. Speakers include Congressman Sam Farr, Jane Velez-Mitchell, and Kathy Freston.
Get Cookin'
Mojito Tart
Last month, we featured a recipe for piña colada ice cream in the VegNewsletter, and this month we're continuing the drinks-as-dessert trend with this lime mojito tart. Combining the tangy flavors of lime with a refreshing mint twist, this raw dessert has a delicious hazelnut crust. Glowing Temple blogger Natalia KW created this oven-free vegan treat as the perfect summer cool-down dessert.
Makes 1 11-inch tart
What You Need:
For the crust:
1 cup raw hazelnuts
1/4 cup dates, pitted
2 tablespoons cold-pressed coconut oil
Pinch of Himalayan salt

For the filling:
2 cups raw cashews, soaked for 2 hours and drained
1 ripe avocado
1 cup fresh lime juice
1 cup agave nectar
Zest of 1 lime
3/4 cup cold-pressed coconut oil
1/2 cup mint

What You Do:
1. For the crust, in a food processor, process hazelnuts until finely ground. Add all remaining ingredients and process again until everything sticks together. Pour mixture into an 11-inch tart mold and press into bottom only. Place in freezer to set.

2. For the filling, in a high-speed blender, place all ingredients except for coconut oil and mint. Blend from low to high until very smooth. Add coconut oil and blend again until well combined. Then add mint and blend gently until cream is speckled with bits of mint.

3. Remove crust from freezer and pour cream mixture into crust and smooth out top. Place back in freezer for 2 to 3 hours to set completely. Let thaw 10 minutes before serving.

Want even more tart recipes? Try a few of our favorites:
Vegan Chocolate Tart
Pear & Fig Tart
Savory Chickpea Tart


Product Review
Allergy-Free Veggie Burgers
Perfect for summer grilling, these tasty veggie burgers are safe for everyone to enjoy.
With invitations for barbecues and beachside parties piling up, grab-and-go veggie burgers are great for taking anywhere. The VN staff has tried our fair share of vegan burgers so when we find one we love, we can't wait to tell our readers. When a box of Hilary's Eat Well original and adzuki bean burgers arrived at the VNHQ, we let the creative juices flow. Crumbled on a salad, stuffed in a bun topped with pesto Vegenaise, or rolled in a tortilla, we loved the deep flavor and satisfying crunch. Free of gluten, soy, corn, and nuts, Hilary's Eat Well burgers are great for those with allergies, so grill freely!