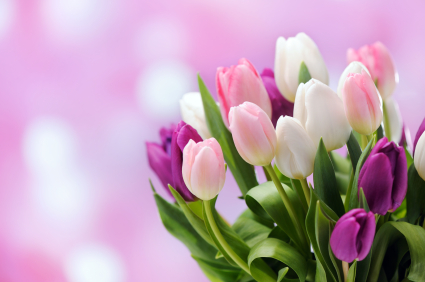 Mother May I
While one day is simply not enough to celebrate the wonderful women in our lives, plan a spectacular vegan meal this Mother's Day.
The woman who helped you with your homework, gave you a big hug when you needed it most, and is your biggest fan deserves some extra attention on May 13—and we're here to help. Bake mom a delicious vegan strudel from the sisters/owners of Spork Foods (plus, we adore the Sporkies' grandmother teaching the duo to make homemade strudel). Organize a scrumptious brunch, complete with French toast, tofu scramble, and Irish coffee. Share this beautifully touching story of one mother's connection to her children and how it relates to veganism. Or if your mother is anything like us and loves chocolate, don't miss our comprehensive guide to vegan chocolate. Have a wonderful Mother's Day!
V in the News
Starbucks to Discontinue Use of Bug-Based Dye
Following a media firestorm instigated by vegan blog This Dish is Veg, Starbucks has agreed to replace cochineal extract—a red food dye derived from crushed beetles—with a plant-based substitute by late June. News of the insect-based dye's presence received widespread attention after This Dish is Veg warned its readers that Starbucks' Strawberries and Crème Frappuccino, formerly vegan when made with soymilk, now contains the controversial ingredient. Responding to media pressure, Starbucks will soon transition to using a tomato-based dye in the beverages that formerly contained the extract.

Scientists: Eat Half As Much Meat to Curb Climate Change
Scientists from the Woods Hole Research Center have determined that the developed world needs to cut meat consumption in half in order to stabilize emissions of nitrous oxide—a greenhouse gas that is contributing to the ozone layer's depletion. Nitrous oxide is a byproduct of the nitrogen found in livestock manure and agricultural fertilizers, and thus is highly tied to the meat industry. As a result, scientists believe meat producers should reduce the demand for meat and use nitrogen more efficiently in order to curb the gas' detrimental effect on the environment.

HSUS Conducts Undercover Exposé on Pennsylvania Farm
The Humane Society of the United States has released new undercover footage revealing filthy, inhumane conditions at Kreider Farms, an egg-producing factory farm in Pennsylvania. Among the cruel conditions depicted in the video, which was captured in February and March, are helpless birds with their body parts caught in factory machinery and bird carcasses in many of the egg-hatching cages. HSUS' video was featured in a New York Times op-ed article that called into question the ethics and safety of the egg-production business.
What's Hot on VegNews.com
You know what's hip? The internet. Here are our top five picks for hot VegNews.com stories you should check out right this minute.
1. Progressive Parenting with Actress Mayim Bialik Published author, neuroscience PhD, and star of The Big Bang Theory, Mayim Bialik is also a mother of two. In this moving piece, she shares her experience of being a vegan mom in a non-vegan world.
2. 5 Ways Being Vegan Saves the Planet Multimedia maven Whitney Lauritsen, aka EcoVegan Gal, reveals the environmental impact of a plant-based diet, along with helpful hints for taking your eco-friendly lifestyle to the next level.
3. Pink Slime: Why the Meat Industry is Freaking Out Over the past couple of months, the beef by-product known as pink slime has been at the center of a media-fueled controversy. In a VN.com exclusive, food politics expert Michele Simon explains why.
4. Vegan Women of Color Break New Ground Though it's not always represented as such, the vegan movement contains a wide range of cultural diversity. We highlight women of color who are working to bridge the world of veganism with other social-justice issues.
5. The Ultimate Vegan Cinco de Mayo Brunch Serve a wow-worthy Mexican-inspired brunch filled with coconut-lime mimosas, Mexican hot chocolate waffles, and red potato and vegan chorizo hash.
Bonus: Facebook Giveaway! To celebrate hitting more than 40,000 Facebook fans, we're giving away the Ultimate Dessert Package from Cupcake Wars-winning Sticky Fingers Bakery. Enter to win Chocolate Brownies, Oatmeal Creme-Filled Cookies, Chocolate Chip Cookies, a Chocolate Cupcake Pack, and a Vanilla Cupcake Pack by Friday, May 4 at 5pm PT. Good luck!
What's Up at VegNews
VegNews Vegan Yoga Retreat to Mexico
If you're ready for sunshine, aguas frescas, and a beachside room in Mexico (aren't we all?), join VegNews for a eight blissful days of incredible food, yoga, and fun. Take cooking classes, relax on the beach, and enjoy the company of other guests on this wildly popular getaway. Book your spot today!

VegNews on Tumblr
Follow the VegNews staff on Tumblr as we give you a behind-the-scenes peek at new products, delicious vegan food, and the inner workings of the magazine. This week, we're eating vegan meatball subs for lunch, swooning over pairs of unlikely animal friends, and reviewing sketches for our amazing back-page piece in the July+August issue of the magazine!

May Twitter Chat
Food Blogging Photography 101
Wednesday, May 23 @ 6pm PT/9pm ET

Do you love photographing your amazing vegan meals, but want to take your skills to the next level? Or are you interested in starting your own food blog, but need some basic pointers on taking gorgeous images? The VegNews food photographers—Hannah Kaminsky, Kathy Patalsky, and Vanessa Rees—are here to answer all of your questions and provide tricks of the trade that will turn your photos from ho-hum to showstopping. Never participated in a Twitter Chat before? Don't worry. We have a handy guide to explain it all. Join us at the hashtag #VegNewsChat. You don't even need to have a Twitter account to enjoy the discussion.
Event Showcase
Renowned Vegan Pop-Up Hits SF
From May 4 to May 6, San Francisco residents can enjoy delectable vegan cuisine courtesy of New York chef Ayinde Howell, whose Wildflower pop-up debuted last year to sold-out crowds in his home city. Fresh off the heels of his East Coast success, Howell will be bringing Wildflower to San Francisco's The Window at the Coffee Bar for Cinco de Mayo weekend.

Children's Book Launch Party
Ruby Roth, author of vegan children's book That's Why We Don't Eat Animals, is celebrating the release of her latest book Vegan is Love with a launch party on May 5 at People for the Ethical Treatment of Animals' Los Angeles headquarters. The party will feature kid-friendly activities and vegan snacks.

WorldFest 2012
Join fellow animal lovers and environmentalists at Los Angeles' annual WorldFest on May 20 in Lake Balboa's Woodley Park. Check out the amazing food court, musicians, and great speakers such as John Salley, Dan Piraro, and actress Debra Wilson.

Run for the Animals Fundraiser
Poplar Spring Animal Sanctuary, located in Wheaton, MD, is hosting its ninth-annual Run for the Animals fundraising event at Wheaton Regional Park on May 20. In addition to the 5K race and a less intensive one-mile walk, the event will feature food, raffles, and prizes.
Get Cookin'
Pineapple Avocado Salsa
Celebrate Cinco de Mayo with this fresh tropical salsa, filled with ripe pineapple, fresh lime juice, and buttery avocado. Raw Foods on a Budget author Brandi Rollins whipped up this recipe for around five dollars, so you can spend the savings on margaritas!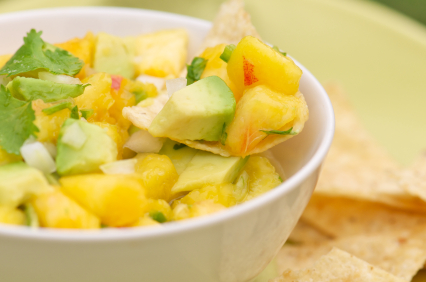 Serves 4
What You Need:
1 cup diced pineapple
1-1/2 medium red tomatoes, diced
1/2 medium red onion, diced
1 small sweet pepper, diced
1/2 medium avocado, diced
1/4 cup fresh chopped cilantro
1 jalapeño, deseeded and minced
1/4 cup fresh lime juice

What You Do:
In a large bowl, add pineapple, tomatoes, red onion, sweet pepper, avocado, cilantro, and jalapeño. Mix together, then add lime juice. Serve immediately with tortilla chips.

Want even more Mexican-inspired recipes? Try a few of our favorites:
Tacos Veracruz
Raw Corn Tortillas
Vegan Nacho Cheese


Product Review
Unique Nut Butters
Peanut butter has grown up. With bold new flavors, this childhood favorite has gone fancy.
Peanut butter and jelly has come a long way. From the days of a simple jar of unsalted PB, we've moved into a whole new era of nut butters flavored with spices, chocolate, and more. Our three new PB obsessions include Earth Balance's Creamy Coconut & Peanut Spread, the marriage of two perfect tastes into one new twist on a classic. Peanut butter cookies will never be the same! We were awestruck when we discovered Choc & Nut, a vegan Nutella-esque spread that had us dreaming of Parisian-style crêpes. And the plucky gals behind Wild Squirrel Nut Butters (the duo are 18 and 19) have created a Cinnamon Raisin Peanut Butter that we've been eating like crazy ever since we first opened the jar. For more creative ways to get nutty, check out our 9 New Ways to Use Nut Butters.
VegNews Back Issue Sale
From amazing vegan weddings to the restaurant taking over Manhattan, we can't help falling in love.

We're having a fantastic back issue sale on our May+June 2011 issue—$4 per copy including free shipping! In addition to our annual vegan weddings, we take you to Bali for a dream-worthy vacation and inside one of New York City's most popular vegan restaurants. Try making your own bowl of ramen, a luscious dairy-free cream pie, or the best tofu bacon. Plus, learn more about the price of free speech and the safety of our food system. Order your copy today before they're all sold out!
VegNews Goes Mobile!
Subscribe today and read our latest issue right now on your iPad, iPhone, or Android.
Now you can take VegNews Magazine wherever you go with a TreeFree edition that's viewable on the iPad, iPhone, Kindle Fire, and Android devices. TreeFree subscribers are the first to see the new issue, and every issue is completely searchable, printable, and stored conveniently in a single library. Dying to make that amazing two-cheese lasagna from a past issue? Within seconds, you'll find it in the November+December 2011 magazine. Click here to subscribe now!