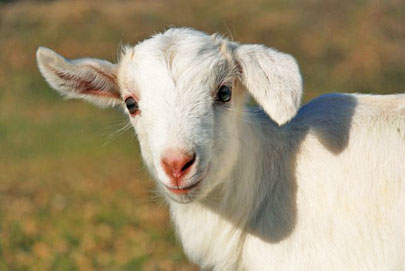 Animal Love
If April showers are still coming down in your neighborhood, we have an instant pick-me-up—the mind-bogglingly cute animals on the VegNews Pinterest boards!
Readers are going crazy for our brand new Pinterest boards, where adorable animals and mouthwatering food photos abound. Meet Scribbles (pictured above), a rescued baby goat at Farm Sanctuary in Adorable Baby Animals, or a lovable baby pig snuggling a stuffed animal pig in Amazing Animal Rescues. Seriously, the cuteness meter is off the charts! For food lovers, don't miss the Maple Sweet Potato Pecan Burgers in Vegan Food Galore (psst ... just click on the photo for the recipe!).
V in the News
Eating Red Meat Increases Risk of Death
A new study published in Archives of Internal Medicine found that the consumption of red meat may be deadly. Surveying more than 121,000 adults over a 28-year period, scientists from the Harvard School of Public Health found that individuals who ate an extra serving of red meat each day were 13 percent more likely to face premature death than subjects who ate plant-based proteins. Additionally, individuals who ate more processed red meat products, such as bacon or hot dogs, were 20 percent more likely to die early.

States Pass Ag-Gag Bill
In March, Iowa and Utah became the first two states to pass ag-gag laws—legislation aimed at protecting agricultural interests by deterring undercover investigations on factory farms. Under Iowa's new law, people who gain access to a farm under false pretenses, such as by lying on a job application, will face criminal charges. Less than three weeks after the Iowa Senate approved the legislation, Utah followed suit, passing a bill that criminalizes the act of documenting agricultural operations without permission. Though state lawmakers continue to introduce similar bills across the country, Illinois, Indiana, and Florida have all recently rejected proposed ag-gag legislation.

Wendy's Implements New Welfare Standards
Following in the footsteps of fellow fast-food giant McDonald's, national burger chain Wendy's has vowed to improve welfare standards at its chicken and pork suppliers. On March 23, the company announced that its pork sources will soon begin phasing out the use of gestation crates—a pledge also made by McDonald's in February. Additionally, one of the chain's major chicken suppliers is pioneering what it says is a more humane method of stunning chickens, using a low-atmospheric pressure system rather than electric shocks to render chickens unconscious before slaughter.

This Just In: Vegans Needed for DHA Study
Nutritional Research Project is searching for vegan candidates to study their omega-3 fatty acids intake in men and woman of varying ages. If you are interested in participating, click here for more information.
What's Hot on VegNews.com
You know what's hip? The internets. Here are our top five picks for hot VegNews.com stories you should check out right this minute.
1. Chloe Coscarelli's Top 10 Vegan Cooking Substitutes Cookbook author and first vegan ever to win Food Network's Cupcake Wars shares her favorite vegan kitchen swaps.
2. 5 Spring-Friendly Gluten-Free Recipes Gluten-free blogger Allyson Kramer offers up springtime eats such as spinach fingerling potatoes and chocolate strawberry pie.
3. 10 Must-Visit Vegan Foodie Destinations Still finalizing your spring break plans? Get a low-down on the hottest vegan-friendly vacation spots, whether you're planning on jet-setting around the world or want to stay close to home.
4. Animal Law: Restrictions and Rewards Bringing farm-animal welfare issues to court is as crucial as ever, but it comes with a multitude of hurdles. Learn how animal lawyers are devising clever strategies to litigate on behalf of farm animals.
5. The VN Guide to Cruelty-Free Men's Style Fashionable fellas now have a ton of compassionate choices when it comes to clothes and accessories. Check out these products that'll have you or your favorite vegan man stylin' from head to toe.
Bonus! Cooking with the Stars Woody Harrelson shares his all-time favorite recipe with VegNews (in our April Fool's Day joke).
What's Up at VegNews
April Twitter Chat
Vegan Parenting
Wednesday, April 18 @ 6pm PT/9pm ET

Are you raising vegan kids, thinking about it, or just curious about what it takes to be a successful vegan parent? We're pulling together a panel of experts who will provide fascinating insight on this popular subject. Never participated in a Twitter Chat before? Don't worry. We have a handy guide to explain it all. Join us at the hashtag #VegNewsChat. You don't even need to have a Twitter account to enjoy the discussion.
Event Showcase
Oakland Veg Week
From April 15 to 21, Bay Area residents can head to Oakland for a citywide celebration of all things veg. Oakland Veg Week features lectures on the virtues of a plant-based diet, cooking demonstrations, and a film screening—not to mention a tasty array of food—all taking place at various locations around this up-and-coming veg destination.

Worldwide Vegan Bake Sale
The fourth-annual Worldwide Vegan Bake Sale returns April 21 to 29, giving animal-welfare advocates a tasty way to raise money for a worthy cause. Participants sell their baked goods during the prescribed time period, with proceeds benefiting the charity of their choice. Approximately $100,000 has been raised in the three years since the event's inception.

Baltimore VegFest
Baltimore VegFest kicks off a celebration of vegetarian living and compassionate eating on April 28 at the University of Maryland, Baltimore County campus. This free event features guest speakers such as Compassion Over Killing's Erica Meier and Mercy for Animals' Nathan Runkle as well as live music, vegan cooking demonstrations, a kids' area, and gift bags.
Get Cookin'
Ginger Chocolate Chip Cookies
Just in time for the Worldwide Vegan Bake Sale, we offer you a twist on the classic chocolate chip cookie—one that's loaded up with spicy ginger. Quick and Easy Vegan Bake Sale author Carla Kelly whipped up this recipe after her daughter's friends couldn't decide if they wanted gingerbread or chip cookies. Problem solved!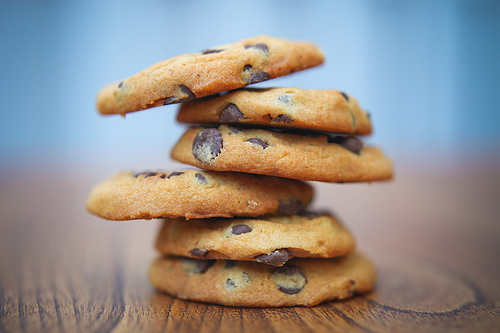 Makes 30 cookies
What You Need:
1/3 cup soymilk
1 tablespoon ground flaxseed
1/2 teaspoon apple cider vinegar
1 cup sugar
1/3 cup vegan margarine
1 teaspoon vanilla
1-3/4 cups flour
1/2 teaspoon baking soda
1/2 teaspoon salt
1-1/4 teaspoons ground ginger
1/4 teaspoon ground cinnamon
1 cup vegan chocolate chips

What You Do:
1. Preheat oven to 375 degrees and line two baking sheets with parchment paper. In a small bowl, combine soymilk, flaxseed, and vinegar. Set aside and allow to thicken.

2. In a large bowl, cream sugar and margarine together until light and fluffy. Add vanilla and mix well. Add soymilk mixture to creamed mixture, and mix well. Sift flour, baking soda, salt, ginger, and cinnamon into mixture. Add chocolate chips, and stir to combine.

3. Scoop generous tablespoons 2 inches apart onto prepared baking sheets and bake for 10 to 12 minutes, until cookies are slightly golden brown. Remove from the oven and let cool on baking sheets for 5 minutes, then transfer to a wire rack and let cool completely.

Want even more cookies recipes? Try a few of our favorites:
Vegan Girl Scout Cookies
Cinnamon & Chocolate Linzer Cookies
Peanut Butter Mini Kiss Cookies

Photo by Garrison McArthur Photographers

Product Review
Blueberry Hemp Granola
Yes, we know granola can be a bit of a stereotype for vegetarians, but when a granola is this good, we can't help but want to tell everyone about it.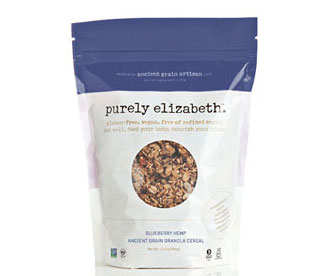 The Blueberry Hemp Ancient Grain Granola Cereal from Purely Elizabeth goes beyond the usual bowl with its plentitude of nutritious ingredients—namely amaranth, quinoa, hemp, and chia seeds. Sweetened with coconut palm sugar and completely gluten-free, we also like that this cereal stays crunchy even after being submerged in almond milk for a while (one of our editors may have left it in a bowl during a meeting). Purely Elizabeth offers this tasty fast breaker in both large and mini bags to meet your snacking needs, but either way, we say go for it face-first, no spoon required.
VegNews Easter Sale!
Hop on over to the VegNews store for Easter basket treats.

Easter is just around the corner, so shop our special collection for chocolate and gifts. Fill your baskets with vegan peanut butter cups, vegan candy bars, and air-puffed vegan marshmallows that will make any Easter bunny jealous. Be sure to include a few tubes of Crazy Rumors vegan lip balm—VN editors are partial to the lemonade flavor, perfect for spring. Happy Easter!