Press Contact
Liam Passmore
Shave and a Haircut
liam@shaveandahaircut.biz
415-865-0860 (p); 415-218-1544 (c)
Versailles Comes to San Francisco: 836M Gallery Brings Renowned French Artist
Jean-Michel Othoniel to City For West Coast Debut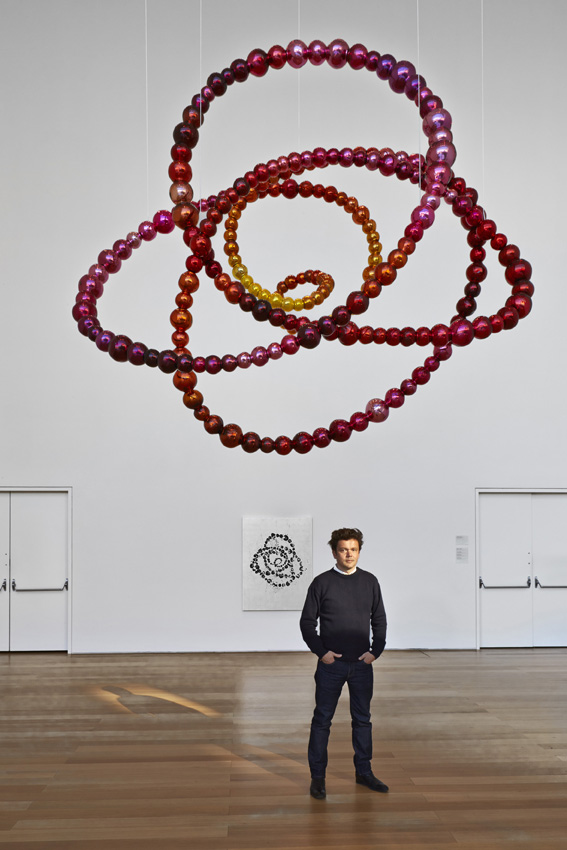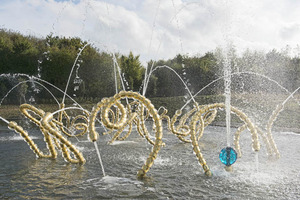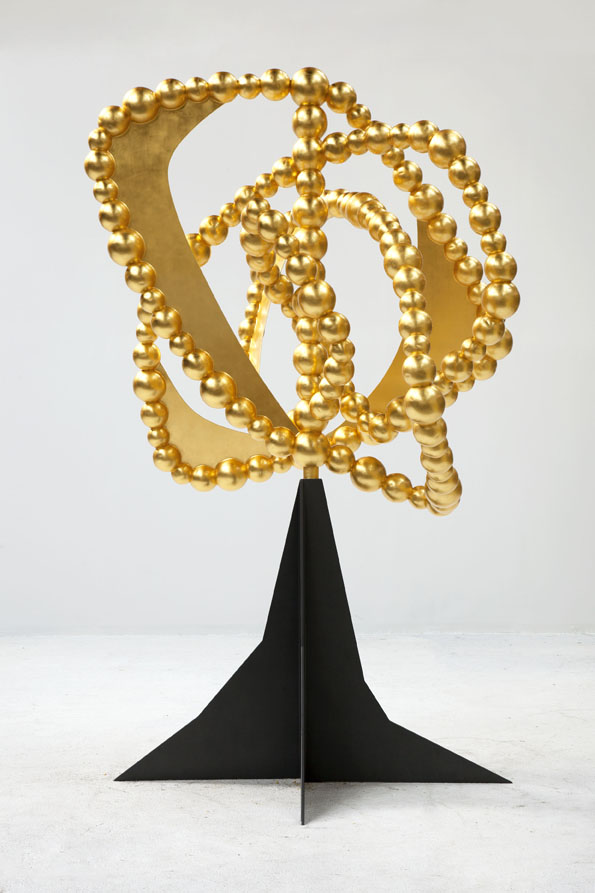 From left to right; artist Jean-Michel Othoniel standing under Peony the Knot of Shame (photo credit: Charles Mayer); The Beautiful Dances in
the Water Theater grove at

Versailles

(photo credit: Thomas Garnier); La Rose des Vents (Photo Credit: Galerie Perrotin/Livia Saavedra, 2015)

The artist whose series of three sculptures The Beautiful Dances became the first permanent artworks in the gardens of Versailles in over three centuries will install his glass sculpture Peony, the Knot of Shame at 836M gallery in downtown San Francisco; it will be accompanied by the kinetic gold and aluminum sculpture La Rose des Vents, to be placed outside the Conservatory of Flowers in Golden Gate Park while the gallery pursues a worthy permanent public home for it in the City.

#OthonielVersailles@836M & #OthonielSanFrancisco@ConservatoryofFlowers
September 26, 2015 through January 14, 2016 at 836M located at 836 Montgomery Street SF; Entrance: FREE
www.836m.org; www.othoniel.fr



San Francisco CA, July 14 2015 – San Francisco gallery 836M is bringing renowned French artist Jean-Michel Othoniel to the City where two of his pieces will be installed. The glass sculpture Peony, the Knot of Shame will be displayed in the gallery itself in the 20-foot deep window that faces out onto Montgomery Street. An additional piece, La Rose des Vents, a kinetic sculpture made of gold and aluminum will be installed outside of the Conservatory of Flowers.

During the duration of the exhibition, the owners of the gallery, Julie and Sébastien Lepinard, will lead an initiative to find La Rose des Vents a permanent public art home here in San Francisco.

Most recently, Othoniel won an international competition along with French landscape architect Louis Benech for the opportunity to renovate the Water Theater grove in the gardens of Versailles. The resulting three sculptures, Les Belles Danses (The Beautiful Dances) opened in May 2015 and evoke King Louis XIV dancing on water. Othoniel is the first contemporary artist to have a permanent installation on the royal grounds in over 300 years.

The exhibit at 836M will also feature the sketches, watercolors and bronze models he created for his Versailles project as well as a series of new gold paintings.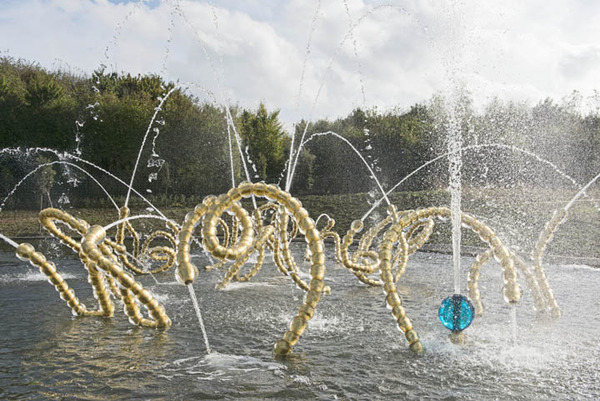 The Beautiful Dances by Jean-Michel Othoniel in the Water Theater grove at Versailles;


photo credit: Phillipe Chancel

The three fountain sculptures for the Water Theatre grove were produced using blown glass and gold leaf, materials the artist knows well with the final installation consisting of 1,750 glass beads that were blown and precisely designed in Murano and Basel to follow the curve of their metallic infrastructure. The result is a sculpture that both hovers above and integrates with the fountain below. The shimmering skins of the glass beads mixed with the water pulsing through and around them combine to conjure the once liquid state of the glass.

The inspiration for the sculptures in Versailles came from Othoniel's tenure as an Artist-in-Residence at the Isabella Stewart Gardner Museum in Boston during the summer of 2011. During his residency, Othoniel discovered an 18th century book at the Boston Public Library titled L'Art de décrire la danse (The Art of Describing Dance) by Raoul-Auger Feuillet. A series of instructions and notations on how best to commit the ephemeral beauty and nature of dance to the page, the book was created for the express purpose of helping King Louis XIV remember his royal dance steps.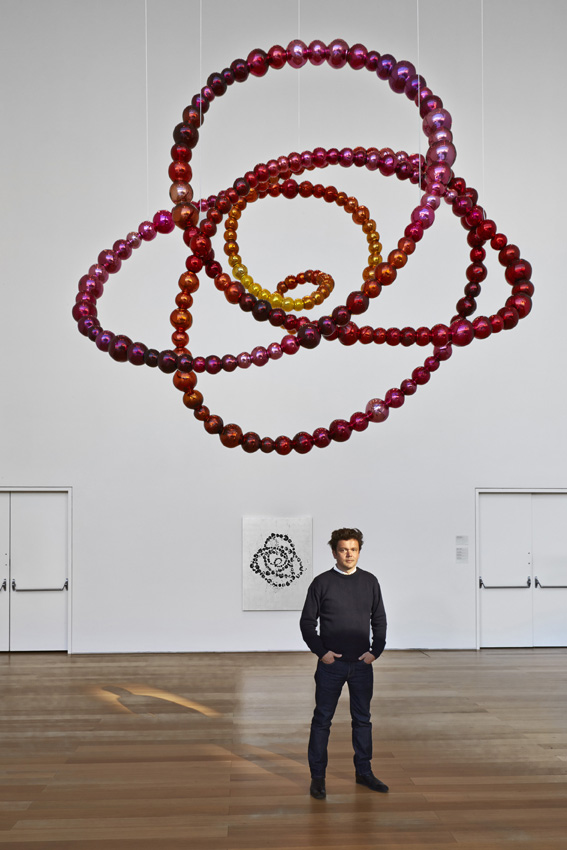 Jean-Michel Othoniel standing under Peony, the Knot of Shame, 2015 Mirrored glass, stainless steel
118 1/8 x 118 1/8 x 78 3/4 inches; Photograph: Charles Mayer
© 2015 Othoniel/ARS, New York/ADAGP, Paris; Courtesy Galerie Perrotin

Othoniel's connection to literature continues with Peony, the Knot of Shame, which began as an original watercolor for the Picture and a Poem series in The New York Times. The sculpture was inspired by and paired with a piece from the American poet Brenda Shaughnessy, whose first line opens with, "Was I ever truly happy, like some girl in a red tank top eating sunlight in Spring?"

Othoniel's sculpture expresses what has been referred to as "the erotic exuberance" of Shaughnessy's poem. And while the mirrored glass and steel piece looks delicate and somehow lighter than air, in reality it weighs a ton.

Flowers play an integral role in Othoniel's work. "Because the peony is considered a symbol of shame or bashfulness," he says, "I decided to make a huge flamboyant sculpture about how to be proud of my own shame."

Founders of 836M Julie and Sébastian Lepinard are longtime devotees of the artist and have his 2005 piece Peggy's Necklace, on permanent display at the gallery. "We are," says Sébastien, "very happy to bring him to the City for his West Coast debut so San Franciscans can have the opportunity to enter the mind of such a unique artist and enjoy the world though his wonderful sculptures."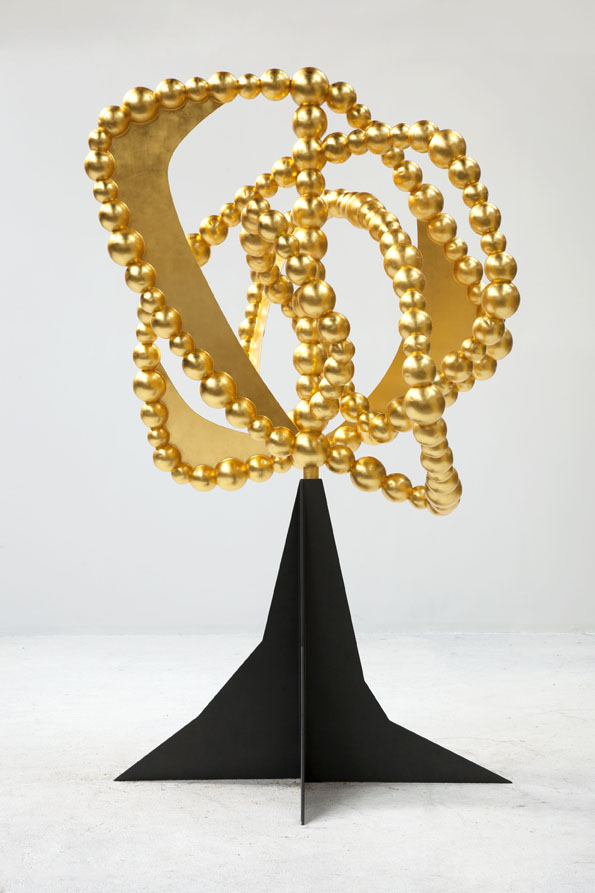 La Rose des Vents, 2015. Aluminum, gold leaf, steel. 131 3/4 x 96 1/2 x 78 3/4 inches; Photograph: ©Galerie
Perrotin / Livia

Saavedra.

© 2015 Othoniel/ARS, New York/ADAGP, Paris;

Courtesy Galerie Perrotin
In contrast, La Rose des Vents is a kinetic sculpture made from gold and aluminum and pays homage to the compass rose, an ancient device used to guage wind direction. It will be installed in front of the Conservatory of Flowers in Golden Gate Park, where it will be free to shimmer in the sun and move with the wind in the Fall, when the Park's weather is at its most beautiful.

Othoniel@836M is only the second installation of 2015 at the gallery, following as it does the very successful Banksy exhibit which opened January 21, and has been extended until September.
#Othoniel@836M & #OthonielSanFrancisco@ConservatoryofFlowers is sponsored by the French American Cultural Society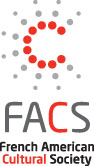 What: #OthonielVersailles@836M & #OthonielSanFrancisco@ConservatoryofFlowers
Where: 836M Gallery (836 Montgomery Street, San Francisco) and the Conservatory of Flowers (100 John Kennedy Drive, San Francisco)
When: September 26, 2015 through January 14, 2016
Entrance: FREE
Note to Print, Radio and TV Journlists:
The two events
#othoniel@836M
and
#Othoniel@SanFranciscoConservatoryofFlowers
may be referred to with or without the hashtags at your discretion or used as you see fit for coverage and/or your outlet's editorial policies; conversely the hashtags are provided for any social media mentions.
More Information can be found at: www.othoniel.fr; www.perrotin.com; www.836m.org

Hashtags: #OthonielVersailles@836M and #OthonielSanFrancisco@ConservatoryofFlowers

High Res Images Can Be Found: HERE

Jean-Michel Othoniel lives and works in Paris. He began working with glass in the early 1990s after being introduced to some of the finest glassmakers in Murano, Italy. From 1996, he began creating artworks for specific places – hanging giant necklaces in the gardens around the Villa Medici in Rome and from trees in the gardens of the Peggy Guggenheim Collection in Venice. In 2000, he received an invitation to transform a Paris subway station into a double crown of glass and aluminum for his work, Le Kiosque des Noctambules. In later works for the "Crystal Palace" exhibition at the Fondation Cartier in Paris and MoCA in Miami, Othoniel made blown-glass enigmatic sculptures that resembled jewelry, architecture, and gigantic erotic objects. By 2004, he exhibited his freestanding glass necklaces at the Musee du Louvre In 2011, his important retrospective, "My Way," at the Centre Pompidou in Paris also traveled to the Leeum Samsung Museum of Art/Plateau in Seoul, the Hara Museum of Contemporary Art in Tokyo, the Macao Museum of Art in China, and the Brooklyn Museum of New York.

About 836M
836M is a nonprofit gallery founded in 2014 to highlight Francisco's vibrant and growing arts community. It is a cultural and artistic endeavor designed to leverage the city's diverse interests and audiences and looks to discover and showcase those who go beyond themselves, push boundaries, and create stellar work that has the capacity to surprise. Throughout the year, 836M offers a carefully curated selection of art, conversations and events to private and public audiences alike in modern, contemporary and warm space. Seeking out not only stellar living artists but also "coup de Coeur" projects, gatherings at 836M are simple and fun, and always include a glass of wine! Banksy@836M was the first exhibition of an internationally acclaimed artist in the new gallery space. 836M is located at 836 Montgomery Street in San Francisco. More information www.836m.org
###
---
Shave and a Haircut
3685 17th Street, Studio # 3
San Francisco, California 94114
US


Read the VerticalResponse marketing policy.