Press Contact
Liam Passmore
Shave and a Haircut
liam@shaveandahaircut.biz
415-865-0860 (p) 415-218-1544 (c)
Peter Brook's and
JC Carrière's
Fabled The Conference of the Birds To Be Reimagined in San Jose This Fall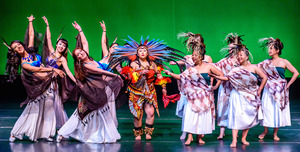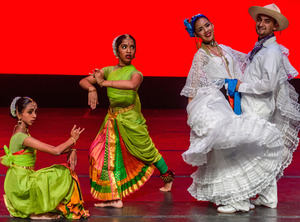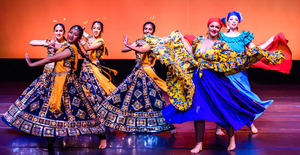 From left: Belly Dancers (Hala Dance), Aztec (Yoli Parra) & Hula (Hālau Nāpuaokamokihana ohā); Bharatanatyam (Navia Dance Academy) & Folklorico Folklorico (Los Lupenos de San Jose);
Kathak (Antara Asthaayi) & Afro Brazilian (World Dance Fusion) All Photos: Prabhakar Subrahmanyam

Fifteen actors and singers along with thirty dancers will bring this acclaimed dance theater work—based on the ancient Sufi poem of the same name—to vivid life in a piece originally written by Academy-award winning screenwriter Jean-Claude Carrière; first translated and directed by legendary British theater and film director Peter Brook in 1979, this sumptuous reimagining of the original is being presented by EnActe and Sangam arts; The Conference of the Birds will take 10 dance traditions spanning 4 continents out of their respective silos and gather them on stage with a score from Randy Armstrong, a leading exponent of the world fusion movement


Three performances only: Friday, September 9 at 8pm; Saturday, September 10 at 2pm and 8pm; Mexican Heritage Plaza, 1700 Alum Rock Avenue, San Jose; Tickets from $25-$100 with early-bird, group, block and student discounts available at all levels Tickets available

HERE




San Francisco CA, June 27 2016 – Two local organizations, EnActe and Sangam arts will join forces to present The Conference of the Birds. Based on the ancient Sufi poem of the same name and hugely regarded in global performance and dance circles, the storyboard was written by the Academy-award winner screenwriter Jean Claude Carrière, and translated and directed by none other than the legendary British theater and film director, Peter Brook. It's lineage is documented in the book, Conference of the Birds: The Story of Peter Brook in Africa, which the Financial Times described as "One of the best theater books ever written."

The book describes how in the early 70's the actors from CIRT—the International Centre for Theatre Research—embarked on an 8,500-mile journey across sub-Saharan Africa with a troupe that included great actors like Helen Mirren and Yoshi Oida and author/journalist John Heilpern himself, representing fifteen assorted nationalities. It is the story of how The Conference of the Birds came to create theatre in the desert for any and all to come and watch. Now, EnActe and Sangam are bringing this in dance-theater form to the San Francisco Bay Area.

The Conference of the Birds (sometimes called Speech of the Birds) is considered one of the most celebrated examples of Persian poetry and is comprised of approximately 4500 lines by the poet Farid ud-Din Attar, perhaps more commonly known as Attar of Nishapur. He is widely considered one of the greatest of all Muslim mystical writers and thinkers.

A mystical allegorical rendering of Sufi belief, The Conference of the Birds takes the viewer on an epic journey that features the birds of the world who living without a king gather together in order to crown one. The Hoopoe, considered the wisest, suggests they seek out the Simorgh, a mythical Persian bird that approximates the western Phoenix. Under the leadership of the Hoopoe, the birds—each representing a human fault that prevents man from attaining enlightenment—embark on an arduous journey. When the birds finally reach the end of that journey, the dwelling place of the Simorgh, all they find is a lake and their own reflection. The question may be asked, is this the end of their journey or the beginning?

For this production the two producing entities EnActe and Sangam decided to make this a contemporary interpretation that celebrates Bay Area diversity by bringing together actors and dancers from the diverse cultures that reflect the make-up of Silicon Valley itself. Director Vinita Sud Belani (also Artistic Director of EnActe) says of this production "It is a celebration of the Bay Area we live in today, not just in the ethnic diversity of our actors and dancers but also in the interpretation - classical dance blends seamlessly with cutting edge projection design by the award winning filmmaker David Murakami. This is Silicon Valley, after all".

Dance styles represented and integrated into the whole of production include:
Herons: Folklorico (Los Lupenos de San Jose)
Phoenix and Peacocks: Chinese (Hai Yan Chinese Dance Company)
Sparrow: Contemporary Ballet (sjDanceCo)
Moths: Kathak (Antara Bhardwaj)
Parrots: Bharatanatyam (Navia Dance Academy)
Ducks: Hula (Hālau Nāpuaokamokihana ohā)
Partridges: Belly Dancers (Hala Dance)
Walking Bird: Aztec (Yoli Parra)
Simorgh: Persian/Silk Road Sufi (Saher Dehghan Dance Company)
Owl: Afro Brazilian (World Dance Fusion)
Exotic Birds: Odissi (Guru Shradha Dance Company)
Note: The cast of male and female performers range in age from 8 to 85.

The Conference of the Birds is being presented by two organizations, EnActe and Sangam Arts, both headed by women who decided to pursue work in the arts after successful careers in the technology and marketing sectors.

Vinita Belani, Founder and Artistic Director of EnActe Arts (as well as the director of The Conference of the Birds) met the author of the play, Jean Claude Carrière, while living in Paris where she spent thirteen years. She worked closely with the author in bringing the The Modern Vyaasa, a recounting of the Mahabharata to a new generation of audiences across the US, where it was met with much success, around the time the playwright/scriptwriter was nominated for a Lifetime Achievement Oscar. This EnActe production of the live storytelling show by Carrière himself received a special mention at the Oscars by Philip Kaufman, long time friend and colleague of Carrière. Belani founded EnActe after a very successful 20+ year entrepreneurial career in technology, working with several emerging technologies.

Usha Srinivasan started Sangam Arts after 18 years working in hi-tech product management, armed with a mission promote new models of social integration in a society in the throes of becoming increasingly culturally diverse.

Both producers agree that Silicon Valley is among the most diverse areas in the world, with no race or ethnic group making up more than a third of the population that includes immigrants from all over the world.

Usha elaborates, "Up until a few years ago, each community has been living insulated from other ethnic cultures, or they ended up integrated in the 'melting pot' where they lose their discrete differences in a unique yet homogenous American culture. However, with changing demographics and the influx of immigrants from diverse social and religious backgrounds, we see the 'melting pot' giving way to a 'salad bowl' where people retain their cultural identities while contributing their distinct flavors to a mouth-watering and nutritious combination of ingredients."

They conclude, "We see interactions such as the one we are putting together with The Conference of the Birds as the way to create a delicious dressing."

The two have worked on several projects together, including the Bay Area run of the very well received The Twentieth Wife, which debuted at Z Space in San Francisco circa 2014 before embarking on a successful national tour.

Music score for The Conference of the Birds is by Randy Armstrong, a leading exponent of world fusion. He has more than 40 albums and film scores to his credit and has shared the stage with such music greats as Dizzy Gillespie, Fatoumata Diawara, the Paul Winter Consort, King Sunny Ade, Eddie Palmieri, Babatunde Olatunji, Michael Hedges and Richie Havens to name a few. Armstrong is co-founder of Do'a World Music Ensemble and Unu Mondo and leader of the Randy Armstrong Trio & World Fusion Ensemble. With his collection of more than 300 instruments from around the world, including guitars, sitar, balafon, djembe, Lakota courting flute, koto, charango, mbira and a wide variety of percussion and stringed instruments, he has amazed audiences throughout the world. His fifth album with Do'a entitled World Dance, reached the top 10 of several national charts including #7 on Billboard.

Dance Director Antara Bhardwaj is a filmmaker, a trained classical Kathak dancer and a choreographer. Her documentary Upaj, on the confluence of kathak and tap dance, won several awards at major film festivals across the world. She worked on films such as provoked with Aishwarya Rai and Nandita Das. She has been under the guidance of her dance Guru Pandit Chitresh Das since the age of nine. She has arguably the fastest feet of anyone performing Kathak (12 taps per second).

Bhardwaj will unify the choreographers, dance forms and dancers to create a multi--faceted yet unified vision of the play and of Bay Area diversity. "How do you envision ancient Persian with Hula, or Aztec, or BharataNatyam?" she says, "It's important that I maintain fidelity of all the dances within the context of Sufism and a mystical aura- it is going to be most rewarding when that happens, achieving that resonance through such wildly different dance forms."

Projections designer David Murakami, is an award-winning film director, writer and theatrical multi-media designer working towards integrating emerging technologies with traditional proscenium stage performances. He will be applying ground-breaking neural network technology in digital art to create a world that is familiar yet new in this production. Murakami has a Master's from UC Santa Cruz in Theatrical Direction and Media Design. His work can be found here: www.davidmurakami.com

What: The Conference of the Birds
When: September 9 at 8pm; September 10 at 2pm and 8pm
Where: Mexican Heritage Plaza, 1700 Alum Rock Avenue, San Jose CA
Tickets: Tickets from $25-$100 with early-bird, group, block and student discounts available at all levels https://www.tikkl.com/cob/campaigns/cob-tickets

A complete set of high res photos can be downloaded HERE

About EnActe Arts
EnActe Arts aims to bring the best of South Asian Theater to the world stage. EnActe's mission is three fold:
To showcase South Asian stories, culture and contemporary thought that appeal to universal audiences
To provide a development platform and employment for emerging artists in theatre including acting, stagecraft and playwriting
To provide theater education for all ages and levels through EnActe Academy.
More information at enacte.org

About Sangam Arts
Sangam Arts is committed to promoting multicultural understanding through the arts. We achieve this through staged collaborations, community events, and lecture-demonstrations. Since 2013, Sangam has presented and supported more than thirty productions representing cultures across Europe, Asia, and the Americas. Based in San Francisco Bay Area, Sangam seeks out ethnic art ambassadors and drives cross-cultural engagement through educational projects, especially involving the youth. More information HERE

###


---
Shave and a Haircut
3685 17th Street # 3
San Francisco, California 94114
US


Read the VerticalResponse marketing policy.