Press Contact
Liam Passmore
Shave and a Haircut
liam@shaveandahaircut.biz
415-865-0860
Friend or Faun?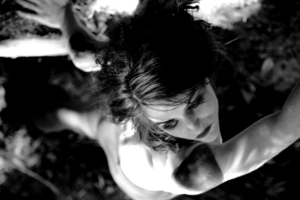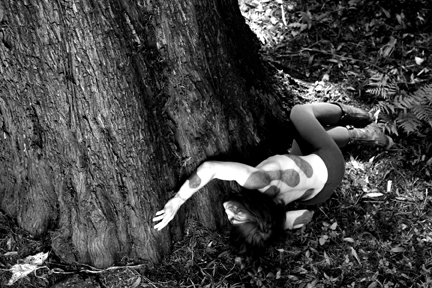 Choreographer and dancer Sonsheree Giles; credit - Heike Liss

East Bay dance company marks the centennial of Nijinsky's Afternoon of a Faun with debut of a new evening length work inspired by that ballet's tenets of eros as a life force and sexual ambiguity while also focusing on choreographer Sonsherée Giles's observations of the downtown Oakland creative matrix as well as the surrounding beauty of the hills, woodlands and quality of light that are so specific to the Bay Area

Oakland-based dance company this sweet nothing premieres
Was It A Dream I loved, February 10-12, 2012; Tickets $15-$30.00



January 12, 2012, Oakland, CA – To mark the centennial of Vaslav Nijinsky's Afternoon of a Faun, the Oakland-based dance theater group this sweet nothing will present an evening-length performance inspired by the seminal ballet. Since its controversial premiere by Les Ballets Russes in Paris in 1912—during which outraged patrons caused a near riot—artists ranging from Jerome Robbins and Mikhail Baryshnikov to Freddie Mercury and Queen have revisited the work because of its inherent pull and mystery.

For this re-imagined fantasy, choreographer Sonsherée Giles, composer Caroline Penwarden, and visual artist Heike Liss will create an erotic and teasing dreamscape, charged with sexual ambiguity all in order to undermine our collective sense of what is "real".

While Giles relies on her daily observations of downtown Oakland as well as art history to inform her choreographic work and artistic voice, all three have close affinities to the area and find that it is a source for their creative impulse and the work's high voltage interplay.

Penwarden's live score mixes voice, wood-based percussion, electric guitar, accordion and other instruments to create soundscapes informed by liturgy, ecology, African music, and rock.

The images created by Liss are designed to both complement the sound and movement throughout the performance, and will include footage taken in the woodlands where she lives and walks, as well as others composed in real time and digitally "painted" on the dance and music.

Nijinsky's Afternoon of a Faun was choreographed and danced by Nijinsky with a music score by Claude Debussy—both based on a poem by Stéphane Mallarmé. The painter Léon Bakst designed costumes and sets.

Giles has been studying Afternoon of a Faun as a point of departure for many years. "I am intrigued by the quality of light in the Bay Area and find myself drawn to the movement inherent in four legged animals, as well as the fantasy inherent in the flirtation between fauns, nymphs, birds and other woodland or forest creatures."

In terms of aesthetics, Giles and her partners in this sweet nothing theater company, Penwarden and Liss, are fascinated by how Nijinksy rejected the constraints of his formal classical training in order to experiment and push boundaries in his own choreography.

Was it a Dream I Loved also intends to challenge sexual stereotypes and put a magnifying glass on questions around the dynamics and realities of sexuality and gender. The choreographer will stress an intentional archaic style, stoic nymphs and a sexy androgynous faun. "I want," says Giles, "to examine the conflict that arises when the insatiable desire for symbiosis struggles to find intimacy, connection and reality with others. While this is an abstract piece that uses symbolism and metaphor, I guess the real question is, when desire is strong enough can a faunreallybe with a nymph?"

The three protagonists will be joined by dancers from AXIS Dance Company, as well as guest artists Lisa Bufano, Amy Lewis, Rebecca Gilbert, Janet Das, John Carnahan, Kevin Atkinson, Alicia Ruth, Damon Waitkus, Aram Shelton, Noah Phillips, Jim Kassis, and Jason Hoopes

Who: this sweet nothing dance theater company
What: Was It A Dream I loved dance theater performance
When: February 10-12, doors open 7.45pm, show at 8 pm
Where: The Marion Green Black Box Theater at the Fox Theater
530 19th Street, Oakland, CA 94516
Tickets: $15-30, http://www.brownpapertickets.com/event/214818 and at the door
More Info: thissweetnothing.org

About this sweet nothing dance theater company
Choreographer Sonsherée Giles (who is also associate director of AXIS Dance Company), composer Caroline Penwarden, and visual artist Heike Liss formed their dance theater company in 2011. More information at thissweetnothing.org

This project was generously supported by CA$H, a grants program of Theatre Bay Area, in partnership with Dancers' Group, the Zellerbach Family Foundation, the William and Flora Hewlett Foundation, the Clorox Company Foundation, the East Bay Fund for Artists, AXIS Dance Company, and Oakland School of the Arts.



---
Shave and a Haircut
3685 17th Street, Studio 3
San Francisco, California 94114
US


Read the VerticalResponse marketing policy.